Incorporating digital and mechanical compensatory mechanisms, the SIGHT-HD maintains bore-sight in conditions of shock and vibrations, significantly contributing to shooting precision
EUROSATORY Defense & Security International Exhibition 2018, June 11-15, Paris, France Hall 6, Booth #H548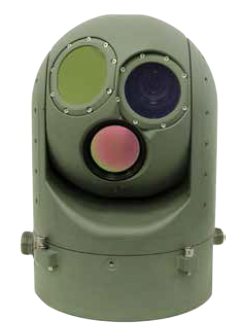 CONTROP Precision Technologies Ltd.- a company specializing in the field of electro-optics and IR defense and homeland security solutions - will reveal the SIGHT-HD, a specialized targeting EO/IR payload for Remote Weapons Stations(RWSs) and Armored Fighting Vehicles(AFVs), at EUROSATORY 2018.
"As we celebrate CONTROP's 30th anniversary, we are proud to launch the SIGHT-HD at EUROSATORY, following anintensivedevelopment process," says Hagay Azani, CONTROP's new CEO. "The SIGHT-HD was created especially for Remote Weapon Stations, to maintain bore-sight in conditions of shocks and vibrations. It incorporates digital and mechanical compensatory mechanisms that we have developed to significantly contribute to shooting precision."
The SIGHT-HD is a gyro-stabilized payload thatwas especially developed to withstand extreme environmental conditions, facilitating mid-to-longrange target acquisition, day and night, for mobile and stationary applications. When installed on AFVs, it is ideal for a wide range of applications, such as border surveillance, perimeter protection of sensitive installations, force protection, route clearance and more. At just 13kg, the low-weight payload is easily installed on any type of vehicle or weapon station.
The SIGHT-HD includes a high-performance Thermal Imaging (TI) camera using a 3-5μ Cooled IR detector with a continuous zoom lens; High Definition (HD) ColorDay camera with a continuous zoom lens; and an Eyesafe Laser Range Finder (ELRF),all integrated into an all-in-one Line Replacement Unit (LRU). The advanced image processing features include local AGC on the TI and Day cameras; Video Enhancement; Automatic Video Tracker and Picture-in-Picture (PIP). A Laser Pointer, Control Unit (CU) and Digital Video Recorder (DVR) are also available as optional add-ons.
"The SIGHT-HD is the first in a family of dedicated SIGHT payloads that we are currently developing for mobile land applications, to meet our clients' requirements." says Azani. "The SIGHT-HDsystem is currently in the process of being evaluated by several important customers before an expected procurement."