The night vision thermal payload for drones observes distances up to ~5 km; the Night Vision Goggles, low-light-level camera system is based on complementary metal–oxide–semiconductor (CMOS) technology, making it a cost-effective solution
Night Vision Goggles
ShilatOptronics- an innovative electro-optics company that offers several proprietary technologies for defense and homeland security applications - will launch two innovative night vision products at EUROSATORY 2018.
The company's night cooled thermal camera and daypayload is an advanced observation system that can be mounted on a conventional drone. The system has been specifically designed for use in stand-off situations and where wide-coverage air observation is required. Based on unique, patented electro-optic technology, the payload provides quick access to security-related information, with very high quality aerial optic capabilities, making it an ideal solution in cases where a rapid response is required. A cooled thermal camera, it weighs 1.2 kg, provides human target recognition at a distance of ~ 5 kilometers, has a 30°-60° wide field of view, a 2° narrow field of view, 360° azimuth range and 110° elevation range,including continues optical zoom.
"We have developed a very small camera that can deliver excellent performance at long range," says Miki Bouskila, VP Marketing of ShilatOptronics. "This enhanced capability makes it ideally suited to use in drones, for a wide range of scenarios and tasks. Since the payload can achieve a line of sightof up to 5 kilometers, without having to actually be above the event it is photographing, it can be in the air for less time – a huge advantage where the amount of air time is limited from the outset."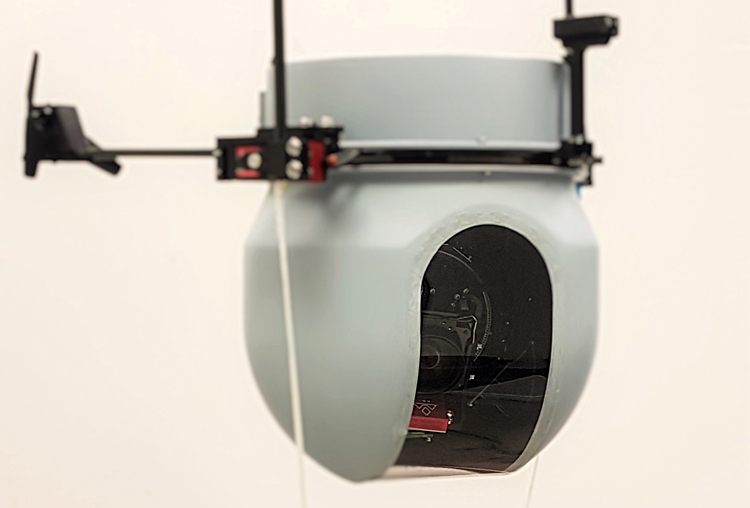 Drone payload
Shilat's Night Vision Goggles, Low-Light-Level (LLL) cameras are based on a unique CMOS image sensor, specially designed for night vision, homeland security and surveillance applications. They provide the user with night vision capabilities that are very similar to those of conventional IIT-based NVGs, at a much lower cost, with no export regulations, and without expensive consumable parts. The LLL cameras also have a built-in recording capability and optional integrated laser pointer.
The camera comes in different formats for various applications: helmet-mounted night vision goggles;weapon sight; and for drones. Specifications include: frame rate of 30 fps.; rechargeable Li-lon battery; up to 10 hours of operation time; and magnification 1x1 (higher magnification available on request).
"Our low light level camera system is unique in that, unlike others on the market which are based on very expensive technology, it is based on CMOS technology; a standard, modern technology that is readily available and relatively inexpensive," adds Avishay Guetta, the company's CEO.