China has resolved its borders with all its neighbours less India and Bhutan because of its expansionist aims towards the Indian Ocean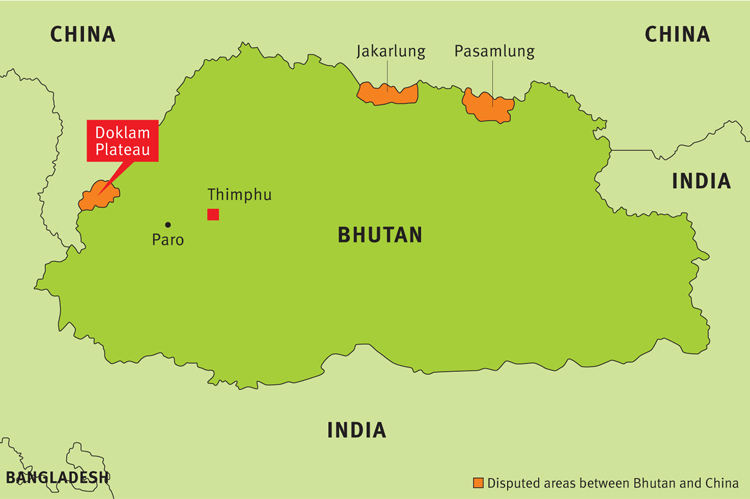 The Sikkim standoff between PLA and the India Army is persisting. China has tried every trick in psychological warfare, using its official spokespersons and media, which is all state-owned, to cajole, bully and threaten India with "dire consequences" in case India does not withdraw but India has stood fast. Even after the visit of National Security Adviser Ajit Doval to Beijing, Chinese media spread the fake news that India has reduced its presence in the standoff area but External Affairs Minister Sushma Swaraj has refuted this lie in Parliament.
Background
China has resolved its borders with all its neighbours less India and Bhutan because of its expansionist aims towards the Indian Ocean. In successive border talks with Bhutan, China has successively expanded its claim lines, akin to what it has been doing with India, never handing over a map marked with what its ultimate claims are. For past several years, PLA (People's Liberation Army) troops have forcibly intruded into the post of the Royal Bhutan Army (RBA) in Doklam Plateau, staying put for an hour or so, and telling RBA troops to vacate the plateau, claiming it as Chinese territory. The mere fact that a big country like China is indulging in such antics against a peaceful country like Bhutan that gives prominence to the happiness index of its citizens, shows to what extent China can stoop to illegally occupy territory, slicing it off salami-style, as she has been doing with India. China wants to capture the Doklam Plateau because it overlooks Chinese Posts in Chumbi Valley of China Occupied Tibet (CoT). But for India, the strategic importance of Doklam Plateau lies in the fact that this high ground not only overlooks the sensitive Siliguri Corridor, its occupation by China will turn the flanks of India defences in Sikkim, making them vulnerable.
Deliberate Chinese Intrusion
Over the years, China managed to construct a Class 9 un-metalled road leading to the Doklam Plateau but trouble began when Chinese troops started advancing through the Doklam Region towards Doka La. On June 20, 2017, Bhutan served a demarche to China against the Chinese arbitrary action of constructing a road in the Doklam Plateau, which is property of the King of Bhutan. The demarche, a formal statement, was served through the Chinese embassy in Delhi on June 20 since Bhutan and China do not have diplomatic relations. Major General Vetsop Namgyel, Ambassador of Bhutan to India, told the media, "The PLA started motorable road construction in the Doklam area towards Bhutanese Army camp at Zomphlri. We are in boundary resolution talks with China and have written agreements that pending final boundary settlement, peace and tranquility be maintained along the boundary and both sides refrain from unilaterally altering the status on ground. Bhutan has conveyed to China that road construction is not keeping with the agreements between two countries. We have asked China to stop road constructions and refrain from changing the status quo. Doklam area is near the tri-junction is part of the boundary talks between Bhutan and China." This belied China's claim that by stopping PLA troops from the blatant construction, Indian troops were violating sovereignty of Bhutan.
China timed this deliberate intrusion and road construction activity in the Doklam Plateau with Prime Minister Modi's visit to the US knowing full well that Indian troops will be forced to react, giving excuse to China to snub India by closing the pilgrimage route to Kailash-Mansarovar via Nathu La. Considering the strategic importance of the Doklam Plateau, unarmed Indian troops blocked the advance of PLA troops, witnessed world over. What China claims the Tri-Junction is not the one recognized by India — China has mischievously shifted it southwards by couple of kms in order to expand her claims. China claims the tri-junction at Mount Gipmochi but the ridge line on Himalayan terrain supports India's claims that it lies on Batang La. In fact, Tibetan history specialist Claude Arpi states that "According to Sikkimese records, Gipmochi is Batang La, 5 km north of Doka La." This is what India claims. In addition, India has categorically told China that India has military agreement with Bhutan and that altering status quo is not acceptable to India. To China's sly reference to 1962, Defence Minister Arun Jaitley bluntly reminded China that today is not 1962.
China is mad that India has refused to join the China-Pakistan Economic Corridor (CPEC), which possibly was taken as granted by the Communist Party of China. Without India joining, the economic viability of the CPEC is under cloud. But then China went ahead with its CPEC project completely bypassing strategic, security and territorial sensitivities of India, especially when CPEC is running through PoK, which is Indian Territory. The Indo-US relationship also apparently scares China. The state-owned Chinese media says that India "needs to be taught the rules". China under Deng Xiaoping invaded Vietnam in 1979 "to teach Vietnam a lesson" but instead learnt a lesson themselves. Xi Jinping was then Secretary in the Chinese Ministry of Defence under Deng Xiaoping. Again during the 1986 Sumdorong Chu incident, Deng Xiaoping threatened to "teach India a lesson" but eventually had to retreat. All that India needs to do is remain resolute. As far as China's threat that India "needs to be taught the rules", there sure is scope. India cannot stop Chinese goods coming into India, but the Indian public certainly has the choice to shun Chinese products. The $60 billion bilateral trade imbalance in favour of China must be eliminated. Bully or rogue, China must understand she can't keep clapping with one hand.
China's Dilemma, Bullying and Subterfuge
China's dilemma is the fake aura of invincibility that the Chinese Communist Party has built around itself, putting China in a tight corner. To top this, having usurped total power unto him, President Xi Jinping is in tearing hurry to realize his pet project, the 'China Dream' in order to put himself on the same pedestal as Mao Zhedong. India has suggested mutual meltdown from the standoff area, as was done during the Sumdorong Chu incident, which is the only viable and respectable option but so far China has not agreed. China wants India to withdraw first but India has bluntly told China this is not acceptable; withdrawal from the area has to be simultaneous.
Amid some signs of thaw at the Doklam Plateau, China suddenly escalated its rhetoric over the standoff, warning India of "serious consequences" if it did not pull back its troops. Liu Jinsong, China's deputy chief of mission at New Delhi stated, "The crossing of the boundary line by Indian troops into the territory of China using the pretext of security concern for a third party (Bhutan) is illegal. The troops should be withdrawn immediately, otherwise there will be serious consequences." Earlier reports in Indian media quoting government sources talked of indications that the Chinese could be winding down their offensive posture on the plateau where they had brought troops and heavy machinery to build a road on Bhutanese territory but added that intent of China is unclear. Subsequently, speaking in Parliament, External Affairs Minister Sushma Swaraj was firm in stating that it was China which had triggered the crisis, adding, "Our concerns emanate from Chinese action on the ground which have implications for the determination of the tri-junction boundary point between India, China and Bhutan and the alignment of the India-China boundary in the Sikkim sector."
While China had been shouting that no meaningful dialogue is possible unless Indian troops unilaterally and unconditionally withdraw, which India has refused, it has now issued a 15-page statement clarifying its position. Though the language is vitriolic, China perhaps wants a resolution to the dispute, even de-escalate. The document lies that India has started withdrawing troops from a high over 400 to about 40 (India maintains its troop strength is constant at 350). It further alleges that over 270 Indian troops, carrying weapons and driving two bulldozers, crossed the boundary in the Sikkim sector and advanced more than 100 metre into the "Chinese territory" to obstruct the road building of the "Chinese" side. These are again blatant lies. It was Chinese who were using bulldozers. India rejected these false Chinese claims, the Ministry of External Affairs statement reading, "India's position on this issue and related facts have been articulated in our press statement of June 30. India considers that peace and tranquility in the India- China border areas is an important prerequisite for smooth development of our bilateral relations with China."
The Future
There are many possibilities that the future holds. The state of the Chinese economy should not logically favour war and China knows very well that India is no pushover, especially with the advantage India enjoys in the Indian Ocean. Moreover, the world opinion over the Doklam Standoff is in India's favour, the mask of China's "peaceful rise" torn-off already. Worse, China's instigation and support behind North Korea's antics and Chinese support to Pakistani terrorist leaders has become more than apparent. China has upped its excursions in Barahoti area of Uttrakhand, including helicopters intruding into Indian Territory. These again could be pressure tactics, intimidating India into withdrawing from the Doklam standoff. Such intrusions in other areas including Arunachal Pradesh could well be undertaken, even at larger scale, given the unpredictability of the Chinese and the corner they have got themselves in. As mentioned above, the only viable solution is simultaneous withdrawal from the standoff region. This can be followed by a trilateral India-Bhutan-China discussion about the correct location of the tri-junction to sort out the deliberate confusion created by China. The fact remains that the tri-junction has be along the ridgeline, which is Batang La – as claimed by India. Meanwhile, India obviously should be geared up for similar deliberate intrusions anywhere along the LAC, especially in areas illegally claimed by China.