Attempts are now being made to resurrect and fulfil its long-postponed 1999 Field Artillery Rationalisation Plan (FARP), under which the army aims to import, locally develop, and licence-produce around 3,000, 155mm howitzers of various categories to equip 220-odd artillery regiments for an estimated 56,000 crore to 63,000 crore ($8-9 billion)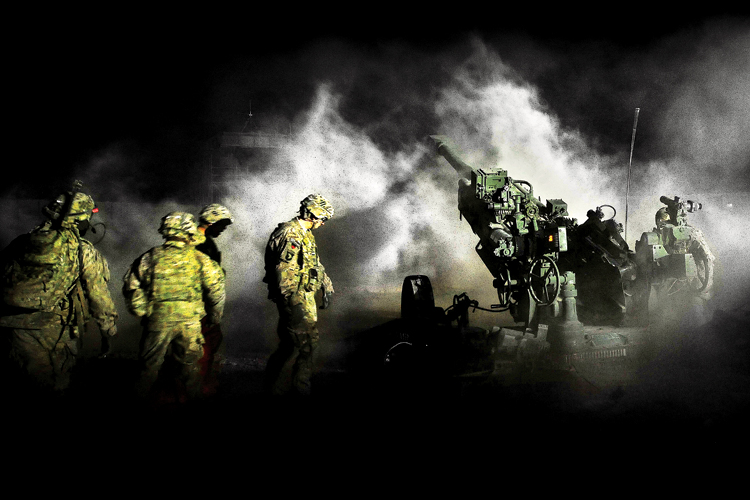 BAE Systems M777 ultra-lightweight howitzer in action
The past 15 years or so have severely degraded the war fighting capabilities of the Indian Army. The army's 'critical shortages' and obsolescence of its current equipment include 155 mm artillery howitzers, light utility helicopters, attack helicopters, air defence assets, various categories of ammunition, anti-tank and AD missile systems, infantry's basic weapons such as, close quarter battle (CQB) carbines, assault rifles, machine guns, sniper rifles, and anti material rifles. To this deplorable state you may add another negative and that is that we do not have any night fighting capability as there are no night sights on any infantry weapon held presently.
The artillery howitzers, currently held i.e. 155 mm, 39 calibre, FH 77B (Bofors), are more than 30 years old because after acquiring these howitzers India has not acquired any new artillery gun/howitzer. The recent deal of acquiring 145, M777, Ultra Light Howitzers, manufactured by BAE Systems, from the US, for the mountainous regions will take another three to four years to fully fructify. As a result the artillery as a combat support arm, vital in war, is currently equipped with outdated and obsolescent weapons which do not have the capabilities for fighting on future battlefields. This article pertains to the modernisation of artillery.
Modernisation Plan
As part of its Artillery Modernisation Plan, the Army is looking at inducting several types of howitzers through in house manufacture by DRDO/Ordnance Factory Board, intergovernmental pacts and global tenders. The last major acquisition of towed gun-howitzers was that of 400 pieces of 39-calibre 155mm FH-77B howitzers with a range of 30 km from Bofors of Sweden in 1987. This gun proved its mettle in the Kargil conflict. Even after about 30 years of neglect the artillery modernisation continues to stagnate because on the ground there is no change.
Attempts are being made to resurrect and fulfil its long-postponed 1999 Field Artillery Rationalisation Plan (FARP), under which the army aims to import, locally develop, and licence-produce around 3,000, 155mm howitzers of various categories to equip 220-odd artillery regiments for an estimated 56,000 to 63,000 Crore (USD8-9 billion). These include 1,580 towed gun systems (TGS), 814 mounted gun systems (MGS), 100 self-propelled howitzers (SPHs) – all of which are 155 mm/52 calibre – and 145 BAE Systems M777 155 mm/39 calibre lightweight howitzers for the mountains. Locally upgraded and retrofitted guns will make up additional numbers.
Trials of 155mm Towed Howitzers of Nexter and Elbit Systems
Trials involving two competing 155 mm/52 calibre towed guns for the MoD's 2011/12 tender for 1,580 such platforms concluded in November 2015. The two guns are currently undergoing General Staff evaluation by the army before one is shortlisted and price negotiations begin. Trials for two systems namely the Nexter's 155 mm Trajan 155 mm/52 calibre howitzer, and Israels AT HOS 2052 gun built by Elbit were required to undergo the supplementary trials from mid-2015 after completing desert and high-altitude firings in 2013-14. The army plans to acquire 400 guns under the DPP's 'Buy and Make' category and licencebuild the remaining 1,180 howitzers. Nexter is a French government company formerly called GIAT has a tie-up with Larson & Tubro (L&T) and Elbit from Israel has tied up with the Kalyani Group/Bharat Forge in Pune. We have now learnt that fresh trials have been ordered for which two howitzers each from Nexter and Elbit Systems have been positioned.
Self Propelled Howitzers (SPH)
K9 Vajra-T: In December 2015 the Ministry of Defence (MoD) began price negotiations with Larsen & Toubro (L&T) for 100 modified South Korean SPHs, worth around 5,600 crore ($800 million). The K9 Vajra-T, an L&T version of Samsung Techwin's K9 Thunder 155mm/52 calibre gun customised for India's 2012 SPH tender, was shortlisted for acquisition in late September 2015 following trials the previous year. In these the K9 bested Russia's MSTA-S selfpropelled gun, which had been modified to 155mm/52 calibre standard and mounted on a T-72 tank chassis.
According to industry sources the K9, which is being procured under the DPP 2012 'Buy Global' category, will be built at L&T's Talegaon facility near Pune in western India. This classification permits domestic companies to enter into tie-ups with OEMs to offer cooperatively developed equipment and platforms to the Indian military. The K9 is expected to contain some 13 major indigenous subsystems, including its fire control, ammunition handling, and nuclear, biological, and chemical (NBC) system and muzzle velocity radar, to help it bypass the 30 per cent offset obligation. It is learn that the contract has already been signed, and includes a follow-on option for an additional 50 K9 guns.
Catapult — The Interim Solution
In the interim the army is expected to induct 40 indigenously developed Catapult Mk II SPHs, which mount a 130mm gun on the chassis of the locally designed Arjun MBT. These will replace an equal number of Catapult Mk Is, designed in the early 1980s by mating the M-46 weapons onto the lengthened chassis of an OFB-built Vijayanta (Vickers Mk 1) MBT.
145 Ultra Light Howitzers (M777)
In May 2015 the MoD approved the import of 145 M777s along with Selex Laser Inertial Pointing Systems (LINAPS) via the US Foreign Military Sales (FMS) programme. On November 16, 2016, the Cabinet Committee on Security chaired by Prime Minister Narendra Modi cleared the acquisition of the guns from the US in a Government to Government deal worth $737 million (almost 5,000 crore). Of the 145 M-777 howitzers, 25 guns will be given in completed condition while 120 will be assembled, integrated and tested in India with BAE systems selecting Mahendra as its business partner. The first two howitzers have already arrived in India and are being used to formulate range tables with indigenous ammunition.
BAE Systems is also believed to have submitted to the MoD its list of offset agreements with local companies, valued at 30 per cent of the overall contract value and estimated at around 1,400crore, ($210 million). The deal involves a significant "Make in India" component. Mahindra is expected to bag a major share of the contract. The M777 purchase is meant to equip the army's 17 Mountain Strike Corps, which is presently being raised for deployment along the Line of Actual Control (LAC ) with China.
The M777 Howitzer is a towed 155mm artillery piece, manufactured by the US-based BAE Systems. It is one of the most capable guns in its class, currently being used by the US, Australia and Canada. According to reports, United Arab Emirates is also in the process of acquiring the gun.
The M777 matches the firepower of current generation 155mm towed systems at less than half the weight. The Howitzer is equipped with a 39-calibre barrel. The muzzle velocity (at Charge 8 super) is 827 m/s. The maximum firing range is 24.7 km with unassisted rounds and 30 km with rocketassisted rounds.
Excalibur Munitions: The M777A2 can fire the Raytheon/Bofors XM982 Excalibur GPS/Inertial Navigation-guided extendedrange 155mm projectiles using the Modular Artillery Charge Systems (MACS). Excalibur has a maximum range of 40 to 57 km and accuracy of 10 m. The M777 is able to deliver up to five rounds a minute under intense firing conditions and is able to provide a sustained rate of fire of two rounds a minute.
Indigenous Manufacture 155 mm Howitzer (Dhanush)
Ordnance Factories Board (OFB) have been tasked to produce a 45-calibre 155 mm howitzer based on the Transfer of Technology (ToT) obtained from Bofors in the 1980s. The DAC approved a proposal from the OFB to manufacture 144 pieces of 155 mm/45-calibre howitzers with the option to acquire another 400 provided the prototypes successfully meet the army's GSQR in user trials. Meanwhile, the DRDO has also embarked on its own venture to design and develop a 155 mm howitzer in partnership with a private sector company.
Media reports in August 2017, state that Dhanush 155mm/45-calibre artillery gun has failed on three occasions in a row in the last three months when the shell of the gun hit the muzzle brake in one of the six prototype guns currently undergoing user trials. In view of the problems being faced the induction programme may get delayed. As per this programme, out of 114 Howitzers in the initial order, the first batch of 18 guns were slotted to be inducted this year, another 36 guns in 2018 and 60 guns in 2019, completing the initial order.
The Acquisition of 814 truck-mounted guns
This has been approved by the Defence Acquisition Council in November 2014 will be undertaken under the 'buy and make in India' category with transfer of technology (ToT). While the first 100 guns will be imported, the remaining 714 will be produced in India. Tata Power SED with its 155mm truck mounted gun system and L&T-Ashok Leyland-Nexter with their 155mm gun are among the private companies in India that are likely to submit proposals for the project, as reported by the media. The total project cost is estimated to be 15,750 crore.