The Ministry of Defence is a mammoth ministry with a very large number of defence public sector industrial units whose efficiency and output is by and large unsatisfactory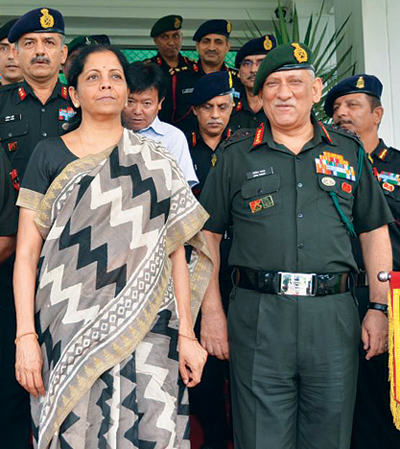 Defence Minister Nirmala Sitharaman with General Bipin Rawat, COAS
Nirmala Sitharaman has been made the Defence Minister of India. The fact that the Prime Minister of India has entrusted her with this important portfolio also speaks volumes for her administrative talent and past efficiency when she was holding the Commerce portfolio as a Minister of State. Sitharaman became the first woman Defence Minister of the country since Indira Gandhi held the charge.
Defence Minister Nirmala Sitharaman has already stated that she intends to hold daily meetings with all three service chiefs and the defence secretary to ensure quick decision making in her ministry. Sitharaman has laid special emphasis on the need to step up the pace of military procurement which despite some dynamism showed by the erstwhile Defence Minister Manohar Parrikar in the past, the state of equipment and modernisation is in a deplorable across the board in all three services. In the Indian Army from basic weapons like carbines and assault rifles, to artillery howitzers and helicopters, surveillance and communication equipment, night fighting aids etc all need replacement/procurement. Moreover, till very recently even certain categories of ammunition were in such short supply thus there was no ammunition available even for training. The Minister has also declared that she will also hold meetings of the Defence Acquisition Council once every two weeks.
An official statement said on Monday, September 11, 2017, that Sitharaman, who took charge on September 7, 2017, has held a number of meetings with senior officials to familiarise herself with the activities and functioning of the defence ministry, and has issued "clear directions" on "critical issues". As she took over last week she had said she would be a roundthe-clock Defence Minister.
While we welcome the dynamic and no nonsense approach of the new defence minister, and her noble intentions, however at the strategic level, at which she is required to function, daily meetings may not be necessary. In the beginning, say for a few weeks, when she familiarises herself with the organisational, functional and administrative details and the back log of cases relating to procurement and modernisation of the three Services and other important administrative cases which may be pending, daily meetings may prove useful but later on it will only lead to micro management of the Ministry and the three Services which is not desirable. Moreover, the three Chiefs and the Defence Secretary have their own functional requirements within their headquarters to attend to whereby their daily schedules are tightly packed and they can ill afford to spend too much time for such conferences/meetings if they carry on for long hours. Therefore she will perhaps have to lay down an upper time limit for such meetings. Moreover the Chiefs as well as the Defence Minister are required to visit many operational sectors and operational formations and other departments and establishments within their respective domains due to which they cannot be tied down to a daily rigid schedule.
The Ministry of Defence is a mammoth ministry with a very large number of defence public sector industrial units whose efficiency and output is by and large unsatisfactory. In the past our defence ministers who have been guided by the civilian bureaucracy have not been able to ensure, even after 70 years of independence, to give the nation a defence industrial complex capable of making us self sufficient for our weapons and equipment. All that our defence industry has achieved till date is that that they have imported equipment and assembled it in India and called this transfer of technology. A deplorable state of affairs to say the least.
Our Ordnance factories are legendary for their lethargic and poor work culture and are responsible for poor state of ammunition reserves in the country. The Director General Quality Assurance (DGQA) is another organisation which is known more for its wrong practices than its utility. Similarly the departments such as the Controllers of Defence Accounts (CDAs) are again establishments which have expanded manifold but have a poor record of competence notwithstanding some islands of efficiency. So perhaps these are areas where the Minister should pay more attention to because they are ones who are required to provide the logistics (equipment and munitions) and are responsible for the good morale of the soldiery.
The next point that should concern the Minister is the Ministry itself where the understanding of National Security of the bureaucrats in the ministry is only from reading of the ministry files! Let me quote Admiral Arun Prakash, a former Naval Chief's article in a national daily of September 13, 2017. He states "One has to start by facing the unpalatable truth that our current national security dilemmas are almost entirely of our own making – a consequence of political indifference and bureaucratic lethargy resulting in egregious neglect of our national security. Procrastination on defence reforms and delays in border roads constructions, dithering on purchase of arms and ammunition, and leaving the MoD headless for months have all been perceived as signs of weakness and a lack of resolve by our adversaries".
The fate of our military (and survival of our nation) depend on a MoD which is run exclusively by civilian officers of the IAS and Indian Defence Accounts Service (IDAS)
As regards the procurement issues it must be brought out that our uniformed community and the senior hierarchy of the Services, have to accept their share of blame for the delays and the inferior state of our current equipment. Cases in point, in the army, are the cases involving the procurement of carbines and assault rifles and the mess created in this regard. So while political indifference and bureaucratic lethargy may be responsible in the larger context, the senior hierarchy of the Services must accept their share of blame in many cases.
An irony pointed out by Admiral Arun Prakash is the fact that everything is controlled by a cadre of bureaucrats who are quite ignorant about matters military. He points out that even Military Operations are dependent on financial, material, personnel and infrastructure support — all of which require approvals of the MoD bureaucracy. The fate of our military (and survival of our nation) depend on a MoD which is run exclusively by civilian officers of the IAS and Indian Defence Accounts Service (IDAS). This does not happen in any other country in the world and it is an irony that while we have one of the largest armed forces in the world, an uninformed bureaucracy handles the administration. The Admiral recommends restructuring of the defence industrial complex by reputed professionals from the business and industry and not scientists or government bureaucracy who would only end up protecting their turfs by adopting a status quo approach.
It is generally accepted by all military and strategic analysts that the time has come for the ministry to be manned by a cadre of officers who are skilled in the management of national security issues and in building and establishing military capabilities. This cadre can be drawn from the Services as well as the IAS officers who are especially trained in the management of such issues.
So while the enthusiasm of the Defence Minister to interact with the Service Chiefs is most welcome and is praiseworthy, however we recommend that she should pay more attention to the Department of Defence Production, the Ordnance Factory Board, DGQA, IDAS, DRDO and the reforms that are necessary in these departments and in the Ministry bureaucracy who at present are not entirely competent to handle issues involving national security and matters military.