Electronic gunsights will become an increasingly important aspect of military and civilian small arms development in the coming years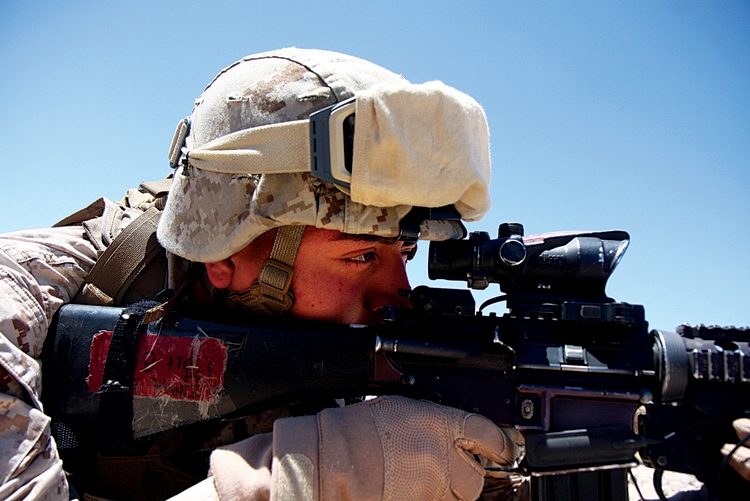 A US Marine sights his target through an advanced combat optical gun sight scope
Globally, the legal smal arms market is forecast to grow from $4.1 billion in 2014 to $5.3 billion in 2020, a compound annual growth rate of 4.2 per cent, according to projections in a new industry report from MarketsandMarkets. The projections reflect sales of small arms in the hunting, sport shooting, self-defense, law enforcement and professional markets. Products include pistols, rifles, machine guns and carbines and according to the forecast five companies — Sturm Ruger, Alliant Techsystems, Smith & Wesson, Freedom Group and Colt Manufacturing — account for more than 40 per cent of the total market.
These firearms come with or without gunsights and there are numerous optical devices that assist in aiming a firearm for precision firing. Gunsights include the simple iron sights on pistols and the more complex front and rear sights on target and high-powered sporting rifles. The first gunsights appeared as early as 1450. They consisted of a bead front sight and a notched standing rear sight. Since then, other designs have allowed great accuracy in situations in which the shooter can take his time in preparing to fire. Yet others, e.g., the open rear sight, allow for aiming and shooting quickly. Special telescopic sights appeared in the 1600s. In 1737, King Frederick the Great of Prussia is said to have used telescopic sights. Snipers' rifles with telescopic sights were used in the US Civil War and World War I. Optical advances in the 20th century led to hugely varied telescopic or "scope" sights in varying powers and often varying ranges of magnification.
A gyro gunsight (GGS) is a modification of the non-magnifying reflector sight in which target lead (the amount of aim-off in front of a moving target) and bullet drop are allowed for automatically, the sight incorporating a gyroscopic mechanism that computes the necessary deflections required to ensure a hit on the target. The sight was developed just before the Second World War for aircraft use during aerial combat.The sights usually contained more than one reticle to assist in proper aiming point: a fixed one (signifying the direction the guns are pointing), a moving one showing the corrected aiming point, and a reticle to match to a target plane's known wingspan (to adjust the sight for the target's distance).
Gun owners are keen on improving their marksmanship and only gunsights can help them achieve that. Basically, there are three types of sights used on firearms - open sights; aperture (peep) sights and telescopic sights.
Open Sights
There are many types of 'iron sights' or open sights. The simplest is the type found on many shotguns. It's a round bead at the muzzle end of the barrel. You simply look down the top ridge of the shotgun and put the bead on the target. It's not the most accurate type of iron sight but it works well enough for most types of shooting that you'll do with a shotgun. Then there are front and rear sights on the target which needs a bit of practice as at no point will both sights and the target be in sharp focus.
Aperture Sights
The peep' or aperture sight is easier to use than open sights. The shooter has to look through the 'aperture' and center the bead on the front sight in the aperture. Like open sights, the two sights won't be in clear focus. For precision shooting, normally a smaller aperture is selected while a larger aperture is used in hunting.
Telescopic Sights
For targets that are either very small or very far away, telescopic sights are used. Telescopic sights offer magnification of the target. Magnifications between 2x and 24x are common. While some scopes have a fixed power (2x, 4x...) many are variable. Variable scopes generally have a limited range of magnification. For example, a scope may have a 3-9 or a 6-24 range of magnification. Larger lenses typically allow more light in but the quality of the optics plays a big part in the quality of the image through the scope. There are two 'turrets' that allow for adjustment of the scope. The top turret allows one to adjust for elevation (up and down). The side turret allows to adjust for windage (left and right). Generally these are set and covers are screwed onto them to prevent the setting from being changed and in some instances to make the scope fully waterproof.
Advanced Combat Optical Gunsight
Advanced Combat Optical Gunsight (abbreviated ACOG) is a series of telescopic sights manufactured by Trijicon. The ACOG was originally designed to be used on the M16 rifle and M4 carbine, but Trijicon has also developed ACOG accessories for other firearms. Models provide fixed power magnification levels from 1.5x to 6x. ACOG reticles are illuminated at night by an internal phosphor. Some versions have an additional daytime reticle illumination via a passive external fiber optic light pipe or are LED-illuminated using a battery.
The ACOG is available in a variety of configurations from the manufacturer with different reticles illumination, and other features. Most ACOGs do not use batteries for reticle illumination, being designed to use internal phosphor illumination provided by the radioactive decay of tritium. The tritium illumination has a usable life of 10-15 years. Some versions of the ACOG have an additional daytime reticle illumination via a passive external fiber optic light pipe. Normally this allows the brightness of the reticle to match the field of view since it collects ambient light from around the sight, although this can lead to a mismatch in lighting — such as sunlight hitting the light pipe directly, or standing in a shadow — causing the reticle to be much brighter or darker than the target. Reticles have other features such as a bullet drop compensator and other different reticle shapes such as chevrons.
There are other types of sights that may be referred to as 'red dot' sights. For some scopes, there may be a red dot in addition to the reticle. More commonly, 'reflex' and 'holographic' sights are referred to as red dot sights. Reflex sights use an LED to project a dot (or reticle or some sort) onto the image seen in the sight. Many people have laser sights on their guns. They cannot be used in bright light. They also tell your target precisely where you are.
Electronic Gunsights
Electronic gunsights, such as those developed by TrackingPoint will become an increasingly important aspect of military and civilian small arms development in the coming years. Such optics have already given dramatic improvement to accuracy and hit probability in larger military systems, for example tanks and other armored fighting vehicles. While TrackingPoint's system is clearly geared towards the precision shooter, it hints at other capabilities that could be applied through electronic gunsights in other areas where small arms are used.