When the Berlin Wall collapsed, there were only 16 border fences around the world. Now, 65 countries have put up border fences, trying to keep at bay cross-border movement, terrorism, smuggling, drug racket, etc.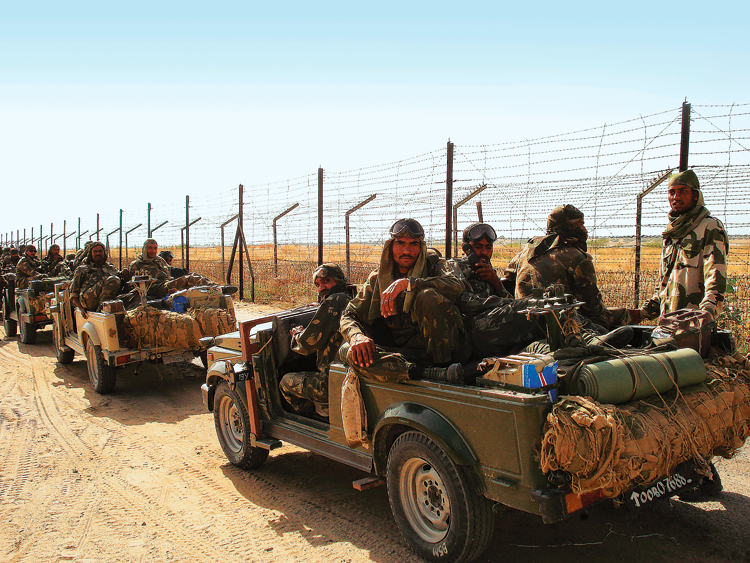 Border Recceby Indian Army along the Indo-Pakistan border
When on November 9, 1989, the Berlin Wall, a symbol of a country divided and termed the 'Wall of Shame' was brought down, one thought borders would start disappearing. On the contrary, they have increased and countries are increasingly becoming protectionist, in the backdrop of illegal migration and the consequent social tensions that go along with it. When the Berlin Wall collapsed, according to .... there were only 16 border fences around the world. Now, 65 countries have put up border fences, trying to keep at bay cross-border movement, terrorism, smuggling, drug racket etc.
President Trump's Mexican Wall Costs Huge
And we all know how Donald Trump campaigned during the Presidential election with one of the central themes being building a wall along the border of Mexico and the latter having to pay for it. President Trump has already set in motion his grandiose plans to build an "impenetrable, physical, tall, powerful, beautiful, southern border wall" between the US and Mexico. The border is about 1,900 miles (3,100 km) long and traverses all sorts of terrain. Trump says his wall will cover 1,000 miles and natural obstacles will take care of the rest at a total cost of $10 billion, while fact checkers say it could be between $12 and $15 billion.
India Securing Its Long Borders
Similarly, India has the onerous task of securing its border both on the eastern and western fronts. Half of the 4,096 km border India shares with Bangladesh has been fenced and the project is to be completed by 2019. The aim of the project is to curb infiltration and smuggling of cattle and fake Indian currency notes.
On the western front, the India and Pakistan Border, known locally as the International Border (IB), is an international border that demarcates the Indian states and the four provinces of Pakistan. The border which is 2,900 km in length has been a site of numerous conflicts and wars between the countries and is considered as one of the most complex borders in the world.
Countries have started protecting their borders from the illegal movement of weapons, drugs, contraband, and people, while promoting lawful entry and exit. The article examines how many of the countries are securing their borders. Indeed, border and perimeter security is a major challenge particularly when the borders run for thousands of kilometers, often through difficult and varied terrain.
Smart Technologies for Quick Detection
Building a wall and watch towers like in the Cold War days is no longer secure enough. Border and perimeter security is a major infrastructure activity, requiring huge investments, massive deployment of technologies and also people. Smart technologies are coming into play as they reduce the dependence on the foot soldier to keep a tab on the borders which is not possible round-the-clock considering how inhospitable some of the border posts may be.
There are many border and perimeter security equipment available in the market, ranging from electric fencing or laser fencing to thermal cameras, sniper detection, ground surveillance radars, intrusion sensors, C41 (command, control, communications, computers and Intelligence) systems, under vehicle surveillance systems, turnstiles and revolving doors, tire killers and more.
With infiltration happening on the stealth, the need for laser fencing and other sophisticated fencing along the borders has been felt. The Border Security Force (BSF) is all set to get more teeth to man the 198 km India-Pakistan international border using a newly developed technology that can detect intrusions and relay information immediately to the nearest post for action. Developed by Delhi-based defence IoT firm, CRON Systems, the made-in-India technology is called Kavach (KVx) series laser walls and is a notch higher than the existing laser walls. The intrusion detection system based on infrared array is invisible and more advanced than laser walls.
Laser Fencing
Along the India-Pakistan border laser fencing is coming up in a big way. The laser wall is a mechanism that detects objects passing across the line of sight between a laser source and a detector, and sets off the alarm if it's breached. They are equipped with night and fog operability tools to ensure functioning in low visibility conditions. The laser sensors are connected through satellite-based signal command system to ensure remote monitoring. Although expensive, but it is an effective solution to plug the loopholes and checkmate the enemy.
Israeli Technologies to the Fore
India is also seeking technologies from Israel which has highly sophisticated border security system on the border outposts in Gaza. The security system includes high-quality long-range day cameras along with night observation systems employing third generation thermal imagers. Israel has expressed willingness to share with India its technology for border protection. The Israeli border fencing along West Bank, Gaza and Egypt also consists of latticed steel, topped and edged with razor wire, extending at least two metres below ground and in some sections reaching seven metres above the ground. Ditches and observation posts with cameras and antennae line the route. In an electronic fence, an electronic pulse runs through the fence, setting off an alarm on contact that will allow security guards to locate the exact spot of attempted infiltration.
Optical Surveillance
This is one of the oldest surveillance technologies around mainly made up of night vision, telescopes, binoculars and spotting scopes.
Night Vision: A night vision device (NVD) is an optical instrument that allows images to be produced in ultralow levels of light virtually approaching total darkness. They are most often used by investigations agents, the military and law enforcement agencies, but are also used by civilians like hunters and wildlife photographers. Night vision devices were first used in World War II and the technology has evolved greatly since then, leading to several "generations" of night vision equipment with performance increasing and price decreasing.
Spotting Scopes and Binoculars: Although everyone is familiar with binoculars, spotting scopes are less known. Spotting scopes are generally a single scope, or monocular with a greater magnifications and are generally used by investigators and nature watchers.
Telescopes: Whether you are looking at Mars, the moon or in open terrain you don't get much better magnification than a telescope to see those finer details and this could be used to advantage for surveillance along a fence.
Border Surveillance Radar
Hensoldt's Spexer 2000 is a high-performance border surveillance radar for the automatic detection and classification of ground, sea and low-flying air targets. It was developed for the specific requirements of security scenarios; with its primary fields of application in border security systems, as well as the protection of critical infrastructure and perimeter. The Spexer 2000 has already proven its remarkable performance in integrated security systems in numerous regions of the world, where it is successfully being used to detect traditional as well as asymmetric threats.
Battlefield Surveillance Radar
It is generally a man-portable batterypowered electronic short-range battlefield surveillance radar to provide all-weather surveillance against intrusion. The radar is capable of searching a specified sector and performing track while scanning for multiple targets. The radar detects, tracks and aids in classifying the moving targets. Such radar systems can be carried by one or two soldiers. They are compact and can be set up within a few minutes to match the speed and requirements of the users. The radar has sophisticated built-in software algorithms to detect, track and classify targets like crawling man, group of walking men, light and combat vehicles, and low flying helicopters. It also has a built-in interface for automatic transfer of target data to remote locations and capability of integration with imaging sensors. The radar is amenable for mastmounted role on any light vehicle.
Unattended Ground Sensors
For the detection of movement at a border crossing, Self-Powered Ad-hoc Network (SPAN) nodes may be equipped with ground-vibration or acoustic sensors, while for structural-integrity applications, stress sensors would be employed. According to Lockheed Martin, several undisclosed agencies within the US Government are currently testing the ability of unattended ground sensors to protect personnel stationed in war environments, and to assist with border surveillance. Unattended ground sensors may be in the form of IR devices, pressure devices, magnetic devices, electromagnetic devices, or acoustic devices.
Imagery analysis
For instance Textron's RemoteView gives comprehensive imagery analysis; quickly finds, interprets and annotates items of interest; includes toolsets for imagery and multi-image analysis. From imagery analysis to precision positioning and 3D visualization, RemoteView is the proven solution for situational understanding and interoperability. As the geospatial intelligence solution of choice within countries around the globe, RemoteView is used across a broad spectrum of industries including: military and defense, border security, disaster relief, natural resource management, civil engineering, ecosystem monitoring, city planning, environmental engineering, oil and gas exploration, real estate, utility and more.
The choice of secure and safe technologies is amazing but they all come at a huge cost. That is the price a government has to pay to keep its border's safe, failing which we have seen how illegal migration has led to all kinds of problems across the globe.