Personal weapons of the soldiers must have the latest technologies inbuilt for counter terrorist and counter insurgency missions including day/night vision solutions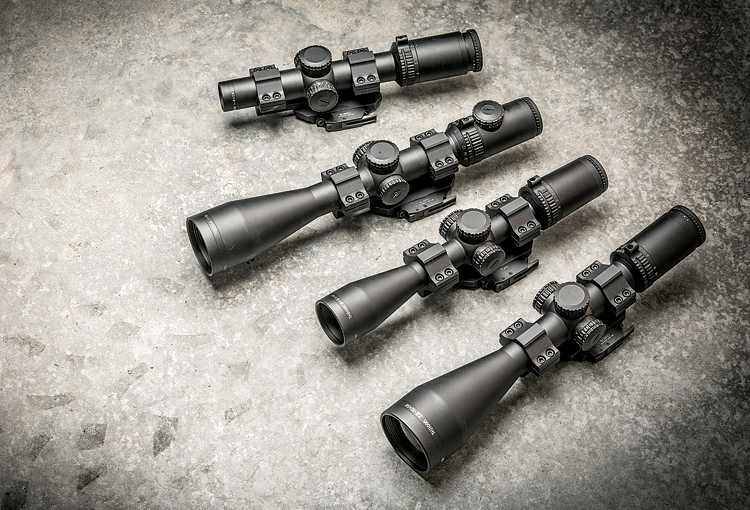 Trijicon AccuPower
World over every military is investing heavily in acquiring aiming solutions to enhance the fighting capabilities of its soldiers. Most of the wars being fought across the world are sub-conventional wars. The nature of the sub-conventional conflicts is such that it requires the military to have a capability to fight in all kinds of terrain existing in their operational environment. This may include dense urban centres, semi-mountainous/mountainous terrain, jungle terrain, semi desert and desert terrain. This capability also requires an ability to operate in all weather conditions both by day as well as by night. This poses serious challenges for the military who not only have to eliminate the adversary but also have to simultaneously ensure minimum collateral damage which in turn precludes the use of heavy weapons including area weapons thus laying more emphasis on individual/personal weapons and the individuals skill at arms.
Since, the sub-conventional conflicts involve non-state actors who adopt guerilla tactics to achieve their missions, the numbers involved are invariably small. They use the population centres to scatter and hide themselves while remaining concealed and undisclosed in the area of operations thus providing no target for the military to engage with conventional weapons. Thus counter insurgency and counter terrorism operations which are a part of sub conventional conflicts require basic soldierly skills plus additional skills of personal nature for countering the insurgent/terrorist and hence a greater emphasis on the use of individual/personal weapons. These personal weapons must have the latest technologies inbuilt for counter terrorist and counter insurgency missions including day/night vision solutions for operating in all weather conditions by day as well as by night.
Trijicon
Established in 1981, the Michigan based Trijicon offers cutting edge state-of-the-art thermal imaging and aiming solutions for infantry soldiers. The company manufactures variety of optical sights like thermal imaging sights, magnified optics, reflex sights, iron sights, spotting scope and significant military equipments like image intensifiers. Each product line has range of products for specifically designed for different types of hand guns and for various operational contingencies.
Thermal Products
Trijicon offers four types of thermal optics products for four different uses.
Thermal Riflescope
IR-Hunter: Designed for hunting, it is considered as one of the most advanced thermal hunting scope. The user-friendly design and advanced infrared technology of the Trijicon IR-HUNTER® comes with two different specification of MK2 with 20x digital magnification and MK3 with 36x digital magnification. It also features 'Edge Detect Mode' where only the edge of the target is marked out in IR. This uses only a fraction of the brightness of other modes so that eyes are not as prone to night blindness from the screen.
REAP-IR®: Specially designed for demanding shooting where speed and accuracy are equally required, REAP-RI is a small, light, ruggedized, weatherproof thermal riflescope with multidirectional thumbstick control which can engages targets in any light. It has a smart built in sighting system which gives 8x zoom with Digital Contrast Enhancement and Digital Focus Control.
IR-Patrol: During any night operation, searching for a suspect or securing any military position needs situational awareness and IR-Patrol is a perfect solution for such situations. It is a light and ruggedised multipurpose thermal imaging monocular which gives a sharp image through its MicroIR™ 640 x 480 12 Sensor and 640 x 480 digital OLED Display. It is available in handheld, helmet-mounted and rifle-mounted versions.
Snipe-IR: It is designed to work with optical day sight and gives a clear imagery even in pitch-black darkness. The Trijicon SNIPE-IR is optimized for use with a 4x day optic. It provides with enhanced situational awareness for detection and target acquisition. It comes in clip-on and hybrid versions and gives flexibility to choose the system as per the operational requirement.
Magnified Optics
Trijicon compliments its thermal sights with range of magnified optics.
Trijicon AccuPower: The Trijicon AccuPower® is a versatile, variable-powered riflescope with an electronic-illuminated reticle. Featuring a high-quality lens system with full multi-layer coatings, the AccuPower provides an incredibly clear sight picture. It comes with eleven brightness settings with an "off" feature between each brightness setting. The lens system of AccuPower comes with full multi-layer coatings and it can survive in 10 feet of water.
Trijicon ACOG®: Used by the US Special Operations Forces and Marine Corps for medium distance engagement, Trijicon ACOG® (Advanced Combat Optical Gunsight) enables the user to shoot with both eyes open by using the the Bindon Aiming Concept. It comes in seven different magnifications from 1.5x to 6x. Till date over one million ACOG have been produced by the company. It comes with warranty of 15 years for Tritium lamp on fiber optics scope and 10 years on non-fiber optic scopes. It also features a multi-coated lens which provides superior clarity and lightgathering capabilities with zero distortion and the whole system is ruggedized for all kind of operational conditions.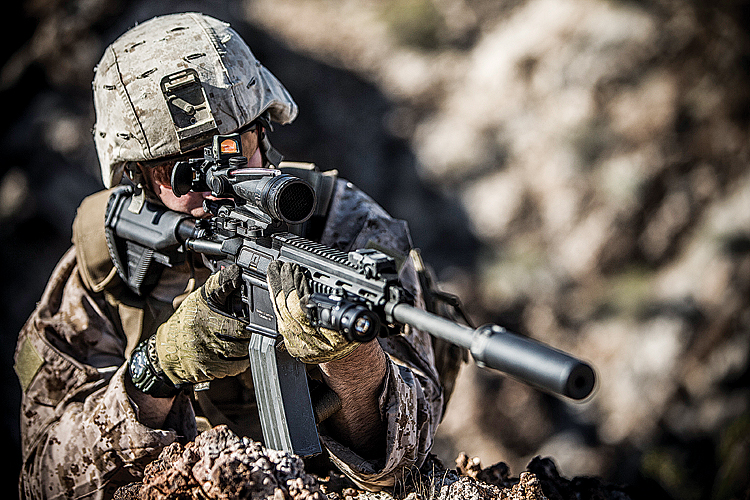 Trijicon ACOG
Trijicon VCOG®: The VCOG® (Variable Combat Optical Gunsight) is a rugged variablepowered riflescope designed for extreme durability with magnification range to accommodate both close and long distance target acquisition. The VCOG has military specification grade optic with an LED-illuminated first focal plane reticle suitable for any application.
They have undergone series of US Department of Defence approved tests achieving MIL STD-810G. VCOG allows user to rapidly acquire target across magnification range.
TARS®: For the long range shooting demands of the infantry, Trijicon offers TARS (Tactical Advanced Rifle Scope) – a rugged, variable-power riflescope, with 10 illumination settings, adjustable for longrange shooting demands. This allows the user to zero on a target at any distance. TARS can survive water level upto 20 meters and comes with a warranty of five years from the date of the manufacturing.
Reflex Sights
RMR®: The Trijicon RMR® (Ruggedized Miniature Reflex), a rugged miniturised red dot sight, made from 7075-T6 aluminum to military standards, durable, comes in LED, Adjustable LED, or Dual-Illuminated (fiber optic/tritium) versions and can illuminate in any light condition.
MRO®: The Trijicon MRO® (Miniature Rifle Optic), designed for mounting on all kinds of small arms ranging from rifles, carbines to shotguns and helps in rapid target acquisition. For a better situational awareness, the MRO, considered as the next level in mini reflex design, comes with large aperture and tapered light path which maximises the viewing area. It is fully sealed, waterproof in hardanodised forged housing.
MGRS™: The Machine Gun Reflex Sight (MGRS™) is a non-magnified optic that mounts to both the M2 and M240 machine guns. The Trijicon MGRS is intended to aid the machine gunner in rapid target acquisition and engagement that will allow keeping "both eyes open" from a natural shooting position. Accuracy is enhanced by use of the machinegun-specific, interchangeable range dials, and performance is assured with a strong 7075-T6 forged-aluminum housing.