Focusing on the current security requirements, Eurosatory is following the evolution in this domain and is putting forward creativity and innovative technology of its exhibitors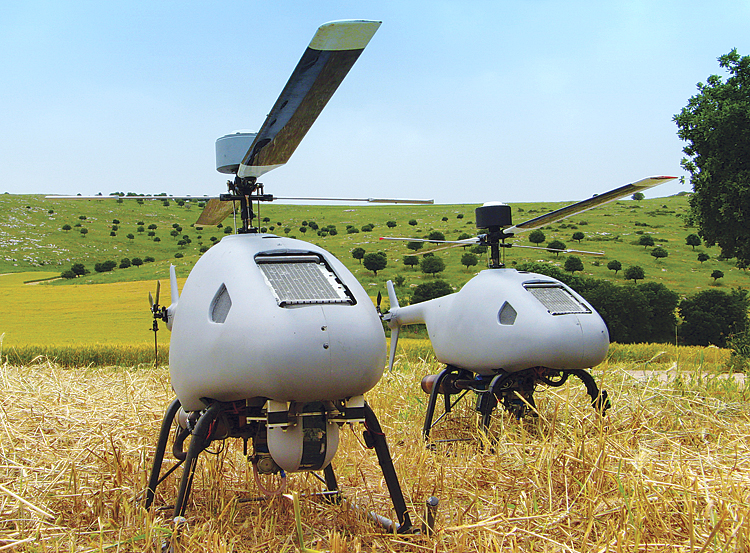 Steadicopter will unveil the final configuration of it's Black Eagle 50 compact RUAV
Europe's leading defence expo Eurosatory is being held from June 11-15 in Paris. In this edition, the expo is expected to host around 1,750 exhibitors from 63 countries. And around 57,000 professionals are expected to visit the five day event. In 2016, it gathered 1,571 exhibitors, 212 Official Delegations, 57,024 international visitors and 700 journalists from all over the world.
Focusing on the current security requirements, Eurosatory is following the evolution in this domain and is putting forward creativity and innovative technology of its exhibitors. Show will have a dedicated hall mainly to showcase technological clusters such as intelligence, civil security, crisis management, security of critical infrastructures and chemical biological radiation nuclear. Moreover, it will also have business meetings and strategic consultancy.
Live Demonstrations
This year the live demonstrations zone will be moved close to the exhibiting halls, making it easily accessible to visitors. For the first time, institutional Live Demonstrations will complete Eurosatory Live Demonstrations week programme. Among them are French Army, French Police, Special Operations Command, National Gendarmerie Intervention Group, Research and Intervention Brigade and Paris Fire Brigade.
Eurosatory LAB
For 2018 edition, Eurosatory has created an all-new Start-Up area, called Eurosatory LAB, dedicated to international start-ups in the Defence and Security domain. Eurosatory will select up to 80 most groundbreaking start-up companies to exhibit alongside 1,600 other firms. Internationally renowned keynote speakers will animate the LAB.
Eurosatory Conferences
Conferences are integral part of any expo and in its 2018 edition, the expo will witness business leaders participating and deliberating on the issues pertaining to defence sector in various conferences. They are expected to attract high-level panel of speakers from manufacturers, media, experts, think tanks and government officials. More than 70 conferences will be organised.
Business at Eurosatory
Eurosatory 2018 offers an all-new Business to Business meetings programme. To organise business meetings before the exhibition, exhibitors and visitors can use Vimeet, a platform created by Eurosatory's partner PROXIMUM Group. To increase networking during five days of the exhibition, all the attendees are invited to use Swapcard application, a connection tool for participants with common interests.
CBRN Thematic Event
This edition will present a new international thematic event dedicated to CBRN issues organised with the participation of French and other nations, exhibitors from the domains, state representatives, and experts. This will be in addition to the technology cluster and live demonstration dedicated to the CBRN.
Drones
The drones sector is an integral part of Eurosatory 2018. It has been a technology cluster since 2006. More than 130 exhibitors with activities in UAVs and UGVs sector are expected to participate. One third of the official delegations are interested in this domain. Drones will also participate in live demonstrations at the show.
Eurosatory 2018 offers an all-new business-to-business meetings programme. To organise business meetings before the exhibition, exhibitors and visitors can use Vimeet, a platform created by Eurosatory's partner PROXIMUM Group.
Some of the leading exhibitors companies in drone are Airbus, Drone Volt, Eca Group, Elbit, Leonardo, Lockheed Martin, Safran, Thales, Aeraccess, BlueBird Aero Systems, Aeronautics Group and others.
In 2018, there is a remarkable presence of companies in the field of anti-drones. At every Eurosatory several conferences on drones are organised. In 2018, conferences will address issues like "Anti-UAV fight", "Drones for the Ground Forces" and "Airmobile combat and contact drones".
Vehicles
This year Eurosatory is expected to witness more than 250 vehicles (civil and military). It will be proper to say that the complete defence vehicles industry will be present at the show. Both military and civil vehicles will also participate in live demonstrations.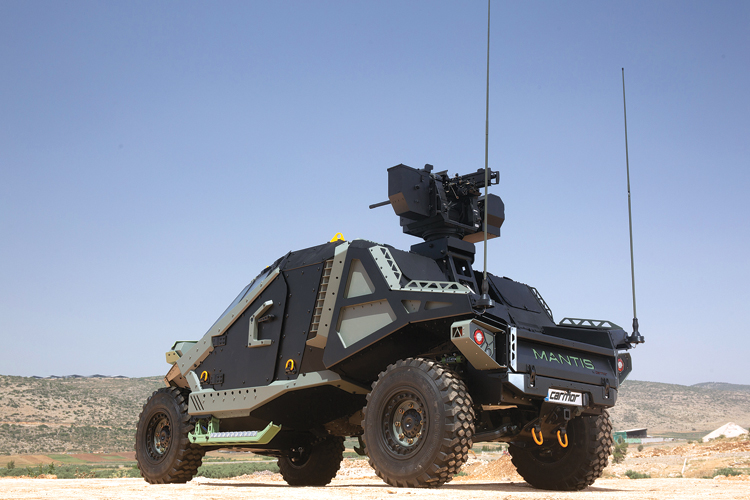 Carmor's innovation-packed, high-survivability Mantis family of protective vehicle
Some of the major participating vehicle companies are Daimler, Farmington's Automotive, Isuzu, Iveco Defence Vehicles, Otokar Otomotiv, Renault Trucks Defense, SIDES and Volkswagen France.
The exhibition will see all kinds of defence vehicles including armoured vehicles, light armoured and unarmoured vehicles, logistic vehicles, trucks, firefighting vehicles, ambulances and sanitary vehicles, crowd control and anti-riot vehicles, cash in transit vehicles, unmanned ground vehicles (UGV) and systems, motorcycles, quads, etc.
Cybersecurity
The cybersecurity domain is an integral part of Eurosatory 2018. A technology cluster has been dedicated to cybersecurity which will have 75 exhibitors and 15 per cent of the official delegations are from this domain.
Some of the major exhibiting companies are Airbus, Atos, BAE Systems, Bertin Technologies, IAI, L3 Technologies, Lockheed Martin Corporation, Netline Communications Technologies, Raytheon, Secure IC, Sopra Steria, Thales and others.
In 2018, Eurosatory conferences will focus on issues like "The future of security cooperation in Europe", "Tactical means of electronic warfare (EW)", "Developing international cooperation in Cyberdefence and Cybersecurity".
Civil Security & Crisis Management
Since 2014, it has been an integral part of Eurosatory. In this technology cluster around 299 exhibitors and 10 per cent of official delegations are participating. Some of the major participants are Paris Fire Brigade, CEGELEC Défense, Cyalume Technologies, Desautel, High French Committee of Civil Defence (HCFDC), Losberger, Matisec and others.
In 2018, a special focus will be placed on the CBRNe with a special event organised in partnership with the High Committee of Civil Defence (HCFDC); a table top exercise bringing together 60 international experts to conduct large-scale CBRNe event scenarios followed by a conference. Then the experts will visit stand of Civil Security exhibitors. The Research and Intervention Brigade and Paris Fire Brigade will jointly participate in the live demonstrations.
The Eurosatory LAB
Throughout the duration of the exhibit, this unprecedented space will showcase up to 70 start-ups building the defence and security of tomorrow. A new space dedicated to emerging and innovative companies with applications in land and air-land defence and security. Up to 70 French and foreign start-ups will be present to showcase their innovations and technologies.
The space will consist of three main areas: An exhibition space gathering startups from 13 countries: Belgium, Czech Republic, France, Germany, Ireland, Israel, Netherlands, Poland, Portugal, Singapore, Spain, United Kingdom, United States.
An agora hosting daily conferences around major issues of innovation: counter-terrorism, startup funding in the defence, GAFA, etc. twice a day, industry leaders will open the "pitch" sessions where each start-up will have the opportunity to present its projects and technologies.
Within a vast 900 m² space located in the Hall 5A, start-ups will be organised around the following key themes like surveillance and intelligence, cybersecurity and IT, intervention and force engagement, communications, production, equipment, maintenance and logistics, enabling technologies.