Integration of thermal and laser imagery with electro-optic systems is the way ahead for effective surveillance solutions by day and night in all weather conditions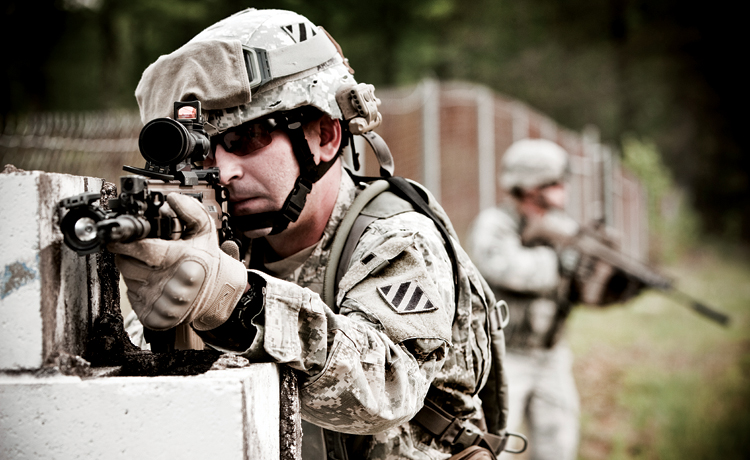 Trijicon Advanced Combat Optical Gunsight (ACOG)
Since the advent of warfare, a soldier's quest for aids which could enable him to see at longer ranges with more clarity in adverse weather conditions and by night, has been never ending. Such aids would improve his surveillance, reconnaissance, intelligence gathering and accurate targeting. It would also lead to better situational awareness. The first aid to enter this quest was a variety of binoculars and telescopes based on pure optics and laws of light. This was followed by electrooptics where 'electro' component changed the optical properties of the medium. This change not only involved the refractive index but also in birefringence which put across simply is the optical property of a material having a refractive index that depends on the polarization and direction of light resulting in double refraction. In other words electro-optical devices enhance the image and thus the raison d'être for multiple applications for the armed forces, medical and commercial devices. The trend is to integrate other devices like thermal images and laser sensors to make it an allweather, day and night system with electro- optical systems for better image resolution. Laser applications include Laser radar called Ladar (Laser detection and ranging), laser range finder (LRF) and a laser pointer.
BAE SYSTEMS
Opto-Electronic Tracking System (OETS)
This system can detect and track targets otherwise hidden in low contrast clouds or darkness. The OETS is a combination of video, thermal and laser sensors mounted on a small ruggedized, transportable pedestal (or integrated into the customer's larger pedestal), all controlled by an integrated video' tracker. The standard configuration includes a modular control and display assembly that can be integrated into a larger system. Typical sensors include long-range thermal camera, high-resolution video camera with zoom lens, and Class 1M eye-safe laser range finder for generating three dimensional position data. The tracker processor includes a software track loop for local pedestal control and positioning data for slaved pedestals. OETS has also been integrated into an air defense system.
Mobile Opto-Electronic Tracking System (MOETS)
MOETS is designed to provide test range instrumentation for optically acquiring and tracking powered and ballistic projectiles for real-time viewing and recording video for post mission analysis. The standard MOETS consists of two local systems and a remote console The local system is a truck-mounted operations shelter with console, associated electronics and a trailer mounted pedestal. The remote system enables a single operator to remotely control or override two local units. Data Links between the remote console and the local consoles to provide data, video, and voice transmissions. The minimum target range is >15 km in standard clear atmosphere, High Speed Camera Detection Range is 5 km and Data Precisionis 17 Bit.
ASELSAN
Explorer Hand Held Electro-Optic Sensor System
EXPLORER is designed to meet tactical needs of a modern army by allowing long range threat detection, identification, determining of coordinates and coordination of support fire via communication units. Due to its light weight and hand held nature, it is easy to carry it whenever necessary. EXPLORER provides the state-of-the-art electro-optical capabilities which include a high resolution uncooled thermal imager, laser range finder(LRF), digital magnetic compass (DMS), global positioning system and laser pointer. It is ideally suited for carrying out Border Surveillance; Reconnaissance; Situational Awareness and Special Forces. Its main features are High resolution long-wave sensor; Integrated LRF, Laser Pointer, DMC and GPS; Automatic image optimization and image enhancement; coordinates of target calculated in real time and high resolution OLED display. Its main technical features are: Thermal Imager's Detector has 640 x 480 LWIR (8-12 μm), Optical Magnification is x2.5; Field of View is 10.3° x 7.7°; LRF has a wavelength is Class 1, Eye safe, 1.54 μm with a range of up to 5 km with an accuracy of ±5m rms. DMS has an accuracy of 1° rms.
TRIJICON ACOG®
The Trijicon Advanced Combat Optical Gunsight (ACOG) is a fixed power, compact riflescope with an illuminated reticule pattern for use in bright to low/no light. The ACOG is designed to be extremely durable and reliable. It combines traditional, precise distance marksmanship with Close Quarter Battle (CQB) speed. Many variants include a bullet drop compensated (BDC) reticle. Every feature of its design was chosen for with the aim of providing increased hit potential in all lighting conditions. It is available in 12 models ranging from 1.5x16S to 6x48 where the first figure indicates the magnification and the second figure indicates the diameter of the objective (front) lens in milli-metres which is important because it controls how much light the scope can let in, and ultimately transmit to your eye.
The Trijicon RMR is extremely versatile as a primary optic on handguns, rifles, carbines and shotguns. When paired with a magnified optic, the RMR is an excellent solution as a secondary CQB optic, and as a backup sight
Most ACOG® models feature a tritium/fibre optic illuminated reticle that automatically adjusts the brightness based on available light thus can operate without a battery. The ACOG® can be used as a Close Quarter Battle (CQB) sight when shooting with "both eyes open," utilising the Bindon Aiming Concept. Several ACOG models are designed to be used with the "Bindon Aiming Concept", an aiming technique developed by Trijicon founder and optical designer Glyn Bindon. The technique essentially uses the illuminated part of the reticle and its focusing rear eyepiece as a collimator sight. It is a combat proven system which can with stand recoil from a .22LR (.22 Long Rifle) to a .50BMG (.50 Browning Machine Gun cartridge).
Variants include ACOG®/RMR® Combo for CQB and Long Distance engagement;, RMR®Type 2 LED; Type 2 Adjustable LED or RMR® Dual-Illuminated sight are designed for quick target acquisitionand accuracy. The Trijicon RMR is extremely versatile as a primary optic on handguns, rifles, carbines and shotguns.When paired with a magnified optic, the RMR is an excellent solution as a secondary CQB optic, and as a backup sight. The Trijicon VCOG (Variable Combat Optical Gunsight) is a rugged variable powered riflescope with an LED illuminated first focal plane BDC reticle. The VCOG is designed for extreme durability and features superior glass quality. The magnification range accommodates CQB and long distance marksmanship. It has MIL-spec grade optic, robust enough for any application.
LEONARDO DRS
They along with the US Army are working on two programmes to counter the adverse effects of night operations. They are the new Enhanced Night Vision Goggle III (ENVG III) and the Family of Weapon Sights – Individual (FWS-I) which aim at creating enhanced capability for infantry soldiers called Rapid Target Acquisition.
Improved Bradley Acquisition System (IBAS)
It provides the war fighter with a significant improvement over the original TOW 2 targeting system that was used on the earlier Bradley Armoured Infantry Fighting Vehicle (AIFV).The IBAS consists of a Second Generation Forward Looking Infrared (FLIR); a day television camera, a TOW (Tube launched optically tracked wire guided) tracker for the BGM-71 missile; direct view optics, a dual target tracker, an eye safe LRF and a dual axis stabilized head mirror assembly. These advancements improve the Bradley's capability to defeat the heaviest armoured vehicles and to destroy fortified fighting positions at safer distances than before.The dual target tracker improves the lethality of the Bradley and enhances the on-the-move performance of the 25 mm main gun.It can identify and fire on targets from an even greater distance there by keeping warfighters out of the danger zone.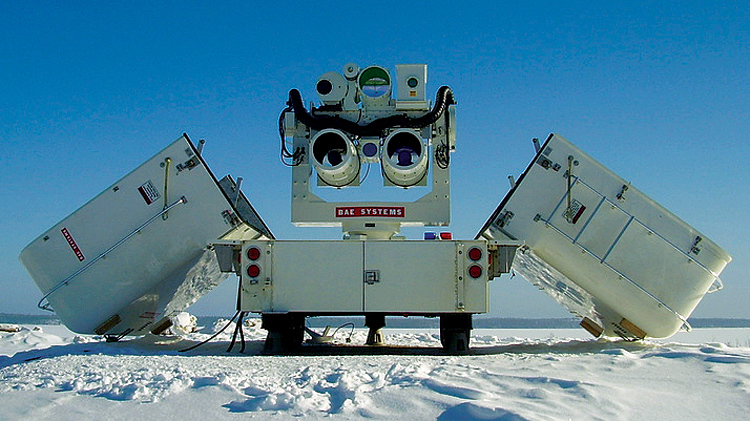 BAE Systems Opto-Electronic Tracking System (OETS)
Drivers Vision Enhancer (DVE)
The DVE Display Control Module (DCM) is a 10.4-inch liquid-crystal display (LCD), with 800 x 600 pixel resolution, offers the best in class lightweight and vehicle mounted, the DVE DCM provides situational awareness in a compact form factor with operation during night, low light, day light conditions. User controls and input/output ports deliver an optimal solution which can operate from sea level to 15,000 feet and can remain submersed in one metre of water up to 10 minutes. There are other versions also available.
Enhanced Night Vision Goggle III (ENVG III) and the Family of Weapon Sights – Individual (FWS-I)
Some of the most difficult combat occurs during night operations. Leonardo DRS along with the US Army is working on two programmes to counter the adverse effects of night operations. They are the new Enhanced Night Vision Goggle III (ENVG III) and the Family of Weapon Sights – Individual (FWSI) which aim at creating enhanced capability for infantry soldiers called Rapid Target Acquisition. The devices are connected wirelessly enabling soldiers see their weapon sight image and crosshairs aligned with what they are seeing in their night vision goggles.
CONTROP PRECISION TECHNOLOGIES
On February 20, 2019 they announced that it will supply Bharat Electronics Ltd. (BEL) with EO/IR systems for the Indian Armed Forces.
Modular Medium Range EO/IR Observation System (MEOS)
The MEOS-450 is an advanced, wide area, passive, real time, modular 24/7 Electro-Optical observation system with Panoramic Scan and optional automatic moving object detection capability. Its main features are two optional Cooled Thermal Imaging (TI) Cameras with High Resolution Cooled TI Camera with Continuous Optical Zoom lens; two optional Day Cameras – Long Range or Super Long Range and Eyesafe LRF for 10Km or 20Km (Optional). It has high accuracy P&T(Pan &Tilt) with automatic levelling; also P&T Gyro-stabilization (Optional).
Modular Long Range EO/IR Observation System
The MEOS-720/1200 is an advanced, wide area, passive, real time, modular 24/7 Electro-Optical super long range observation system with Panoramic Scan and automatic moving object detection capability (Optional).It has features similar to MEOS-450 but with longer range.
FLIR
Mid-Range Pan/Tilt Multi-Sensor
The FLIR Ranger® MS-UC DefendIR is an industry-leading mid-range thermal imager that can see in complete darkness and through a multitude of environmental conditions, including smoke, rain, snow, dust, and dense fog. The Ranger DefendIR is ideally suited for day and night perimeter security, maritime surveillance, and home land security.
Mid-Range Pan/Tilt Multi-Sensor with Spotlight
The Ranger MS-UC EnforcIR™ is built on the capabilities of the DefendIR™. Along with a daylight/low-light CCD camera and an uncooled VOx thermal imager, the Ranger MS-UC EnforcIR adds a high power spotlight to detect, deter, and temporarily disorient intruders. Its 12 million candlepower spotlight can illuminate trespassers within a one-mile radius which is ideal for perimeter security, border surveillance, crowd control, deterrence, and SAR operations.
ThermoVision™ (THV) 3000
This system detects and classifies illegal activities and threats in total darkness, smoke, sand haze, and broad daylight conditions. The thermal camera is equipped with a long-wave, cooled Quantum Well Infrared Photodetector (QWIP) and switchable optics offering three different fields of view. It provides excellent situational awareness while also closely monitoring suspect activities in real-time. Ideal applications include perimeter security, border and coastal surveillance, force protection, and mid-range threat detection.
SAFRAN
Safran Electronics & Defense offers portable optronic devices to carry out observation, identification, and location homeland security missions.
JIM UC/Protector/Sentinel, mediumrange multi-function infrared binoculars
It weighs < 2.8 kgfor JIM LR / HR version and < 2.5 kg for JIM Observe version. Thermal imager's waveband is 3 - 5 μm (cooled) and visible colour channel FOV is 3° x 2.25°. Apart from other capabilities it has Stabilization, Digital zoom, Image fusion and Local contrast enhancement. They are ideal for both military and security applications, including infantry, special forces, forward observers, border and coastal patrols. Apart from the above they also have TIPS, a thermal observation pocket scope; BIG25, light amplification night vision binoculars and PRLF, a family of pocket laser rangefinders.
Border protection
Safran provides a wide range of optronic solutions for border protection and critical infrastructure and sensitive site defense. TEOS™ and SAPS detection and reconnaissance systems are flexible and can be installed on vehicles or permanent stations in mobile or network mode. High-performance imagers and optronic sensors (thermal camera, infrared detector, laser rangefinder etc.), provide an optimum observation range of up to 25 km day and night.
L3 SECURITY AND DETECTION SYSTEMS
L3 provides improved operational efficiency with technologies that also keep military and law enforcement personnel safe, provide force protection by discovering hidden landmines, IEDs, and barricaded combatants. Also used for Humanitarian mine clearance. For carrying out these tasks L3 applies innovative radarbased threat detection technologies. Hand held 'Through Wall Radar' is one such technology which can rapidly ascertain the presence of personnel on the opposite side of walls and barriers. This technology is designed to provide immediate situational awareness for troops in urban environments.
FUTURE ELECTRO OPTICAL TECHNOLOGIES
Numerous technologies are being researched and developed for improving all sub components of Electro-optical Systems. Brief details of a few of these technologies are given below.
Synthetic aperture Ladar (Laser Detection & Ranging)
This a natural outflow of synthetic aperture radar (SAR) which provides high resolution radar images in all weather conditions from remote distances. Synthetic Aperture Ladar (SAL) system operates at infrared wavelengths, which are ten thousand times smaller radar wave lengths and has a potential for vastly improved resolution.
Multiple-input, multiple-output (MIMO) Imaging
Multiple radiating elements transmit multiple independent waveforms to improve the performance of synthetic aperture imaging systems.Thus when coupled with SAL it will improve the image manifold.
Speckle imaging
This technology is used for a range of high-resolution astronomical imaging which can dramatically increase the resolution of ground-based telescopes but are limited to bright targets. The same technology is being applied to improve the resolution of images of Electro-optical systems.