There has been an endless quest for first shot kill accuracy by the defence forces for small arms, tanks, artillery, air defence artillery, air force and the navy. First shot kill accuracy prevents the enemy from taking cover/evasive actions and also results in economy of ammunition.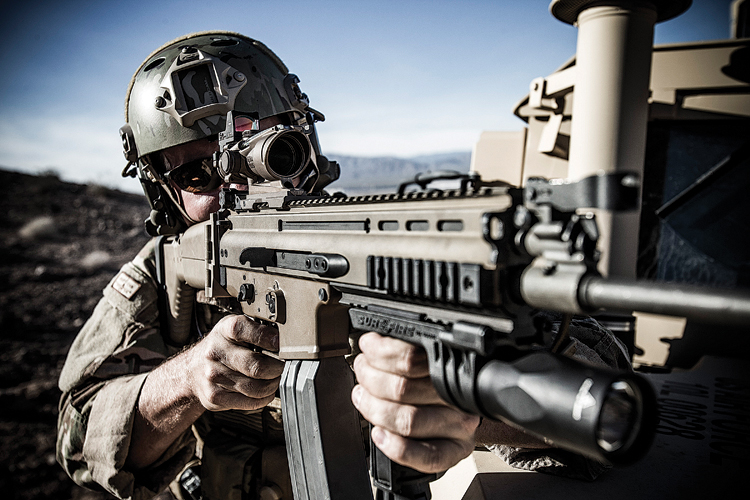 There has been an endless quest for first shot kill accuracy by the defence forces for small arms, tanks, artillery, air defence artillery, air force and the navy.
This article is on land based direct shooting infantry weapons and how high accuracy is being achieved in day, night and all weather conditions.
Safran's Portable Optronics for Infantry
The portable optronics systems developed by Safran Electronics & Defense and its Swiss subsidiary, Vectronix AG, are designed for combat missions in your armed forces, in particular for the infantry and special forces. They allow both overt and infrared surveillance, search, aim, identification, and target designation. Modular and interoperable, the binoculars with multiple functions (JIM, MOSKITO, etc.), such as weapon sights (SWORD, NITESPOT, etc.) have built-in high-tech devices (sensors, GPS, etc.). Designed to be interconnected with your telecommunications networks, this equipment gives you the full benefit of an easy to use man-machine interface, perfectly adapted for use on all field operations. Example of one of their products is:
SWORD Medium: Thermal weapon sight for rifles and machine-guns
The SWORD Medium thermal weapon sight, which is perfectly adapted to long-term observation, optimises the accuracy and effectiveness of the weapon regardless of the firing conditions and constraints, however severe. Based on an uncooled infrared sensor, this sight is compact and light as well as quick and easy to use. Mounted on a light machinegun, marksman rifle or sniper rifle, SWORD Medium lets the user engage targets at a distance of more than 800m, both during the day and at night. Accuracy is guaranteed by the stability of the axis and an advanced reticle (adaptable on request). Powered by standard AA batteries, SWORD Medium guarantees a long period of autonomy. Thermal imager has a Waveband: 8-12 μ,m Uncooled sensor, Resolution: 640x480, Field of View: 10.6°x8° (Gx 2.3) and Digital zoom: x2, x4.
Leonardo DRS
The Leonardo DRS Individual Weapon Sight (IWS) is an advanced clip-on infrared weapon sight based on equipment developed by Leonardo DRS for the US Army. The IWS combines rugged, lightweight, modular construction with superior thermal imaging technology to give today's Warfighter the ability to shoot equally well in day or night and in smoke or fog, significantly increasing survivability and lethality margins on the battlefield.
At the center of the Leonardo DRS IWS is decades of experience in the uncooled infrared (IR) weapon systems field. Leonardo DRS uses a high sensitivity vanadium oxide (VOx) focal plane array (FPA). Unlike image intensifiers that require low levels of light to operate effectively, the IR FPA requires no visible light to operate and will not shut down or bloom when hit by direct light. Also, its use cannot be detected since it operates silently and emits minimal heat and radio frequency (RF) energy. Example is as follows:
Sniper Precision Acquisition Rifle Thermal Night Sight (SPARTN). It provides night/day and degraded battlefield or weather condition visibility for the sniper by easily clipping the device in front of the existing day scope. The clip-on configuration allows the operator to maintain the existing day scope zero.
The SPARTN employs a completely passive, micro-cooled mid-wave infrared (IR) technology to provide a high-quality, large format, 640x480 resolution image, usable with day scope magnifications from 5x to > 25x. The proven range detect performance will match or exceed current Sniper Weapons Systems capabilities. The SPARTN has been ruggedised for use with most Sniper Weapon Systems. It is ideal for extended range target detection and identification, observation of environmental indicators, and is capable of tracking bullet trajectory making it the preferred Night Vision Device (NVD) for the Sniper or Reconnaissance role.
Tracking Point
A Precision-Guided Firearm (PGF) is a comprehensive, purpose-built weapon system that uses the same tracking and fire-control technology found in advanced fighter jets or a Predator Drone. The PGF system is the first and only rifle optics system to offer the advanced technology that guides the release of ordnance. Known as TriggerLink, this fire control system virtually eliminates human error caused by misaiming, mistiming, and jitters of central nervous system. Trigger Guiding Mechanism containing dozens of microprocessors and electronic, electrooptic and electro-mechanical components. The accuracy at 0.57 miles (about >900m is within 0.5 inches (1.27 cm).
Precision Targets Mode. This is for eliminating human error on stationary targets beyond 100 yards (about 90m). Switching onto Precision Targets Mode, activates the trigger guiding mechanism. In this mode, squeezing the trigger halfway turns on the image stabilisation in the optical sight, making it easier to get a precise target lock, even from unstable shooting positions.
Suppressive Mode. You can shoot immediately, just as you would with any unguided, fixed-optic rifle provided the sight reticle is zeroed at 100 yards (90m) with the trigger guiding mechanism being in the off position. This is ideal for rapid suppressive fire in close quarters.
Launch Mode. This mode allows the shooter to fire only perfect aim has been achieved. Other features are Specially Tuned Ammunition, Digital Optic Display, Sensors that detect 11 environmental shot variable and ballistic parameters which effect accuracy like rifle cant (a common error in accurate shooting is "canting" or "rolling" the rifle to one side or the other), meteorological conditions, Coriolis effect, (the Coriolis effect is defined as how a moving object seems to veer toward the right in the Northern hemisphere and left in the Southern hemisphere), spin drift (The force of gravity acting on the bullet sends it slightly to the right or left of the original trajectory. The direction of the drift corresponds to the direction of the barrel's twist and magnus effect (as a spinning bullet moves through the air, it spins a boundary layer of air that clings to its surface as it travels along). The Tracking Point System enables shooters of any ability to hit exactly where he means to, with pinpoint accuracy, every time.Example of one system is given below.
ShotView App. The ShotView app streams real-time video from the Precision-Guided Firearm to their ShotGlass on the Recon Jet wearable, smart phone, or tablet. It's ideal for communication in hunting and target shooting applications. Other soldiers can see what the fellow shooter sees in his tracking optic.
MARS (Multi Purpose Aiming Reflex Sight) Thermal Sight
ITL's MARS family includes several configurations of the MARS Reflex, adapted to multiple requirements. The MARS family incorporates high accuracy abilities, robust design, easy operation as well as thousands of hours of battle-proven experience over the last three decades. It has a simple, intuitive operation; integrated, pressure activated Laser Pointer (IR or Red); Automatic Brightness Compensation; Easy Bore Sighting and Reflex sight with solid prism. Its optics and sensors have Magnification of 1x; Reflex Dot Diameter: 0.3m Rad (about 1" @100m), Red dot compensation: Automatic, dynamic range = 1:10,000. Laser Pointers- Red: 650nm, 1.0mW, Class 2 (IEC 825-1) and IR is optional. It is restricted to law enforcement and military only.
OPTIX
OPTIX NVA-50. NVA-50 is a night vision clip-on device, designed specifically to extend the capabilities of the RPG-7 platform. It can be used in combination with the PGO-7V, PGO-7VU or the other RPG-7 optical sights via universal adapter and converts it to a night vision sight. It does not require any additional adjustment after mounting.
Trijicon Bright & Tough Night Sights
The Trijicon Bright & Tough Night Sights are a self-luminous three dot night sight alternative to traditional iron sights. They are the first choice of major handgun manufacturers and standard issue with numerous local, state and federal law enforcement agencies. They feature a metal body, Tritium-Phosphor Lamp, Sapphire Window, Silicone Rubber Cushion, Protective Aluminium Cylinders, White rings and Suppressor Sights.
Trijicon HD Night Sights
With the challenges of law enforcement and military in mind, these sights have a yellow or orange photoluminescent paint outline and tall blade on the front sight to increase visibility and quicken sight acquisition. Additionally, the rear sight is steeply hooked to assist in emergency one-handed slide operation.
Trijicon Fiber Sights
Featuring similar fiber optic materials used in several Trijicon fiber optic scopes and sights, including the battle-proven ACOG, the Trijicon Fiber Sights are purposely engineered to bring the absolute brightest aiming point while retaining strength and maintaining a refined sight picture. Whether carrying or competing, these bright, thin sights create the perfect aiming point for fast, accurate rounds on target.
Trijicon ACOG
The Trijicon Advanced Combat Optical Gunsight (ACOG) is a fixed power, compact riflescope with an illuminated reticule pattern for use in bright to low/no light. The ACOG is designed to be extremely durable and reliable. It combines traditional, precise distance marksmanship with Close Quarter Battle (CQB) speed. Many variants include a bullet drop compensated (BDC) reticle. Every feature of its design was chosen for with the aim of providing increased hit potential in all lighting conditions. It is available in 12 models ranging from 1.5x16S to 6x48 where the first figure indicates the magnification and the second figure indicates the diameter of the objective (front) lens in milli-metres which is important because it controls how much light the scope can let in, and ultimately transmit to your eye.