'Future battlefield will be characterised by short and intense engagements requiring integrated and coordinated employment of all fire power resources including precision and high lethality weapon systems in a hybrid warfare environment.'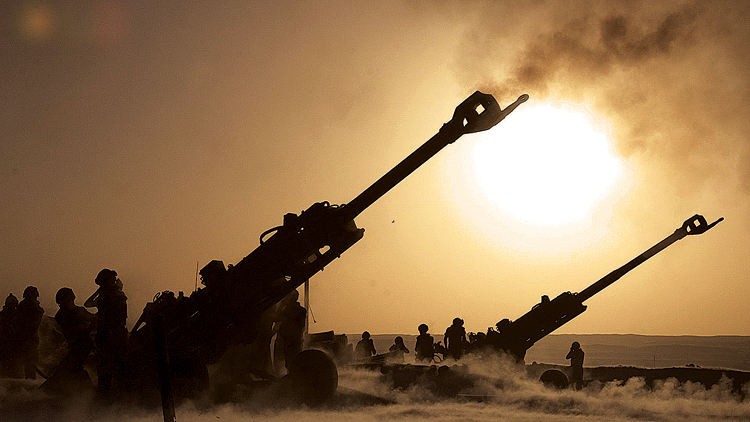 BAE Systems' M777 155mm/39 Calibre Ultra Lightweight Howitzers (ULH)
Role of Indian Artillery
The artillery has always been a battle winning factor as it can shower death on the troops in the open and also destroy bunkers with deadly accuracy. This was clearly evident in Kargil where the Indian Artillery pulverized Pakistan bunkers, kept their heads down and made the task of assaulting Indian infantry easier.
Modernisation of Indian Artillery is based on the envisaged role in the current and future battle milieu. The role could be defined as the integrated and coordinated employment of all available firepower resources to shape the battlefield and to degrade the enemy in contact and in depth battle to achieve decisive victory of the enemy. The fire power could include all types of guns, mortars, missiles and where required the Indian Air Force.
Future battlefield. The future battlefield will be characterised by short and intense engagements; nonlinear battles; simultaneity of operations; increased battle field transparency; integrated and coordinated employment of all fire power resources including precision and high lethality weapon systems in a hybrid warfare environment. The battle will be fought under the shadow of a nuclear, biological and chemical warfare threat.
Artillery Rationalisation Plan 2000
There had been no acquisition of guns for the Indian Artillery since 1987 when the acquisition of 39-calibre 155mm FH-77B howitzers from Sweden's AB Bofors in 1987 got embroiled in kickbacks and corruption. This lead to large voids in fire power when on the other hand the war scenario visualised a two front war. This dictated that the strength of artillery should be such that it could support a two front war fought simultaneously.
Seeing the alarming state of the nation's firepower capability, Gunners after a hiatus of thirteen years came up with the Field Artillery Rationalisation Plan (FARP) in 2000. As part of FARP, 155mm calibre was made the standard gun system for Indian Artillery. Accordingly, 'Artillery Profile' was conceived and promulgated with emphasis on Mediumisation' of Artillery. The plans were rather ambitious and involved the acquisition of about 3000 plus guns by 2025 at an estimated cost of $8 billion. These guns included:
1,580 towed gun systems (TGS)
814 mounted gun systems (MGS)
100 self-propelled howitzers (SPHs)
145 BAE Systems M777 155mm/39 calibre lightweight howitzers for the mountains
Expect for M777, all other gun systems were of 155mm/52 calibre or 45 calibre. Existing inventory was to be upgraded to add to the numbers.
The Blue Print for 3000 Guns
Following aspects are part of the strategy:
Involving the Indian industry to trigger the growth and establishment of a robust military industry complex.
Becoming self contained in armaments by encouraging indigenous development; encourage competition amongst the government and private industry to attain efficiency.
Gainfully employing the trained manpower and infrastructure of India's Defence Research and Development Organisation (DRDO) and defence public sector undertakings (DPSUs) along with the private sector to accelerate the production rate of guns to meet the target of about 3,000 guns in a reasonable time frame. This could be achieved by giving the manufacturing contract for the same system to more than one company.
Make in India. Prime Minister Narendra Modi had unfurled his 'Make in India' vision. Such advance systems could not be developed and manufactured solely by Indian companies in a desirable time frame thus the Indian companies were allowed to collaborate with foreign companies for transfer of technologies with they still being the prime contractor. This would further accelerate the progress towards achieving the objects of FARP.
Boosting 'Make in India' in Defence Production by Make-II
As a major boost to 'Make in India' in Defence, the Defence Acquisition Council, chaired by the then Defence Minister Nirmala Sitharaman, in its meeting on January 16, 2018, had cleared a simplified 'Make-II' procedure which will enable greater participation of industry in acquisition of defence equipment. This process will greatly help import substitution and promote innovative solutions. This simplified 'Make-II' procedure will amend the existing 'Make Procedure' in Defence Procurement Procedure (DPP)-2016. The revised procedure has been finalised after a series of consultations held with industry and is aimed 'better bang for the buck'.
Current Status of FARP
BAE Systems' M777 155mm/39 Calibre Ultra Lightweight Howitzers (ULH). The M777 is the world's first 155 mm Howitzer weighing less than 10,000 lbs (4,218 kg). Selected by the US Marine Corps and US Army as their next generation Medium Artillery weapon, designated M777, the gun has undergone an engineering and manufacturing development programme in the US. M777 is now in full rate production for the US Armed Forces. The contract for procurement of 145 numbers of 155mm/39 calibre ULH was signed with US Government in November 2016. These howitzers are being procured under US Foreign Military Sales Programme. As per the contract, US Government will deliver 25 fully formed howitzers from USA/UK and balance 120 howitzers will be assembled in India. The delivery of these howitzers will be completed over a period of four years. The first two guns were handed over to India in July 2018 and the remaining guns will be assembled in India by BAE Systems in partnership with Mahindra Defence.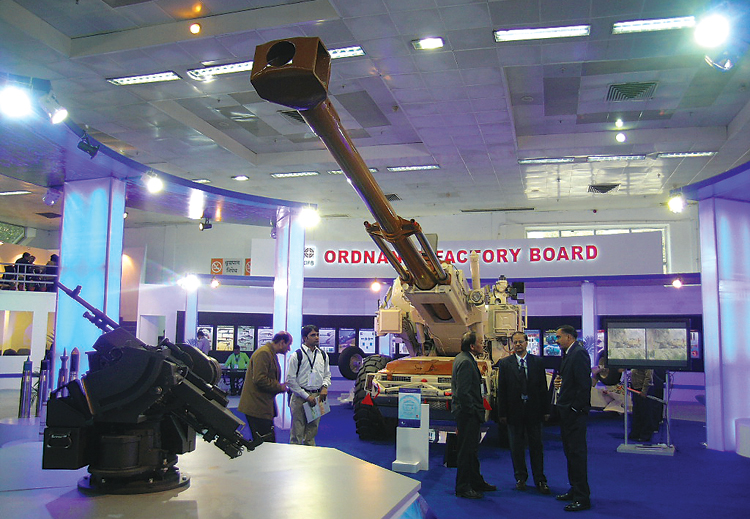 Indigenously built Dhanush 155mm x 45 calibre long-range artillery gun has a strike range of 38 km.
Dhanush. Ordnance Factories Board (OFB) had been contracted to produce a 45-calibre 155mm howitzer based on the Transfer of Technology obtained from Bofors in the 1980s. The Defence Acquisition Council approved a proposal from the OFB to manufacture 144 pieces of 155mm/45-calibre howitzers with the option to acquire another 400 provided the prototypes successfully meet the army's specifications in user trials. The gun completed the Field Evaluation Trials successfully and as a result the OFB received a bulk production order from the Ministry of Defence for 114 Dhanush guns. The OFB also handed over six Dhanush artillery guns to the Regiment of Artillery in a ceremony held at the Gun Carriage Factory during April 2019.
Dhanush is the first indigenously built 155mm x 45 calibre long-range artillery gun with strike range of 38 kilometres. It is also a major success story of the 'Make in India' initiative. Some operational details given by OFB are:

Automated technology allows three to six guns to be fired simultaneously at a single target. Rate of fire of the gun is 42 rounds/hour.
The gun is equipped with inertial navigation-based sighting system, autolaying facility, on-board ballistic computation and an advanced day-night direct firing system.
Dhanush is a joint effort by the OFB, the Army, DRDO, Directorate General Quality Assurance, PSUs Bharat Electronics Limited, SAIL, and private firms.
155mm/52 Calibre Towed Howitzer
Nexter of France has offered their gun Trajan and have tied up with Larson & Toubro (L&T). Elbit of Israel has offered their gun ATHOS 2052 and have tied up with Kalyani Group/Bharat Forge. Howitzers of both Nexter and Elbit Systems underwent competitive trials in response to the Ministry of Defence's tender of 2011/12 for 1,580 guns which was concluded in November 2015. The two guns were to undergo General Staff evaluation by the army before one was shortlisted and price negotiations begin. The army plans to acquire 400 guns under the DPP's 'Buy and Make' category and license build the remaining 1,180 howitzers. It was then reported that fresh trials have been ordered for both the systems but it appears that Elbit Systems has won the competition as the Elbit-Bharat Forge bid for the Athos 2052 howitzer was found significantly lower than that of Nexter. In fact it is understood that it is even less than Dhanush. The Ministry of Defence has the choice of opting for the indigenous Advanced Towed Artillery Gun System (ATAGS), being developed by the Defence Research and Development Organisation in partnership with Tata Power SED and Bharat Forge. The picture will get clear in the near future but logically India should opt for ATAGS which is a homegrown system.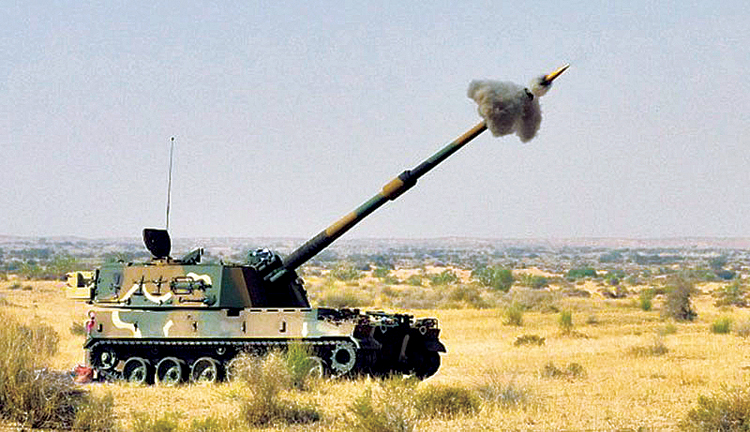 L&T's Self Propelled Howitzers (SPH) K9 Vajra-T
Self Propelled Howitzers (SPH) K9 Vajra-T. During December 2015 the Ministry of Defence began price negotiations with L&T for 100 modified South Korean SPHs, worth around 5,600 crore (about $800 million). The K9 Vajra-T, an L&T version of Samsung Techwin's K9 Thunder 155mm/52 calibre gun customised for India's 2012 SPH tender, was shortlisted for acquisition in late September after undergoing trials along with Russia's MSTA – selfpropelled gun, which had been modified to 155mm/52 calibre standard and mounted on a T-72 tank chassis. According to industry sources, the K9 is being procured under the DPP 2012 'Buy Global' category. L&T had won the contract in 2017 to supply 100 units of K9 Vajra to the Indian Army under the Centre's 'Make in India' initiative. The K9 is expected to contain some 13 major indigenous subsystems, including its fire control, ammunition handling, and nuclear, biological, and chemical system and muzzle velocity radar, to help it bypass the 30 per cent offset obligation. It is learnt that the contract has already been signed, and includes a follow-on option for additional 50 K9 guns.
Modernisation of Indian Artillery is based on the envisaged role that could be defined as the integrated and coordinated employment of all available firepower resources to shape the battlefield and to degrade the enemy in contact and in depth battle to achieve decisive victory of the enemy
Prime Minister Narendra Modi on January 19, 2019, inaugurated the Armoured Systems Complex of Larsen and Toubro in Gujarat, the first private facility in the country where the K9 Vajra self-propelled Howitzer guns will be manufactured.
The company has set up the Armoured Systems Complex at Hazira, around 30 km from Surat, to manufacture and integrate advanced armoured platforms, such as selfpropelled artillery Howitzers, future infantry combat vehicles, future-ready combat vehicles and future main battle tanks.
The manufacturing complex is executing the 'K9 Vajra-T 155mm/52-calibre tracked self-propelled Howitzer guns' programme.
814 Truck-mounted guns. The Acquisition of 814 truck-mounted Guns has been approved by the Defence Acquisition Council in November 2014 and will be undertaken under the 'buy and make in India' category with transfer of technology. While the first 100 guns will be imported, the remaining 714 will be produced in India. Tata Power SED with its 155mm truck mounted gun system and L&T-Ashok Leyland-Nexter with their 155mm gun are among the private companies in India that are reported to be interested but at present the acquisition appears on low priority. The other aspect is that OFB has announced that they will produce two more versions of the Dhanush, one of them being a truck mounted version.
155/52 Calibre Self Propelled Howitzer. It was earlier reported earlier that Bhim self-propelled howitzer was being developed as a private venture of the South African company Denel in collaboration with DRDO but no details are known. It is also reported that L&T is expected to develop this system.
155mm/52 Calibre Advance Towed Artillery Gun System (ATAGS). ATAGS is India's first indigenous 155mm/52-calibre towed gun system which is being developed by Defence Research and Development Organisation along with two private-sector firms, Tata Power SED and the Kalyani Group/Bharat Forge. During January 2017, two ATAGS prototypes had been made and were under trials. During September 2017, former Defence Minister Nirmala Sitharaman also attended the trial along with the COAS and the DG Artillery. Finally there will be a requirement of 1,500 towed guns costing about $4.5 billion but the initial order is for the immediate requirement of 114 guns. It is claimed that the ATAGS is the world's only gun with a six-round "automated magazine" that fires a six-round burst in just 30 seconds. Most other existing 155mm, 52-calibre guns have three-round magazines, which must be reloaded after firing three rounds. The gun has several significant features including an all-electric drive.
Catapult. This is the Interim Solution for Self-Propelled Howitzers (SPH) in which the army is expected to induct 40 indigenously developed Catapult Mk II SPHs, which mount a 130mm gun on the chassis of the locally designed Arjun MBT. These will replace the Catapult Mk I, designed in the early 1980s by mounting the 130mm gun onto the extended chassis of an OFB-built Vijayanta (Vickers Mk I) MBT.
Ammunition
It has been decided that all ammunition for the guns will be made in India. The OFB which has the longest experience in the manufacture of ammunition will really have to modernise and upgrade their infrastructure to enable manufacture of modern ammunition which includes fair amount of electronics. Fuze is one of the critical components which also include time and radio fuze (also called variable time fuze) which will require a level of expertise. Efforts should be also made to bring the private sector on board to pool their skill.