The Artillery is presently engaged in modernising in terms of equipment and support systems under 'Make in India' initiative of the Modi Government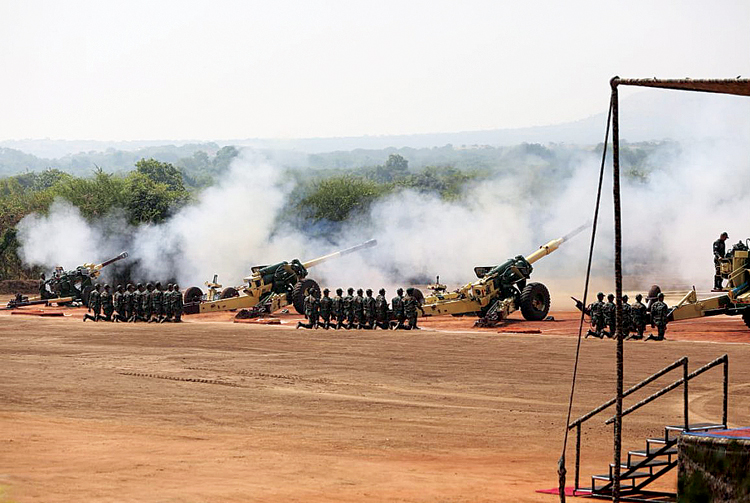 M777 Ultra Light Howitzer of BAE Systems
Regiment of Artillery , the second largest arm of the Indian Army, will celebrate its 192nd Gunners' Day on September 28, 2019. As is the norm, Wreath Laying Ceremony will be held at Amar Jawan Jyoti by the Director General of Artillery and Colonel Commandant, Lt General K. Ravi Prasad, senior veterans and serving officers. The day has a special significance for the Regiment of Artillery as the first Indian Artillery Unit, 5 (Bombay) Mountain Battery equipped with 2.5 inch Guns, was raised on this day in 1827. Presently it forms part of 57 Field Regiment.
Post the 1857 mutiny, majority artillery units were disbanded, retaining only mountain batteries for deployment in the North West Frontier during Afghan Wars. Babur used artillery in the first battle of Panipat in 1526 to decisively defeat Ibrahim Lodhi. Mughal emperors, Tipu Sultan and Nizam of Hyderabad all used artillery, but maximum use was made by Maharaja Ranjit Singh. The modern Indian Surveillance and Target Acquisition (SATA) Gunner evolved from putting 'Nine Originals' together in 1925 at the School of Artillery, Kabul, to form the First Survey Section. This nucleus by 1942 expanded to become the 1st Indian Survey Regiment. World War II saw Indian Gunners in action in East and North Africa and Middle East. Indian gunners had won 1 x Victoria Cross (Havaldar Umrao Singh), 1 x George Medal, 15 x Military Crosses, 2 x IOMs, 22 x IDSMs, 18 x Military Medals, 5 x OBEs, 1 x MBE, 3 x BEMs, 13 x Burma Gallantry Medals and 467 x Jangi Inams. In 1945, Indian Artillery was awarded the title of 'Royal' Winston Churchill rose in the House of Commons to pay tribute to their decisive role in the Battle of Bir Hachiem against Rommel's Panzer Army.
During Independence, Indian Artillery consisted of Field, Air Defence, Counter Bombardment, Coastal, Air Observation Post branches. India was allotted eighteen and half all types of artillery regiments while remaining nine and half units went to Pakistan. In wake of the 1947 Pakistani invasion, personnel of 2 Field Regiment (SP) and 13 Field Regiment wore uniform of 1 SIKH and proceeded as a composite company of the 1 SIKH to J&K. They operated as infantry till first week November 1947 when 4 x 3.7 inch howitzer were inducted. Thereafter, they supported infantry to drive out the infiltrators along Srinagar-Baramula road. Later, artillery assisted in defending Srinagar airfield and subsequent route of Pakistanis from Jammu and Kashmir Valley. Artillery played a dominant role in recapture of Poonch, Rajauri, Tangdhar, Tithwal, Dras and Kargil during 1947-48.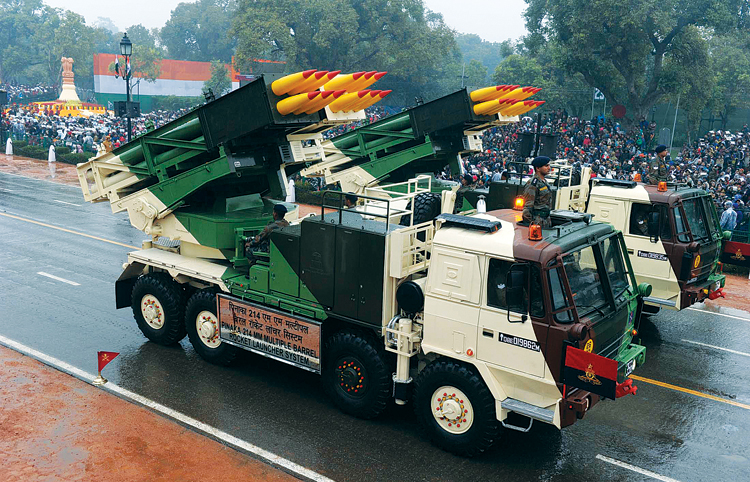 Pinaka 214 MM Multiple Barrel Rocket Launcher System on Rajpath, New Delhi.
On October 23, 1962 when Chinese invaders attacked Indian positions through Bum La Pass, they were immediately engaged by 7 (Bengal) Mountain Battery which broke the attack. Artillery kept supporting infantry till Tawang was abandoned. Subsequently guns of 116 Mortar Battery, 34 Heavy Mortar Battery, 5 Field Regiment, 22 Mountain Regiment and 6 Field Regiment provided covering fire to the infantry units of 4 Mountain Division to extricate themselves and launch counterattacks. Similarly, 17 Para Field Regiment and 71 Heavy Mortar Battery provided support in Walong Sector. In Ladakh Sector also 13 Field Regiment and 38 Field Battery played significant role in holding the enemy and defending Chushul heights.
Major restructuring and equipping of Indian Artillery happened after 1962. In 1964 Coastal Artillery was transferred to Indian Navy. Prior to the 1965 Indo-Pak War, 11 Field Regiment, 17 Para Field Regiment and Air Observation Post helped thwart Pakistani designs in the Rann of Kutch. During the 1965 Indo-Pak War, 164 Field Regiment, a battery from 7 Field Regiment, a medium and a mountain battery assisted capture of Haji Pir Pass. In the Eastern Sector during the 1971 Indo-Pakistan War, artillery improvised extensively to get guns, ammunition, vehicles across rivers. 49 Para Field Battery was para-dropped with 2 PARA to capture Pongli Bridge. In the Western Sector, artillery played major role in capture of Pakistani posts in Ladakh, Kashmir, Rajauri, Jammu, Punjab and Rajasthan. It was also instrumental in defeating Pakistani designs to capture areas in Poonch and Chamb in J&K, Hussainiwala and Fazilka in Punjab and Laungwala in Rajasthan. In Siachen, guns were initially dismantled and air dropped in 1983-84. Today, medium and field guns are providing close support to infantry in Siachen.
After over two decades of not a single new gun added, induction of three new models of the 155mm has taken place: M777 Ultra Light Howitzer of BAE Systems; tracked selfpropelled K9 Vajra-T of L&T, and; OFB's Dhanush
During the 1999 Kargil conflict, artillery helped pulverize enemy defences, enabling capture by infantry. The overwhelming superiority of fire power broke enemy will. By mid-July 1999, Pakistan's intrusions on the Indian side of LoC had been undone. Artillery has been giving befitting response to ceasefire violations by Pakistan; destroying posts, terror launching pads and subduing enemy gun positions. The Artillery is presently engaged in modernising in terms of equipment and support systems under 'Make in India' initiative of the Modi Government.
After over two decades of not a single new gun added, induction of three new models of the 155mm has taken place: M777 Ultra Light Howitzer of BAE Systems; tracked self-propelled K9 Vajra-T of L&T, and; OFB's Dhanush. 145 x BAE Systems M777 Ultra Light Howitzers (ULH) are being acquired through the FMS route from the US. BAE Systems is partnering Mahindra Defence Systems for assembly, integration and testing of the 145 howitzers in India. 25 x ULH are to be imported fully built and balance 120 assembled in India. K9 Vajra-T gun system is to be produced in India by L&T in collaboration its Korean partner. 10 x K9 Vajra-T are being imported from South Korea and balance 90 will be manufactured at L&T. MoD has indented 114 x Dhanush Howitzers and more orders could follow based on its performance.
The principle project to buy 400 x 155mm/52 caliber towed guns followed by the indigenous manufacture of 1180 x guns is undergoing confirmatory trials, with involvement of major private sector defence companies who have tied up with foreign vendors. DRDOs 155mm Advanced Towed Artillery Gun System (ATAGS) project in conjunction Kalyani Group, Tata Power and OFB to replace older guns is underway. Up gunning of the 130mm/39 caliber and 155mm/45 calibre guns is also being addressed. Six more regiments of indigenous Pinaka MBRL System are to be added to existing four. Increasing range of Pinaka rockets from 40 to 75 km is being worked upon. SATA remains equipped with imported Heron and Searcher UAVs, however, indigenous 'Swati' weapon locating radar (WLR) is a good addition. 28 x Swati are planned to be inducted. All this will enable the Artillery deliver a much greater punch against our enemies.