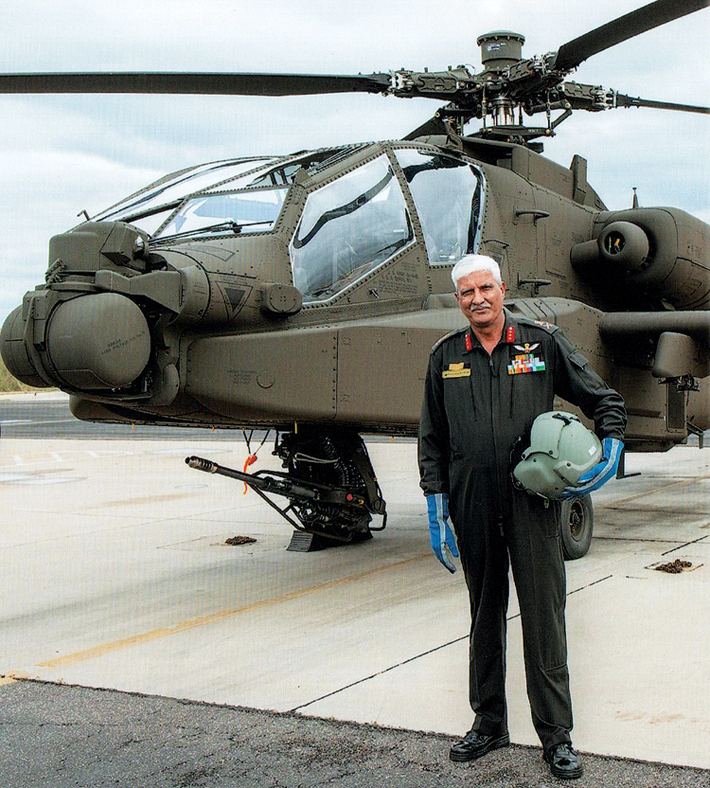 Closing in on the Apaches: Lt General Kanwal Kumar, Director General Army Aviation, standing in front of an Apache – "tank in the air" – as the Army preps for the attack helicopter role
SP's Land Forces (SP's): What is the significance of the Colour Presentation to Army Aviation?
Director General of Army Aviation (DGAA): The President's Colours is a visible symbol of excellence and are earned through dedication and worthy contribution both during war and peace. Award of the Colours to Army Aviation Corps is an apt recognition of its ceaseless operational involvement across diverse terrain, in demanding weather and climate conditions in a variety of challenging situations from the icy heights of Siachen Glacier to the Rann of Kutch in the past three decades of its relatively young existence.
SP's: The vintage Chetak-Cheetah is believed to have outlived its life. What are the measures being undertaken to ensure the flight worthiness and is there a plan to phase out these helicopters?
DGAA: Maintenance and overhaul procedures of the fleet are well established. Every aircraft that is flying is fully airworthy. Timely servicings and overhauls are being carried out meticulously to ensure serviceability and availability of the helicopter for all operations. As it is an ageing fleet, management of spares remains work at hand. The Cheetah/Chetak helicopter will be phased out with the induction of Ka-226T and LUH manufactured by HAL which is likely over the next few years.
SP's: Could you elaborate more on acquisitions and their progress for Army Aviation?
DGAA: Army Aviation is an important and vital component of all arms combat force. It undertakes combat and combat support tasks. The acquisitions and design and development projects of Army Aviation have been focused to enhance the combat and combat support capability. Towards this, ALH 'DHRUV' has been in service since 2001 and its armed variant 'RUDRA' got inducted in year 2013. These assets are now available in sufficient number to the field forces and are totally integrated with the field formations. In near future, we will induct more potent combat helicopters like LCH and Apache AH 64E in addition to Ka-226T and LUH for replacing Chetak/Cheetah fleet.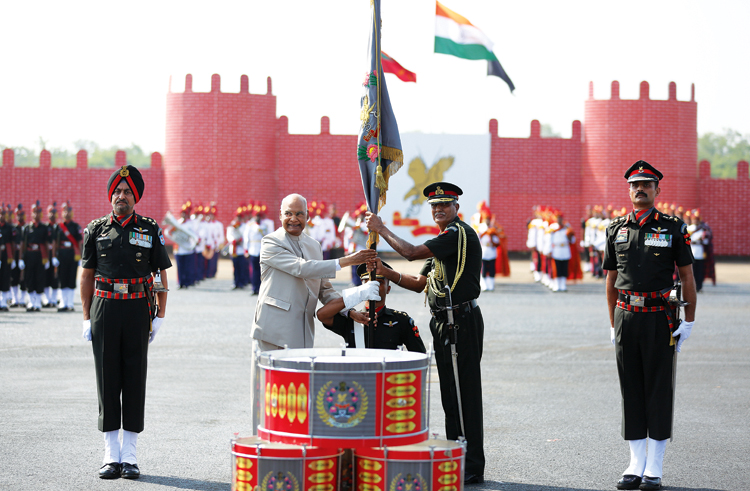 President Ram Nath Kovind presents colours to the Army Aviation Corps on October 10, 2019, in a ceremonial parade, held at Army Aviation Base, Nashik.
SP's: India has acquired the status of a helicopter manufacturing country by the development of ALH family of helicopters. How is the performance of Dhruv and its armed version Rudra?
DGAA: The 'Dhruv' is steadily emerging Army Aviation's workhorse and force multiplier for the Indian Army. The helicopter has proved its mettle in all types of terrain of the country ranging from super high altitude areas to extremely hot and dusty environments. It would suffice to say that 'Dhruv' has been successfully inducted into the field formations and is performing all the envisaged operational roles. 'Rudra' is presently being exploited in various terrains and getting integrated into the operational role. The heptr would provide the much needed integral aerial combat fire power.
SP's: What would be the role of Rudra, Light Combat Helicopter and Apache in the Army Aviation Corps?
DGAA: Combat aviation assets with modern avionics, electro-optics and weapon systems can perform multiple tasks in the entire spectrum of conflict in varied and inhospitable terrain including high altitude areas. Rudra is a potent combat helicopter with an array of armaments including multiple types of rockets, turret gun and capability to mount anti-tank guided missiles besides state of the art avionics. It can perform a multitude of roles raging from armed escort for heli-borne operations to intimate firepower for various offensive and defensive operations. The LCH has a similar armament profile with enhanced manoeuvrability and armour protection, and is primarily meant for the mountains. The Apache is one of the best attack helicopters in the world, and will be fully integrated with the mechanised forces, providing unmatched fire power and manoeuvrability.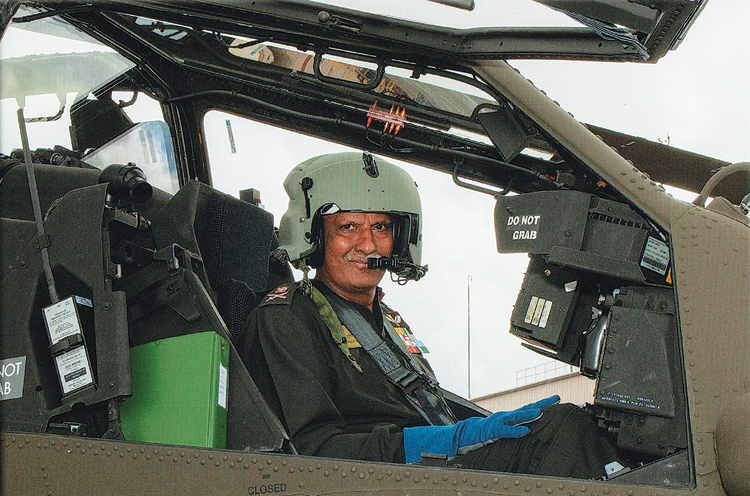 DG in the cockpit of Apache.
SP's: Do you envisage expansion in the role of women in Army Aviation?
DGAA: Army Aviation already has women officers, who are being directly commissioned as Air Traffic Controllers (ATC) officers. Besides this, women Engineering Officers are also being posted in Army Aviations units for maintenance of the helicopter fleet. The proposal for inducting women officers as aviators is also under examination and is being viewed positively.
SP's: Capability development and modernisation constantly come up against fiscal challenges, especially with a shrinking defence budget. What steps are being taken in this context by the Army Aviation?
DGAA: Army Aviation remains committed to translate its modernisation plans into action in a time-bound and effective manner. More emphasis is being laid on prioritisation, rationalisation and economy of expenditure. Greater value for money is being achieved by encouraging procurements from indigenous sources in support of the 'Make in India' initiative of the Government.
SP's: You have been part of Army Aviation since it got the status of a independent arm and your military career is culminating with the Colour Presentation to Army Aviation by President of India. Your thoughts on this historic occasion and the changes you have seen with respect to the capability of Army Aviation?
DGAA: This arm has grown from limited R&O assets to a potent arm with a variety of equipment already inducted and in the offering. I am fortunate to have been a part of the complete journey of the Corps since its raising and have witnessed its qualitative and quantitative growth. Capability development of an arm entails acquisitions, training, evolving employment philosophies and most importantly assimilate the required capability into the combat arms environment. In future battle space major asymmetry against enemy combat forces can be achieved by integrated employment of third dimension capability. In its relatively short journey, the Arm has been fully supported by the organisation and we are now poised to be a game changer in future conflicts. I have no doubt in my mind that this arm will prove to be a decisive war winning conflicts in all the future wars. It has been a honour to have served and headed Army Aviation.