Majority of the Special Forces have to operate by stealth, in small groups and in enemy territory, involving covert operations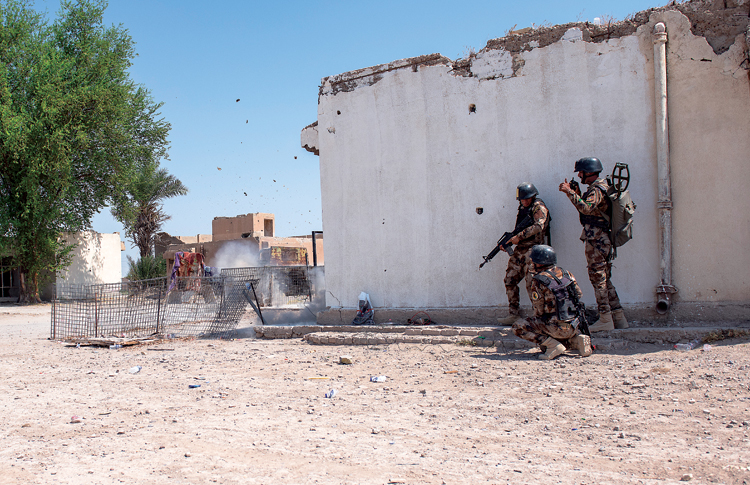 Iraqi Special Operations Forces (ISOF) soldiers clear a simulated mine.
Special Forces (SFs) are elite units who are specially selected, and super trained to carry out dirty and dangerous mission in enemy territory. SFs can be from the army, navy and the air force. More than 90 countries have SFs on their order of battle. This article refers to only army SFs like the US Army SFs (popularly called Green Beret) and India's Para Commandoes. US also has US Rangers which come directly under the US Army while US Army SFs come under the US Special Operations Command (USSOCOM). In India the SFs of the Armed Forces are also grouped under a single command.
Majority of the SFs have to operate by stealth, in small groups and in enemy territory, involving covert operations. Their broad role can include unconventional warfare; counter-insurgency; special reconnaissance; counter-terrorism; information operations; counterproliferation of weapon of mass destruction; security force assistance; hostage/POW/civilian rescue and many more. Information Operations, also called influence operations, are the integrated employment of the core capabilities of electronic warfare, computer network operations, psychological operations, military deception and operations security in synergy with specified supporting and related capabilities, to influence, disrupt, corrupt or usurp the adversaries. SFs have to be ready to be deployed at short notice; train in junior leadership to lead small squads and are prepared to use various means to infiltrate into dangerous and hostile territory. Most of the countries train them as para commandoes but some like the US also train them in SCUBA, sniper, jumpmaster (expert para troopers who train others in para jumping) and foreign languages. Every country designs the training as per the projected role.
Operational Challenges and Solutions
The key challenges and solutions for their role are:
Information about the area of operations. Precise and accurate information of the projected area of operations including terrain, obstacles, and strength and deployment of the enemy.
Infiltration or Insertion. SFs are trained in parachute operations thus they often parachute on to the objective but they are also trained for other types of infiltration like from water, land or rappelling from an helicopter. More than often the infiltration will be through dangerous and hostile territory. The key aspect of SFs' operation is to carry out their role with surprise and shock.
Explosive Obstacles. Training of special forces to defang booby traps and other forms of explosive obstacles like mines, IEDs etc.
Situational Awareness. Continuous situational awareness from infiltration to exfiltration. May require aerial reconnaissance by aircraft, UAVs or even satellites.
Fire Power. Fire arms which are light, quick to aim and fire, have night firing capability and have immense destructive power. May need silencers and selectively have sniper capability. May use various types of grenades including stun grenades. If the situation so warrants to be able to call for artillery fire or air strikes.
Communications. Reliable and inter/intra-squad communications.
Exfiltration. This is a critical part of the operation as the enemy may have already been alerted and launched their reinforcement units including heliborne troops thus may need to fight back into own territory, require aid of back up forces, heliborne infiltration (suppression of enemy air defence may be required), call for artillery or air suppressive fire and diversionary operations. For long term operations like that of the Green Berets, marrying up with the conventional forces can be an option.
Raids. Special operations raids are designed to seize, destroy or capture enemy facilities or material and require detailed planning and execution.
Training. It is needless to say that the special forces should be super fit both mentally and physically. They should be crack shots and be proficient in using a variety of fire arms, explosives and neutralising obstacles like booby traps, mines and IEDs. Brief aspects of training of US Army SFs is given below to indicate the high, level physical fitness, special skills, handling of a variety of arms and explosives, high level of intelligence and split second reaction in a dangerous situation. A high standard of selection and good training will contribute immensely for the success of the mission. Unclassified training aspects are only covered briefly. Training is carried out in the following phases:

Pre-selection. In addition to Basic Combat Training, soldiers must have completed Advanced Individual Training and US Army Airborne School (Para trooper) to be eligible for SFs training.

Special Operations Preparation Course. The duration of this course is two weeks which prepares potential Green Berets for Special Forces Assessment and Selection (SFAS) and, thus focuses heavily on physical fitness and proficiency in land navigation.

SFs Assessment and Selection. This is Phase I, which is designed to test survival skills and places an even stronger emphasis on intense physical and mental training.
SFs Qualification Course
This course consists of five phases (Phase II-VI) lasting approximately 61 weeks. Each phase is designed to foster an expertise in small unit tactic; advanced SFs tactics; survival skills; language and cultural training; unconventional warfare; survival, escape, resistance and evasion (SERE) and advanced combat survival tactics. During the Military Occupation Speciality (MOS) Qualification Phase (III), training is imparted for the newly assigned SFs role. Training for this phase lasts about 16 weeks, and covers additional language training, SFs common tasks, Advanced Special Operations Techniques (ASOT) and interagency operations.
Most of the countries train SF as para commandos but some like the US also train them in SCUBA, sniper and foreign languages. Every country designs the training as per the projected role.
Collective Training (Robin Sage). Robin Sage (Phase IV) is the training phase that serves as the litmus test for soldiers hoping to earn the Green Beret. Candidates are organised into squads and inserted into a fictional country known as Pineland which is rife with political turmoil, and soldiers must navigate the region and complete a specified mission.
Language and Culture. During this 25-week phase (Phase V), candidates will fine-tune their skills in the language to which they have been assigned.
Graduation Phase. All of the major work and training is completed by phase VI which involves a week of out-processing. Candidates will finally become member of the elite SFs (Green Beret).
Operations in Iraq and Afghanistan
The wars in Iraq and Afghanistan saw the use of several extremely effective SFs units, including 'Task Force Dagger' (Task Force Dagger Foundation) provided assistance to wounded, ill, or injured US Special Operations Command (USSOCOM) members and their families); 'Task Force K-Bar' was led by the US and comprised of special operations forces from seven nations which undertook the first major ground deployment in the War in Afghanistan. In a classic Special Forces Unconventional Warfare operations 'Task Force Viking' joined up with some 70,000 Kurdish Peshmerga forces (forces of Kurdish autonomous region of Iraq) and took on 13 Iraqi Divisions.
US Army Rangers
Army Rangers is an elite light infantry unit skilled to carry out missions like direct action raids, airfield seizure, special reconnaissance, personnel recovery, often killing or capturing high value targets, clandestine insertion and site exploitation. Their training skills are mix of infantry and special forces. Green Berets may perform operations or campaigns that lasts for months or years; Ranger missions are usually short and decisive.
US Army SFs' Equipment
A SFs soldier carries the most advanced equipment as follows:
The Ground Mobility Vehicle (GMV) is a lightweight, all-terrain vehicle that can be used for a variety of missions. It is a modified High Mobility Multipurpose Wheeled Vehicle also called Humvee. It has many variants modified for specific roles.
Sea-Doo SAR water craft is rugged and durable which is easy to manoeuvre in open water, rivers and floodwaters.
M17 Scar is a 7.62mm x 45mm shoulder-fired, gas-operated, select fire modular weapon system with a free-floating barrel. It is designed as a battle rifle for mid-range engagements beyond the capability of the M4 carbine.
Glock 19 is small in size thus can easily be carried concealed during a mission. It is meant for self-defence and is used as a last resort to evade hostile personnel.
High-Altitude Low-Opening (HALO jumps are made from extreme heights, requiring an oxygen supply. The high altitude allows entire teams, undetected by radar, to infiltrate a combat area.
Advance Ram Air Parachute is specially designed for HALO jumps and can function reliably in severe environmental conditions.
Advance night vision devices allows the soldiers to see during night operations or in dark environments. There is a large variety to choose from like BAE Systems' Enhanced Night Vision Goggles (ENVG) III and Family of Weapon Sight Individual(FWS)-I; Leonardo DRS's ENVG III; L3's ENVG-B (binocular); Harris's AN/PSQ-20 ENVG and many more.
The Re-Breather is a simple underwater breathing device allowing SF soldiers to navigate rivers and streams unnoticed. It allows you to breathe your own air over and over again and produces no bubbles.
The M4 Carbine rifle is lightweight and customizable, making it the SFs soldier's ideal choice for a wide variety of smallunit missions.
Nett Warrior (NW) is the US Army's next generation US integrated soldier system that replaces Land Warrior. It is an integrated dismounted leader Situational Awareness (SA) system used during combat operations. The system provides unparalleled SA to the dismounted leader, allowing for faster and more accurate decision-making during combat. With advanced navigation, SA and information-sharing capabilities, leaders are able to avoid fratricide and are more effective and lethal in the execution of their combat missions. The system is connected through secure, tactical radios, and other means that share information from one NW to another. Additionally, the NW smart device displays leader locations, tactical imagery and tactical graphics.
India Perspective
Para SFs is the special operations unit of the Indian Army. They played a pivotal role in capturing Tiger Hill from the Pakistanis during the 1999 Kargil War. They have a choice of all infantry weapons and gear depending on the mission. Modernisation plans include new long-range sniper rifles; man-portable anti-tank weapon systems and handlaunched micro drones. It was reported that contracts for new Finnish Sako sniper rifles, Swedish Carl Gustaf Mark-4 lightweight rocket-launchers, Italian Beretta pistols with silencers have been finalised.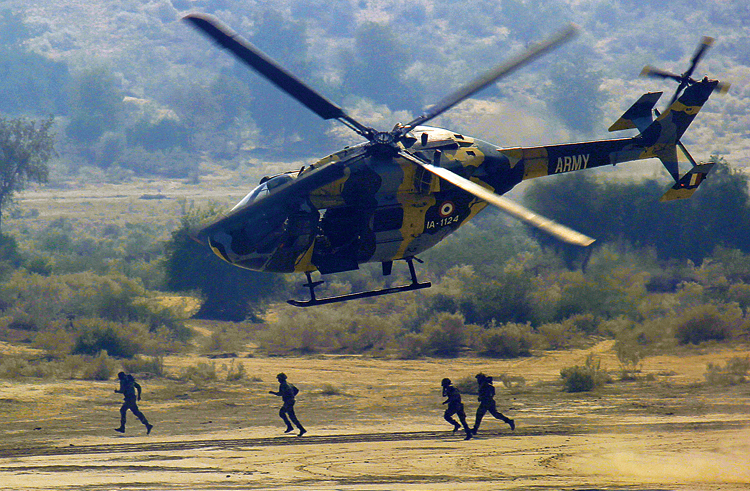 Indian Special Forces in action
India's Surgical Strike. The Indian Army has been carrying out covert operations across the line of control (LOC) earlier but they were not publicised like the 'Surgical Strike' conducted by the Indian Army on September 29, 2016 across the LOC against terrorists launch pads in POK.
Integrated Organisation of SFs
The Armed Forces Special Operations Division has been set up by the government to undertake joint operations by three services and will have elements from the Army's Parachute Regiments SFs, Marine Commandos (MARCOS) of the Navy and the Garud Commandos of the Indian Air Force. Major General A.K. Dhingra has been appointed as its first commander.
Ghatak Force
Ghatak (which means 'killer' in Hindi) platoon is part of the infantry battalion and only the most physically fit and motivated soldiers which are well-trained, superiorly-armed and equipped to handle situations like terror strikes, hostage situations and counter insurgency operations. It is not classic SFs.