The driver for a vibrant 'Make in India' will be the presence of a robust ecosystem energised and driven by the industry friendly policies, time stipulated outcomes with accountability and a policy of "Risk Sharing Gain Sharing".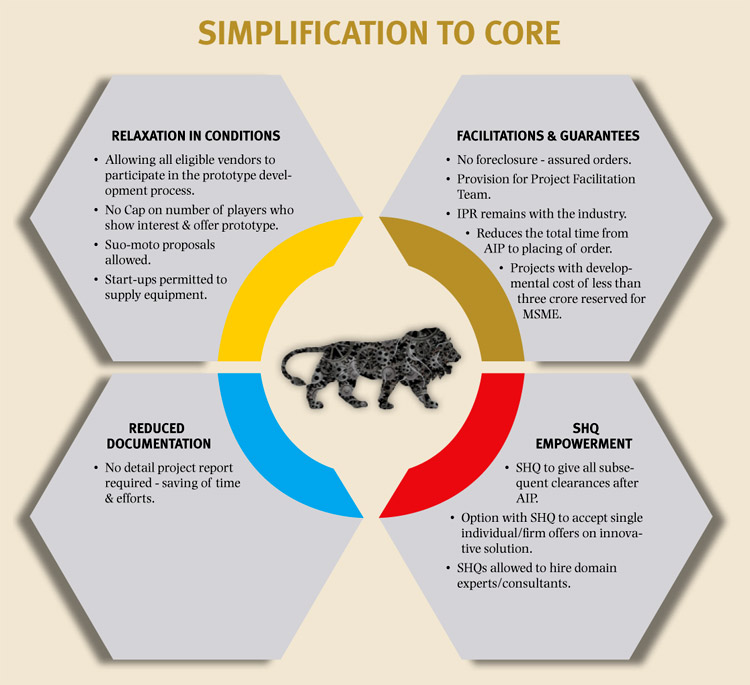 It has been nearly six years since the 'Make in India' initiative was announced by Prime Minister Narendra Modi. Defence manufacturing is one of the 25 key sectors identified under 'Make in India' initiative to boost defence manufacturing and achieve self-reliance and strategic autonomy. India is poised to become a $5 trillion-dollar economy by 2025. Such economic growth requires to be on the foundational pillars of a matching defence capability energised by a strong indigenous defence industrial base. India is thus striving for self-sufficiency by promoting 'Make in India' initiative in its defence through focused, sustained and evolved indigenisation programmes.
India has also moved up two spots to become the seventh most valuable 'nation brand' 2019 in the world. The Indian defence market is set to grow at an CAGR >4 per cent with the base year as 2018 and prediction year as 2024. Its brand value has increased by a whopping 19 per cent in the last one year to $2,562 billion, according to the annual report on the world's most valuable nation brands compiled by B rand Finance.
Envisaged Defence Production Target
India plans to spend $130 billion on military modernisation in the next five years, as achieving self-reliance in defence production is a key target for the Government of India. The Government has opened up the Defence industry for private sector participation to provide impetus to indigenous manufacturing. The department of defence production has set itself a target of producing equipment worth 90,000 crore in the financial year 2019-20. Exports worth 15,000 crore have been envisaged from the total quantity of equipment produced. The target set by the department for 2019-20 is nearly 12 per cent higher than the production achieved in the previous financial year. In the financial year 2018-19, the department had produced equipment worth 80,502 crore.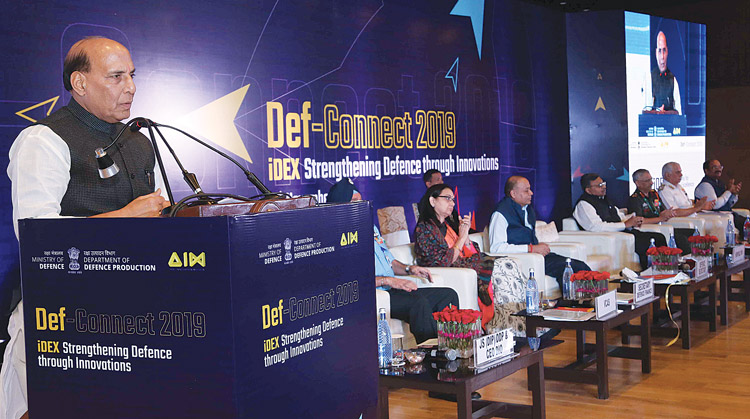 Defence Minister Rajnath Singh addressing at the 'Def-Connect' under the aegis of Innovations for Defence Excellence (iDEX), in New Delhi on November 11, 2019.
Recent Policy Reforms: Defence Manufacturing Sector
The Indian Government has initiated several key reforms to encourage 'Make in India' in the Defence Sector. These have resulted in the rise in the procurement from private Sector with nearly 17000 crore contracts placed with Indian Private Sector with top preference to IDDM. The policy initiatives have resulted in:
Enhanced Ease of doing Defence B usiness - MSME have been given a boost with nearly 70 per cent licences issued to MSMEs with 52 per cent in land systems.
Defence Investor Cell being established set on in January 2018 nearly 100 investors facilitated in 100 days.
De-Licencing of 65-70 per cent of items including parts, components etc for manufacturing by private industry.
Green Channel Policy 2017 which allowed deemed registration status, waiver of pre-despatch inspection, acceptance of stores under supplier's warranty and renewal of registration on self-certification basis.
Opportunity for Industry to propose products/service Suo Moto.
Protection for foreign exchange rate variation.
Simplified Make II.
Setting up Defence Innovation Organisation and task force on AI.
Setting up of two defence industrial corridors namely in Tamil Nadu and Uttar Pradesh.
Draft Defence Production Policy
The policy aims to promote domestic production by public sector, private sector and MSMEs by facilitating faster absorption of technology and create a tiered Defence industrial ecosystem in the country. It's highlights include:
Ease of Doing B usiness in Defence Production.
Simplification of L icensing Process - Validity of Industrial
Licence extended to 15 years with a provision of further three years extension.
Liberalisation of FDI Policy- FDI up to 74 per cent under automatic route will be allowed in niche technology areas.
Modification of Offsets - New investment linked avenues for discharge of offset obligation.
Involving Start-ups in Technology Development eg. iDeX.
Export Promotion - Defence exports have witnessed a tremendous growth from 1,521 crore in 2016-17 to 10,745 crore in 2018-19.
Innovation and R&D.
Focus on Vendor Development and Outsourcing.
Energising Make In India
'Make in India' is not just a sound economic option but a strategic imperative in promoting India as global hub of manufacturing, particularly in the strategic sectors such as defence. As of now the domestic defence industry lacks critical technologies, manufacturing ecosystems for integration of large platforms, supply chain and logistics. This must gain greater focus.
The recent defence policy reforms and speeding up of acquisition process as part of 'Make in India' strategy is laudable, but have not commensurately paid off in terms of its potential and outcomes. Thus, there exists a gap between expectations and deliverance due to a myriad of reasons including budgetary constraints, lacklustre implementation of policies, pervasive technological backwardness, bureaucratic lethargy, skewed offset policies and evasive foreign direct investment (FDI), among other issues. Above all there has not been any cultural shift or major restructuring for making the present Make in India initiative and defence procurement outcome oriented. A glaring example is the failure and loss of credibility of "Make" projects to take off essentially due to weak and wavering support by decision makers. The apprehensions of foreign investors toward 'Make in India' in defence could be reversed by a sound offset policy. Offsets' discharge by foreign OEMs is a standard practice worldwide and have been leveraged to overcome technological barriers by effectively absorbing foreign capital, technological transfers and know-how. DPP 2016 also needs to be simplified and made more outcome oriented with aspects such as ATP included in RFP, quality cum cost based model, joint inspection and self-certification rather than an archival DGQA organisation, etc.
Conclusion
The driver for a vibrant 'Make in India' will be the presence of a robust ecosystem energised and driven by the industry friendly policies, time stipulated outcomes with accountability and a policy of "Risk Sharing Gain Sharing". 'Make in India' is also dependent upon R&D including industry-driven local R&D and production factors, producttechnology and manufacturing machine technology. In addition a vibrant competitive defence industrial base and an eco-system would enable utilization and consolidation of existing capabilities in fostering a constructive, long term partnership with global OEM to be part of global supply chain and augment the role of Indian private sector companies to develop capabilities and capacities through JV and partnerships. The focus must be on creating an environment that makes Indian firms to be world competitive and where all enterprises can flourish with levers of IPR in their control. 'Make in India' is indeed the enlightened strategic path which requires patience, resilience and support by all stake holders.
The author recently retired as Director General, Mechanised Forces, Indian Army.