Defence minister Rajnath Singh has cleared the restructuring of the Army headquarters which involves relocating 206 officers from the HQ to field areas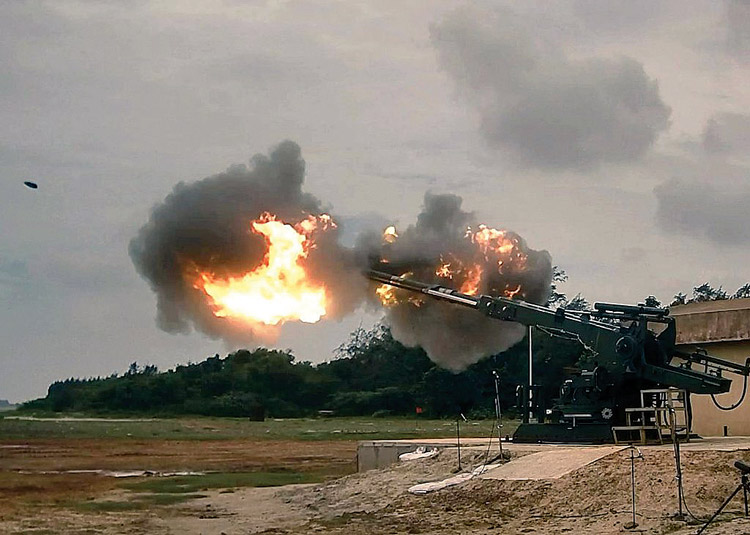 155mm x 52 calibre Advanced Towed Artillery Gun System (ATAGS)
Modernisation is an ongoing process for any army and involves structural and hardware changes. The Indian Army (IA) is also going such transformation-albeit slowly but steadily. Brief details are given in succeeding paragraphs.
Structural Transformation
IA had ordered four transformation studies in order to meet the modern battlefield milieu as follows:
Reorganisation of the Army HQ.
Reorganisation and Rightsizing of the IA which is the key operational issue involving reorganizing existing brigades into Integrated B attle Groups. Details are yet not known.
Cadre Review of Officers.
Review of Terms of Engagement of the Rank and File.
Defence minister Rajnath Singh has cleared the restructuring of the Army headquarters which involves relocating 206 officers from the HQ to field areas, the creation of a separate vigilance cell under the COAS, and a new branch under the Vice Chief that will focus on human rights issues. It is estimated that the implementation of the four studies would reduce troops by about 100,000.
Infantry
The Indian Army (IA) had started with its 'Future Infantry Soldier as a System' (F-INSAS) programme over ten years back which involved equipping the infantry soldier with advanced weaponry, situational awareness and communications, to be completed by 2020. In January 2015, the IA split the F-INSAS programme in two separate projects; one arming the modern infantry soldier with the best available assault rifle, carbine and L MG, and personal equipment such as the helmet and B ullet Proof Vest (BPV); and the second component was the B attlefield Management Systems (BMS) which included the computer and communications. However, due to high cost of BMS, it was foreclosed in 2018. At present the focus is on modernisation of personal weapons and protection. Brief details are: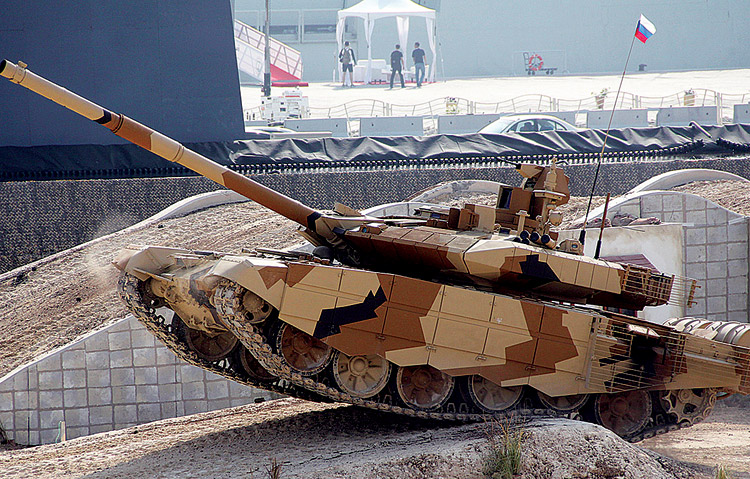 T-90MS tank
Personal Weapons and Protection
Assault Rifles. India had signed a 700 crore deal to buy 72,000 of these rifles from the US under Fast Track Procedure (FTP). The first lot of 10,000 SiG716 assault rifles arrived in India on December 1, 2019 and another batch of 10,000 rifles will arrive soon. The SIG716 uses the more powerful 7.62x51mm cartridge.
Carbine. The contract with UAE based Caracal International LLC for providing 93,895 close-combat weapons has run into trouble due to cost factors. Meanwhile, there are plans for a joint venture between India and Russia to produce seven lakh AK-203 assault rifles in India which will be modified for carbine role.
LMG. The IA has started its search for a new L MG with the calibre of 7.62x51mm by sending a delegation during April/May 2019 to B ulgaria (Arsenal Company); Israel (Israel Weapon Industries) and South Korea (S&T Motiv Co.). Currently the Army is looking for 16,400 L MGs under FTC.
Sniper Rifles. Limited numbers of two new advanced sniper rifles e.g. the Barrett M95 .50 B MG and Beretta Scorpio TGT 'Victrix' 338 Lapua Magnum have been provided selectively to troops along the LoC.
BPV. The shortage of bullet-proof jackets for armed forces is being met through procurement of 1.86 lakh such jackets by April 2020 for nearly 639 crore. SMPP Pvt Ltd, which has developed these indigenous B PV claim that their B PV can withstand hardcore steel ammunition fired from an AK-47 rifle.
Night Vision Capability. This is being improved selectively through indigenous effort and foreign collaboration.
Anti-tank capability
There are plans to buy more than 3,000 Milan 2T anti-tank guided missiles (ATGMs) from France which are to be produced under licence by Bharat Dynamics Limited. Milan is manufactured by Euromissile which is a consortium originally set up by Aerospatiale-Matra of France and DaimlerChrysler Aerospace of Germany, now a subsidiary of the EADS. The IA also operates Russian origin 9M113M Konkurs-M 'AT-5b Spandrel-B' ATGMs. India has procured Israel's Rafael Advanced Defense Systems Spike LR (long-range) ATGM system which is fourth generation, can engage targets in 'fire-andforget' and 'fire-observe-and-update' modes and meets the operational requirement of the IA as it is looking for third-generation ATGMs with a longer range than that of its existing Milan-2T and Konkurs.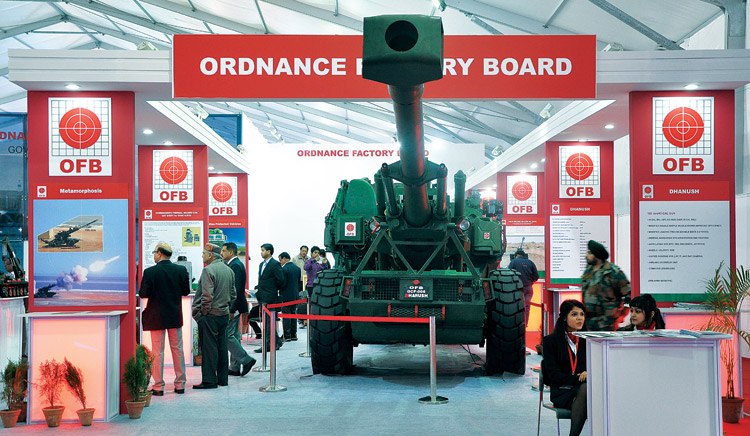 Dhanush 155mm 45-calibre gun
Mechanised Forces
T-90. During April 2019, the Cabinet Committee on Security had approved the purchase of 464 T-90 MS tanks. The T-90MS version has improved electronics and defensive systems compared with the earlier T-90 tanks. The future plans visualise a force of over 1,600 T-90 tanks by 2020. The older T-72 tanks will be replaced by upgraded versions of T-90.
Future Infantry Combat Vehicle (FICV) and Future Ready Combat Vehicle (FRCV). These were very ambitious projects under 'Make in India' with large financial outlays to replace current inventory of infantry combat vehicles and tanks but both have been shelved probably for want of budgetary support. FICV itself involves 2600 vehicles with about plus $8 billion budgetary support.
Artillery
Field Artillery Rationalisation Plan (FARP) was formulated during 2000 in which 155mm calibre was made the standard gun system for Artillery and involved the acquisition of about 3000 plus guns by 2025 at an estimated cost of $8 billion. These included:
1,580 towed gun systems (TGS)
814 mounted gun systems (MGS)
100 self-propelled howitzers (SPHs)
145 BAE Systems M777 155mm/39 calibre lightweight howitzers for the mountains.
Except for M777, all other gun systems were of 155mm/52 calibre or 45 calibre.
Current Status of FARP
BAE Systems' M777 155mm/39 Calibre Ultra Lightweight Howitzers (ULH). The contract for procurement of 145 guns of 155mm/39 calibre ULH was signed with US Government in November 2016 under the FMS Programme. As per the contract 25 fully formed howitzers from USA/UK were to be imported and balance 120 howitzers were to be assembled in India by BAE Systems in partnership with Mahindra Defence. The first regiment is equipped with 15 imported guns and three guns have been made in India to complete the inventory of 18 guns per regiment.
Dhanush. Ordnance Factories Board (OFB) had been contracted to produce a 45-calibre 155mm howitzer based on the Transfer of Technology obtained from Bofors in the 1980s. The Defence Acquisition Council (DAC) approved the manufacture of 144 pieces of 155mm/45-calibre howitzers with the option to acquire another 400 provided the prototypes are successful. After successful trials the OFB received a bulk production order for 114 Dhanush guns. The OFB has already handed over six Dhanush guns to Artillery during April 2019. Dhanush is the first indigenously built 155mm x 45 calibre long-range artillery gun with strike range of 38 kilometres. It is also a major success story of the 'Make in India' initiative.
155mm/52 calibre Towed Howitzer. Nexter of France had offered their gun Trajan and had tied up with L arson & Toubro (L&T). Elbit of Israel has offered their gun ATHOS 2052 and had tied up with Kalyani Group/ Bharat Forge. Howitzers of both Nexter and Elbit Systems underwent competitive trials in November 2015. It was then reported that fresh trials have been ordered for both the systems but it appears that Elbit Systems has won the competition as the Elbit-Bharat Forge bid for the Athos 2052 howitzer was found significantly lower than that of Nexter. In fact it is understood that it is even less than Dhanush. The Ministry of Defence has the choice of opting for the indigenous Advanced Towed Artillery Gun System (ATAGS), being developed by the DRDO in partnership with Tata Power SED and Bharat Forge.
Self Propelled Howitzers (SPH) K9 Vajra-T. According to industry sources, the K9 (South Korean self-propelled 155mm howitzer manufactured by Hanwha Defense) is being procured under the DPP2012 'Buy Global' category. L&T had won the contract in 2017 to supply 100 units of K9 Vajra to the IA under the Centre's 'Make in India' initiative. The K9 is expected to contain some 13 major indigenous subsystems, including its fire control, ammunition handling etc. Raksha Mantri Rajnath Singh flagged off the 51st K9 VAJRA-T Gun from L&T Armoured System Complex at Hazira in Gujarat on January 16, 2020.
Truck-mounted guns. The Acquisition of 814 truck-mounted Guns has been approved by the DAC in November 2014 and will be undertaken under the 'buy and make in India' category with transfer of technology. While the first 100 guns will be imported, the remaining 714 will be produced in India. Tata Power SED with its 155mm truck mounted gun system and L&T-Ashok L eyland-Nexter with their 155mm gun are among the private companies in India that are reported to be interested but at present the acquisition appears on low priority. Meanwhile the OFB has announced that they will produce two more versions of the Dhanush, one of them being a truck mounted version.
155/52 Calibre Self Propelled Howitzer. It was earlier reported that Bhim selfpropelled howitzer was being developed as a private venture of the South African company Denel in collaboration with DRDO but no details are known. It is also reported that L&T is expected to develop this system.
155mm/52 Calibre Advance Towed Artillery Gun System (ATAGS). ATAGS is India's first indigenous 155mm/52-calibre towed gun system which is being developed by DRDO along with Tata Power SED and the Kalyani Group/Bharat Forge. During January 2017, two ATAGS prototypes had been made and were under trials. Finally there will be a requirement of 1,500 towed guns costing about $4.5billion but the initial order is for the immediate requirement of 114 guns.
Catapult. The current system of mounting the 130mm gun onto the extended chassis of an OFB-built Vijayanta (Vickers Mk 1) MBT is being replaced by mounting a 130mm gun on the chassis of the locally designed Arjun MBT.
The Pinaka Multi Barrel Rocket Launching System (MLRS). Pinaka is developed by DRDO and manufactured by L&T and Tatas. It has now been upgraded with an improved range of 60 km. In April 2017 a proposal for acquiring six additional regiments of Pinakas was cleared. The Mk II version of Pinaka would have guided munitions with ranges of 60 - 80 km.
BrahMos Cruise Missile. BrahMos programme is also proceeding at smoothly with the enhanced range/advance version likely to be inducted in the near future. The advanced version will have "trajectory manoeuvre and steep-dive capabilities" for mountain warfare. The hypersonic version is currently under joint development by DRDO and Russia's NPO Mashinostroyenia.
Army Air Defence (AAD)
Current Systems. The AAD holds a mix of guns, shoulder fired missiles, self propelled missile and gun systems. The key weaknesses are the successor to 40mmL/70 gun which is almost 50 years old, replacing old shoulder fired missile systems and self propelled gun/missile systems. Progress is as follows:
IGLA-M is being replaced by IGLA-S from the Russian Federation.
The Medium-Range Surface-to-Air Missile (MRSAM) is being developed by DRDO in collaboration with Israel Aerospace Industries (IAI) for all three services. Army's version is under development and the Naval and Air Force versions are in service.
Quick Reaction Surface-to-Air Missile (QRSAM) is being developed by DRDO in association with Bharat Electronics Limited and Bharat Dynamics Limited. It has a range of 25-30 km.
L/70 gun, 23mm Twin Gun and Schilka have been upgraded indigenously and are in service.
Army Aviation Corps (AAC)
Light Utility Helicopters (LUH). For many decades the AAC is somehow carrying on with Cheetah and Chetak which need immediate replacement. Periodic accidents are an urgent reminder of the same. There are also indications that a large number of 200 Kamov 226T helicopters to be produced under the Indo-Russia joint venture will be earmarked for AAC for replacing Cheetahs and Chetak LUHs. The infrastructure Kamov 226 is being established by Hindustan Aeronautics Limited.
Light Combat Helicopters. The AAC needs 114 Light Combat Helicopters. Weapon System Integrated (WSI) has been carried out successfully with Mk-IV variant of the Dhruv Advanced Light Helicopter, called the Rudra. Various versions of Dhruv are already in service in the Army.
Apache AH-64Es Armed Helicopters. During June 2018, six Apache AH-64Es armed helicopters were contracted from the US at approximate cost of 4,168 crore (about $600 million). Deliveries are expected to be made in 2020. The AAC has plans to procure 39 AH-64E helicopters which would be adequate for three AAC squadrons earmarked for the three Strike Corps.