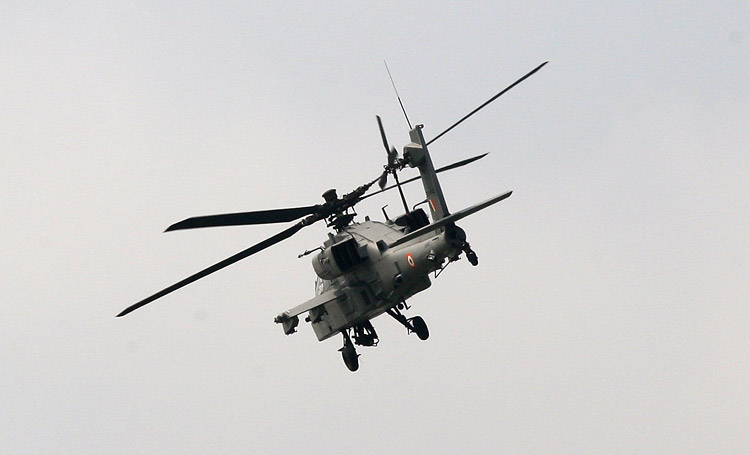 File photo of an IAF AH-64E Apache attack helicopter
A $930 Million dea l for 6 AH-64E Apache attack helicopters for the Indian Army is awaiting approval of the Cabinet Committee on Security (CCS).
The acquisition is intended to be on the Foreign Military Sales (FMS) route with the US.
The Indian Army, which wrested for itself the attack helicopter role after a bitterly-waged turf war with the Indian Air Force (IAF), had reportedly made a case for 39 Apache gunships for close air support to ground formations, particularly its strike corps. It will have an integral attack helicopter capability parallel to that of the IAF.
The Defence Acquisition Council (DAC) approved the case for the first lot of 6 for the Army Aviation Corps in August 2017. The subsequent acquisition process included US Congressional approvals. The Congressional approval for this sale in June this year had indicated an upper price limit of $930 million.
The first lot of 6 Apaches for the Army will be a follow-on order to the 22 contracted for the IAF in 2015. The first lot of 8 of these gunships were inducted into the IAF earlier this year and based at Pathankot. Delivery of all 22 will be completed in 2020.
The options clause in the 2015 contract provided for acquiring another 11 but the Government approved only 6 for the Army.
Both the IAF and the Army are also awaiting contracts for the indigenous Light Attack Helicopter (LAH) built by HAL.
The induction of the attack helicopters will mark a significant scaling up of the Army Aviation capability and inventory. So far, it has operated the Cheetah-Chetak fleet and the Advanced Light Helicopter.