| | |
| --- | --- |
| | The Author is former Chief of the Army Staff, Indian Army |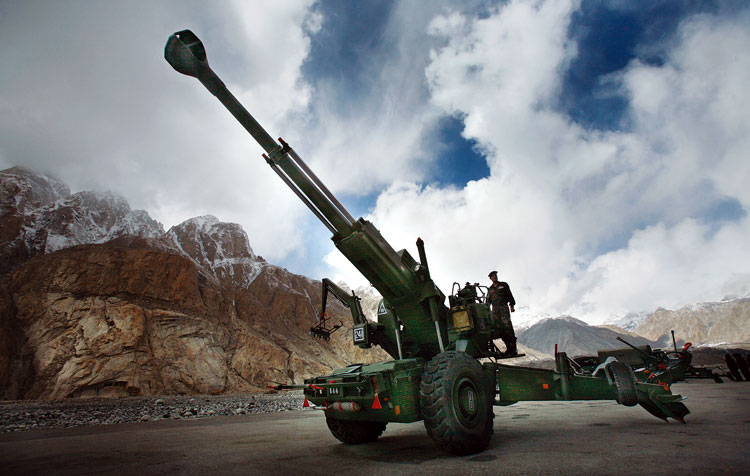 The overwhelming fire support of Artillery guns contributed hugely in achieving victory during the Kargil war in 1999
India is situated in a turbulent and unstable region with failing or unstable states, declining regional powers, and states that have facilitated nuclear proliferation. The region has emerged as the epicentre of global terrorism and has the maximum number of countries possessing weapons of mass destruction, with the increasing risk of nonstate actors laying their hands on such deadly weapons. Over and above these, we have unresolved boundary issues with China and Pakistan. There are not many countries in the world that have to face the full spectrum of threats as India does, from low intensity to an all-out conventional war in diverse terrain while keeping in mind the nuclear overhang. To deal with them we would require an array of defensive and offensive capabilities, so as to deter or blunt the aggressive designs of any adversary and thus guarantee our territorial integrity. Modernisation and upgradation of the weapons and equipment systems and intelligence and surveillance capabilities, and an effective command and control set-up is the mantra for our armed forces. As has been our experience, capability building takes time, whereas intentions can change rapidly. It would be axiomatic to point out that this calls for a well-led, -trained and -equipped military with an updated and compatible joint doctrine to face the challenges of the battlefield of tomorrow, which will be digitised and net-centric.
It came as a pleasant surprise when I was requested to write a piece for the forthcoming Artillery Day. Being no expert in gunnery, I thought that I would write about my impressions of the Topekhana or more colloquially The God of War and other random thoughts. Historically, strategy and tactics have depended upon technological developments in armaments and weapon systems. Infantry and cavalry were long established components of the armies since ages. Elephants carrying the Standards and Colours being used by the kings as the symbol of their power were a later development. Babur introduced the Topekhana influenced by the use of cannons by the Ottoman Empire in 1514. This was a game changer in warfare at that time and Babur's artillery greatly helped him in establishing the Mughal Empire. The sound and fury of the cannons caused panic amongst the elephants of the Indian rajas and generals and fear in the minds of their infantry and cavalry, and many a battle was lost on that account.
Maharaja Ranjit Singh is credited with the creation of a modern army trained on European lines by officers of Napoleon's army, who fled after the defeat at Waterloo and sought employment in the Sikh Empire. Amongst them were General Court and Colonel Gardner who organised and trained the Topekhana-i-Khas commanded by Mian Ghaus Khan. In the artillery of the Sikh army were elephant, camel, horse and bullock drawn guns. These units were called Topekhana Filli, Shutri, Aspi and Gawai respectively. This well trained artillery was more than a match for that of East India Company's army. In the south of India it was Tipu Sultan who created havoc with his rocket force. Ever since the Mughal days, and particularly after the rebellion of 1857, it had become a practice where a culprit who was sentenced to death being blown to smithereens in full public view by a close range cannon shot (tope se uda dena). Indeed a ghastly execution with a telling effect!
Fast forward to the modern battlefield, an account of what artillery can achieve; and this is not science fiction but a real event as narrated by Captain Harrison Morgan US Army, of the effect of massed Russian rocket artillery fire on a Ukrainian mechanised battalion. At the break of dawn, seeing the drones overhead, the Ukrainian sentry sounded the alarm and everyone dived for cover, but it was too late!
The modernisation of our Army, the artillery in particular, has been one of the foremost concerns of every Chief of the Army Staff (COAS )
"Within moments dozens of rockets came streaming down from the heavens raining a hailstorm of hell on the battalion's position. Cluster munitions burst, steel shredding man and machine below. Thermobaric warheads erupted with terrible concussion. In just three minutes, the entire battalion lay crushed in a smouldering fire, destroyed by a concentrated barrage of rockets and missiles fired thirty kilometres away" (mwi.usma.edn, September 25, 2018).
It is hoped that in the near or mid-term future our gunners will also be as capable. This also brings home the point that we could expect and should be prepared for such a bombardment, albeit on a smaller scale, from the rocket force of the Chinese PLA in a future conflict.
The most intense and intimate involvement with our artillery in my career was during the Kargil war in the summer of 1999. As the Additional Director General in Military Operations Directorate (ADGMO) at Army Headquarters, I was deeply involved in the evolution and execution of the overall strategy at the macro-level to evict the Pakistani army from all areas clandestinely occupied by them on our side of the line of control (LoC) in the Kargil war. Incidentally, it was us who decided the name for the war-'Operation VIJAY', and indeed a resounding VICTORY we achieved. We ordered the mobilisation of additional resources in terms of infantry formations, artillery regiments including the Bofors medium guns from our strike corps, Multi Barrel Rocket Launchers (MBRL) batteries, heavy mortars, air defence, army aviation, engineers, and logistics and medical units so that we could crush the Pakistani army by our fierce response. Most important was procurement and provision of ammunition for our Bofors 155mm guns and missiles and essential equipment ex-import on emergent basis.
The boom of the artillery guns plays on the minds of the enemy
At this stage it would be appropriate to narrate excerpts from the chapter 'Kargil-The Pakistani Misadventure' of my book 'A Soldiers General'. "The effective use of artillery and the air force gave us an unbeatable edge over the Pakistanis. Most of the infantry attacks were launched with overwhelming fire support of over one hundred guns, mortars and MBRLs. Thousands of shells, bombs and rockets carrying many tonnes of TNT breaking into warped shrapnels of metal, wreaked havoc on the enemy. The boom of the guns and sounds of the blasts on the targets, reverberating in the mountains played on the minds of the soldiers of both sides positive and morale boosting in our case, and demoralising for the Pakistani soldiers. It is estimated that a large percentage of Pakistani casualties occurred due to the artillery shelling". The gunners of 8 Mountain Artillery brigade and other regiments innovated and perfected their skills of direct shooting. The fires of the Bofors 155mm guns in particular proved to be extremely accurate and hugely contributed to the pulverising of the enemy.
A large number of battle honours, awards for gallantry and decorations were bestowed upon the artillery and army aviation units and officers, JCOs and soldiers for their conspicuous bravery and exemplary courage in battle. Besides decorations of many fearless gunner warriors that comprised four Vir Chakras and three Yudh Sewa Medals for displaying indomitable courage, 108 and 197 Medium Regiments and 141 Field Regiment and two Recce and Observation Squadrons of Army Aviation were honoured with Battle and Theatre honours and Unit Citations. 158, 286 Medium Regiments, 41, 315 Field Regiments, 1889 Light Regiment and 2122 Rocket Battery were decorated with Battle Honours. The adage that artillery firepower plays a vital part in achieving victory in war was established beyond doubt and gratefully acknowledged both by the commanders at all levels and the frontline soldiers of the attacking infantry. The capture of strongly held positions at extremely high altitudes was greatly facilitated by intense and accurate close support provided by our gunners that greatly helped in breaking their will to fight. Casualties of the attacking soldiers were considerably reduced due to the suppression of ground and artillery fire by effective bombardment of our artillery. It is estimated that over two lakh shells, bombs and rockets were fired during the Kargil War. The concept of 100 gun fire support for every objective was amply validated too.
The modernisation of our Army, the artillery in particular, has been one of the foremost concerns of every Chief of the Army Staff (COAS). Ever since the acquisition of the 155mm Bofors gun in mid 1980s, there had been no induction of medium artillery guns for three decades due to various reasons including the unsavoury controversy related to the Bofors guns. Although in our perspective plans for modernisation of artillery we had envisaged procurement of additional medium guns including the self propelled variety, either indigenously manufactured or imported, it had been established beyond doubt that the requirement of new guns was critical and urgent.
Having served many years in various areas along our northern borders such as Arunachal Pradesh, Sikkim, Joshimath sector and Kashmir, I had seen and experienced the appalling conditions and inadequacy of our road infrastructure there. We had to trek for four days (125 kms) to reach Walong, our area of operations, when I was commanding a battalion in 1981. Since the situation had not improved much in two and a half decades, this state of affairs was not acceptable to me when I became the Army Chief in 2005. What if a Depsang, Pangong Tso or Galwan-like situation was created by the clever, untrustworthy and deceitful Dragon in areas where we did not have roads? How would we provide artillery fire support to the infantry? These questions had no answer. Although plans for construction of strategic roads along the northern borders were under execution, it was clear to me that they would take two or more decades to complete their tasks. And even after that, why would the Chinese not choose an area where we do not have a road. Mulling over this vulnerability over the years it struck me that we must at least have the capability of some medium range ultra light howitzers (ULH) which could be carried under-slung by heavy lift helicopters for employment basically in the mountains where no roads existed. But it had to be a package deal of acquiring both the guns and the heavy lift helicopters.
Hence after due analysis at Army HQ, we sent this proposal of procuring six regiments worth of ULH along with appropriate heli-lift capabilities for consideration by both Northern and Eastern Commands. To my utter surprise both of them 'negatived' our proposal. One of these commands had a gunner as the GOC-in-C! We had to convince them and over-rule their views and push the case to the Ministry of Defence (MoD). Although the air force had given higher priority for acquisition of fighter aircraft and having such helicopters was not on their drawing board, I was happy to see the Air Chief going along with our views. We were able to convince the Defence Minister of the necessity of these guns and heavy lift helicopters, and the proposal was approved in the next defence acquisition committee meeting in 2006. But to my dismay, the file moved at a snail's pace despite our constant prodding and pushing. Finally the pace picked up and the acquisition of this vitally important weapon system fructified in 2017 because of the present national leadership's emphasis on making our armed forces more potent and an effective element of deterrence. Today both the Army and the Air Force proudly display the M777 ULH and the double-rotor Boeing helicopters, and my chest swells! With this capability we have entered the top league of modern armies. I hope the Director General of Artillery keeps up his promise of inviting me to witness the firing of these howitzers on the ranges of Devlali or in Rajasthan.