Regiment of Artillery has won many awards since Independence which include seven Mahavir Chakras and 92 Vir Chakras, forty honour titles, amongst others, which speaks highly of their combat capability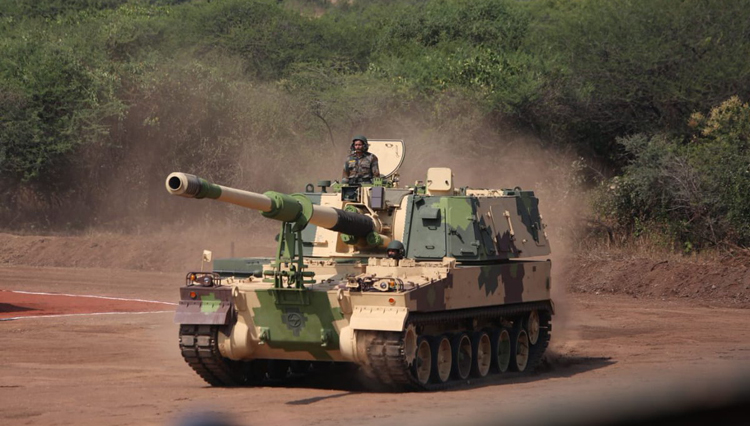 The K9 Vajra-T 155mm/52 calibre gun by L&T is amongst the latest additions to India's artillery
Evolution of Regiment of Artillery
The East India Company raised the first regular company of Artillery in 1748, with a small percentage of Indian Gunners. Subsequently Bombay Artillery was raised on September 28, 1827 and was renamed 5 Bombay Mountain Battery. September 28 is thus celebrated as the 'Gunners Day'.
Post Independence Operations
Pakistan. During the Jammu and Kashmir operations of 1947-48, two artillery units were employed in infantry role until the arrival of four 3.7 inch howitzers. The artillery units then helped in driving out the infiltrators, successfully defended Srinagar airfield and subsequent routed out Pakistani tribesmen and recaptured key towns.
China. During the China's attack in October 1962, 7 (Bengal) Mountain Battery provided effective fire support in general area of Tawang and Bum La Pass where defences of 1 SIKH were attacked. Subsequently 116 Mortar Battery, 34 Heavy Mortar Battery, 5 and 6 Field Regiment, and 22 Mountain Regiment provided covering fire to the infantry units of 4 Mountain Division to enable them to extricate themselves safely. Similar supports were provided by guns of 17 Para Field Regiment and 71 Heavy Mortar Battery in Walong. In Ladakh Sector 13 Field Regiment and 38 Field Battery played significant role in defending heights around Chushul. In a way history is being repeated now in Chushul, Rezang La and Spangur Gap.
1965 War with Pakistan. Major restructuring of Artillery took place after 1962. Before the 1965 war artillery was called upon to counter Pakistan's evil designs in the Rann of Kutch where 11 Field Regiment, 17 Para Field Regiment and Air Observation Post aircrafts made the Regiment of Artillery proud. The strategic Haji Pir Pass in Kashmir was captured after heavy fighting with the support of 164 Field Regiment, battery ex 7 Field Regiment, a medium and a mountain battery.
1971 War with Pakistan. During the 1971 Indo-Pakistan War, 49 Para Field Battery took part in para drop with 2 Para Battalion to capture Pongli bridge near Tangail which expedited surrender by Pakistani Army in East Pakistan. 851 Light Battery along with 2 Para were the first to enter Dacca on December 16, 1971. The Regiment of Artillery also played a key role In the Western sector.
Kargil Conflict. In the Kargil operations during 1999, Regiment of Artillery unleashed a blizzard of fire power which overwhelmed the Pakistan Forces by systematically destroying the enemy's defences and ultimately broke his will to fight. As a result the brave gunners contributed immensely in hoisting the Tri-colour on Tiger Hill and multiple other peaks in Kargil.
Role
Offensive Operations. Offensive operations involve attack by own infantry on the defensive positions held by the enemy. During attack, artillery fire can cause attrition, destroy/soften the target, prevent direct fire on attacking troops from the enemy by keeping their heads down, carry out counter bombardment and prevent enemy reinforcements to come to the aid of their troops. Similar support is provided to mechanised infantry and armour regiments.
Defensive Operations. Defensive positions are normally held by infantry and likely routes/approach of attack are analysed and identified as Defensive Fire (DF) targets whose firing data (ballistic data) is pre- registered and recorded. Opportunity targets can also be easily neutralised.
Likely support in the Future Battlefield. The future battlefield will have short and intense engagements; non- linear battles; increased battlefield transparency and employment of precision and high lethality weapon systems in a hybrid warfare environment. Support by artillery in such a battlefield environment will involve real time surveillance and target acquisition at all stages of battle; synergised employment of all available firepower resources to shape the battlefield entailing employment of mortars, guns and long range systems along with the air force to achieve decisive defeat of the enemy. To carry out this role, the artillery should be equipped with suitable surveillance means, weapon platforms, variety of missiles and ammunitions including precision guided systems with high lethality; and a suitable battlefield management system.
Type of Weapon Systems held by Artillery
The Regiment of Artillery holds a variety of guns, mortars, rocket launchers, missiles, unmanned aerial vehicles and surveillance systems to carry out their role. Brief details are:
Guns. Artillery's arsenal consists of a variety of guns of various calibre like the indigenous 105mm Indian Field Gun (IFG) with range of about 17 km, 105mm Light Field Gun which is similar to IFG but lighter in weight thus most suitable for the mountains. They were extensively used in Kargil to provide suppressive fire support to own infantry attacking Pakistan defences. In the heavier calibre there is 130mm M46 with a range of about 27 km, 155mm FH-77B with a range of about 24 to 30 km and upgraded M46 guns to 45 calibre where the range can go up to 39,000m, depending upon the projectile. In the self propelled category there is 130 Catapult which has been indigenously integrated by mounting the ordnance of the M-46 atop a Vijayanta tank chassis.
For future conflicts, the artillery should be equipped with suitable surveillance means, weapon platforms, variety of missiles and ammunitions including precision guided systems with high lethality
Mortars. Mortars are ideal for firing in the mountains, on troops in the open. Artillery holds 120mm calibre mortars with a range of about 5 to 9 km.
Rocket artillery. Rocket Artillery has a devastating effect at the target end and India has a formidable and back breaking rocket artillery inventory. The oldest is 122mm BM-21 Grad Multiple Barrel Rocket Launcher with 40 rockets on each launcher and a range between 11 to 20 km. The pride of place is 214mm Pinaka multi-barrel rocket launcher which has been developed indigenously by DRDO. It carries 12 rockets per launcher with a range of 10 to 38 km. The firing sequence is programmable from 4-200sec. The third multi-barrel rocket system is 300mm BM-30 Smerch multiple barrel rocket launcher of Russian origin which carries 12 rockets per launcher with a range of about 20 to 70 km.
Surface to Surface Prithvi-I Missile System. The Surface-to-Surface Missile Prithvi was developed under the Integrated Guided Missile Development Programme (IGMDP) and is reported to have a singlestage liquid fuel dual motor with a range of 150 km with a payload of 1,000 kg. Prithvi is likely to be replaced by Prahaar which is an indigenous tactical ballistic missiles with a range of 150 km and designed to fill the gap between long range rocket artillery and the theatre ballistic missile Prithvi.
Agni Missile. The Agni missile is a family of medium to intercontinental range ballistic missiles (MRBM/ICBM) developed by India under the IGMDP and tested in 1989. Due to the importance of Agni Missile programme, it was delinked from IGMDP and is being developed separately. The MRBM version of Agni is understood to be with the Army. Reported range of the MRBM version varies from 700-3000 km.
BrahMos Cruise Missile. BrahMos is a supersonic cruise missile, development of which started in the 1990s as a joint project between Russia and India. BrahMos is faster, has longer range of 290 km, larger seeker range and much more of kinetic energy as compared to subsonic cruise missile. It has been in service since 2007.
Reconnaissance, Surveillance and Target Acquisition (RSTA)
Surveillance and Target Acquisitions (SATA ) units of the Artillery carry out RSTA with ground based and air based sensors. Brief details are:
AN/TPQ–37 Firefinder: AN/TPQ-37 Firefinder is a mobile radar system manufactured by Thales Raytheon Systems (formerly Hughes Aircraft, which was acquired by Raytheon). The system is a long-range version of weapon-locating radar, designed to detect and track incoming artillery and rocket fire to pin point their origin for counter-battery fire.
Indigenous Weapon Locating Radar (WLR): This radar is developed by DRDO and manufactured by Bharat Electronics Limited. The WLR is a mobile artillery locating radar with Phased Array.
Israel Aerospace Industries Long Range Observation System (LOROS): LOROS is a multi-sensor imaging system for long-range day and night observation system.
UAVs. Following are in service:
Israel Aerospace Industries' (IAI) Searcher UAV: Searcher is a multi mission tactical UA V which can carry out the role of surveillance, reconnaissance, target acquisition, artillery adjustment of fire and damage assessment. Searcher has been constantly improved from Mk I to Mk II and Mk III. The Searcher Mk III has multiple operational configurations, like Synthetic Aperture Radar/Ground Moving Target Indicator, SIGINT and EO/IR. It has an endurance of 18 hours and mission radius of 350 km.
IAI Heron: Heron 2 has an operational altitude of 45,000 ft and is capable of missions of more than 36 hours duration. It provides deep-penetration, widearea, real-time intelligence to theatre commanders and other stake holders.
Modernisation and Capacity Building
The $8 billion Field Artillery Rationalisation Plan (FARP) was formed in 1999 and was aimed at acquiring between 2700-3600 guns over the next 15 to 20 years (2020- 25) to include 155mm/39-Calibre Ultra- Light Howitzers (ULH); 155mm/52-Calibre Wheeled Guns; 155mm/52-Calibre Towed Guns; 155mm/52-Calibre Self-Propelled Tracked and Wheeled Guns; and 155mm/52-Calibre Mounted Gun System (MGS). It was also decided that 155mm will be the standard gun calibre for Indian Artillery. FARP was an ambitious plan and initially did not make much head way but gradually pace of certain projects picked up as follows:
M777 Ultra Light Howitzers of BAE Systems of US: 145 guns have been contracted with the first 25 guns to be imported and the remaining will be made in collaboration with Mahindra Defence Systems. A total of 7 artillery regiments are planned with the first regiment planned to be raised by end-2020. MoD announced further import of Excalibur ammunition due to tensions with China in Ladakh.
Dhanush Guns: Ordnance Factories Board (OFB) has been tasked to produce a 45-calibre 155mm howitzer based on the Transfer of Technology obtained from Bofors in the 1980s. The Defence Acquisition Council (DA C) had approved a proposal from the OFB to manufacture 144 pieces of 155mm/45-calibre howitzers; phased induction of which has already started and is a feather in the cap of OFB. Additional acquisition will follow after the successful induction of the first tranche.
Advanced Towed Artillery Gun System (ATAGS): ATA GS has been designed by DRDO in partnership with Private Industry and is under development. It has a range of more than 40km and has 155mm x 52 Cal. In August 2018, DAC approved the procurement of 150 ATA GS with an estimated cost of 3,364.78 crore (approx. $450 million). Apart from OFB, Bharat Forge, Mahindra Defence and Tata Power Strategic Engineering Division are part of the programme.
Self Propelled Howitzers (SPH) K9 Vajra-T: The K9 Vajra-T, an L&T version of Samsung Techwin's K9 Thunder 155mm/52 calibre gun customised for India's Self Propelled Howitzer (SPH) tender, was shortlisted for acquisition after comparative trials. Accordingly L&T got the 4,500 crore contract from the MoD during 2017 to supply 100 units of K9 Vajra to the Army under the Centre's 'Make in India' initiative. Prime Minister Narendra Modi inaugurated the Armoured Systems Complex (ASC) developed by Larsen and Toubro (L&T) in Gujarat's Hazira in January 2019 where K9 Vajra are being manufactured.
Pinaka: MoD has signed contracts on September 1, 2020 with Bharat Earth Movers Ltd. (BEML), Tata Power Company Ltd. (TPCL) and Larsen & Toubro (L&T) for supply of six Pinaka Regiments to the Regiment of Artillery at an approximate cost of 2580 crores (approximately $353 million). The contract includes 114 launchers with Automated Gun Aiming & Positioning System and 45 Command Posts to be procured from TPCL and L&T and 330 Vehicles to be procured from BEML. These six Pinaka Regiments will be operationalised by 2024.
Sarvatra Izat-o-Iqbal (Everywhere with Honour and Glory)
The capability of the Regiment of Artillery can be judged from its performance during combat. It has performed with dedication and valour in every conflict since Independence and has won many awards which include seven Mahavir Chakras and 92 Vir Chakras, forty honour titles, amongst others, which speaks highly of their combat capability. A part from the gallantry awards, six eminent gunners were appointed Governors and five as Chief of Army Staff (COAS). Their motto Sarvatra, Izzat-o-Iqbal (Everywhere with Honour and Glory) says it all.
The Author is former Director General, Army Air Defence and was a member of Integrated Guided Missile Development Programme.