The geopolitics of South Asia and expansionist neighbours necessitates India to maintain a large standing army with primarily a ground holding role. It is therefore logical that the bulk of this army comprises of Infantry, which can effectively hold ground, physically defend territory and restore any adverse situation.
INDIA MAINTAINS ONE OF THE LARGEST INFANTRY IN THE WORLD DUE TO THE UNRESOLVED LAND BORDERS AND THE INTERNAL STRIFE OF INSURGENCY AND TERRORISM
India, the largest democracy in the world, is a responsible and respected country in the international comity of nations. It has no extra-territorial ambitions and is not a revisionist power, only committed to ensuring peace and tranquillity on its borders and defending its territorial integrity. Unfortunately, the geo-politics of South Asia and expansionist and revisionist neighbours, make it imperative for India to actively safeguard its territory.
Along the northern borders, from Daulat Beg Oldi in Ladakh to Diphu Pass in Arunachal, stretches the Line of Actual Control (LAC), with areas of differing perceptions and unfounded claims by our adversary. Along the western borders, the IB extends from the Rann of Kutch till Akhnoor, with false claims by Pakistan in the Sir Creek area. Further north till Siachen is the hotly contested Line of Control (LoC) and finally the Actual Ground Position Line (AGPL) at the Glacier itself. In sum, India has largely unsettled borders where mostly an uneasy situation prevails which flares up unexpectedly. In recent years and months, the ongoing tensions along the LoC have been overshadowed by the highly tense situation along the LAC in Ladakh.
This state of affairs necessitates India to maintain a large standing army with primarily a ground holding role. It is therefore logical that the bulk of this army comprises of Infantry, which can effectively hold ground, physically defend territory and restore any adverse situation created locally. Infantry has the ability to operate on varied terrain and can be deployed in Siachen as well as Sir Creek depending on the contingency. Added to this is the commitment of the army on internal security duties, mainly for counter-insurgency and counter-terrorism. This once again is an infantry-centric deployment.
To be a great power India needs to invest not only in arms and services other than the Infantry, but also in its navy and air force. However, the unresolved land borders and the internal strife of insurgency and terrorism, aided and abetted by inimical neighbours, can only be taken care of by deploying the Infantry in large numbers. Modernisation of our armed forces and economic prudence in defence matters, both point towards reducing the manpower in military uniform and investing more in platform and net-centric systems. These two-conflicting state of affairs and requirements create a paradox which needs to be reconciled if not fully resolved. The future trajectory and restructuring of the Infantry would be a most pertinent step in this direction.
Restructuring of Infantry
The first step that may be taken, concerns one of the Central Armed Police organisations namely the Assam Rifles which comes under the Ministry of Home Affairs. The other is Rashtriya Rifles which is a Counter Insurgency Force under the Army. Both these are mainly populated by officers and troops from the Infantry. These forces should have a permanent establishment with their own committed cadre of personnel, who are permanently seconded from the Infantry by the process of lateral induction, and function under the Ministry of Home Affairs. This will not only reduce the overall strength of the infantry, but also obviate the involvement of the army in internal security duties to the detriment of its primary task of conventional operations along the borders. As the Rashtriya Rifles units will retain the same recruitment pattern as infantry regiments, synergies will be easier. Thus, the country will have a top-notch counter insurgency force while freeing regular infantry units from such commitments.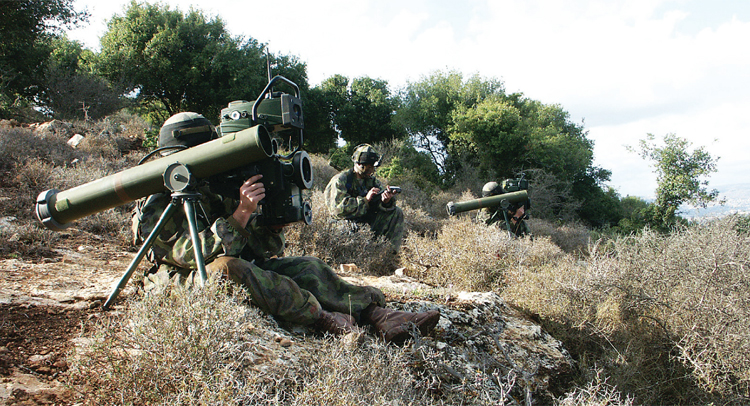 MODERNISATION OF INDIAN INFANTRY IS UNDERWAY WITH INDUCTION OF LATEST ARMAMENTS LIKE ATGMS.
A second aspect is a reworking of infantry deployment on the Western borders. Along the mountainous terrain of the LoC, deployment of foot infantry is a pre-requisite. However, in the plains and desert sectors on the western front, there is a definite need of restructuring the ground holding forces. From Akhnoor till Rann of Kutch, the Infantry and supporting arms are deployed in positional defence, in ground holding role, using mainly artificial as well as natural linear obstacles. This appears somewhat inconsistent with the avowed aim of a punitive deterrence capability against our western adversary. With the requisite force differential to realistically operationalise this aim, there is a definite need to shift from positional to mobile defence, with a punitive capability to inflict heavy damages on the enemy. Logically this requires a far greater mechanisation of the Infantry then at present. Thus, among all the regiments of the Infantry, it is the mechanised Infantry which needs to expand exponentially. This expansion would not be de-novo in terms of manpower but by conversion of a large number of Infantry battalions to a mechanised role to meet the requirements of mobile defence on the western borders. In this part of the borders, deployment of foot infantry is a drain on manpower resources and quite incongruous in the 21st century. Mechanisation has to be integral to the infantry and mechanised units not treated as adjuncts of armoured forces. Battle plans have to be drawn up accordingly. A considerable shift in the thinking of commanders would be needed for optimal utilisation of mechanised infantry.
An area which needs serious consideration in the future is the concept of multidomain infantry units. Though the Rashtriya Rifles was raised for counter-insurgency operations, its structure and organisation is an excellent example on which to base such futuristic units. While the bulk of the personnel in RR battalion are from Infantry regiments it has officers and troops from supporting arms, Engineers, Signals and EME as well. The concept of a multi-domain unit would be to integrate personnel from combat support arms into operational combined arms units. Branches of the army traditionally seen as support elements will have equal status alongside Infantry, the major kinetic arm of the army. An infantry battalion will therefore also have sub-units of platoon size from the Engineers equipped with light plant and field engineering equipment, from Signals equipped with jammers, communication, surveillance and cyber warfare equipment, along with an EME element for maintenance and repair cover. Such units would be equally engaged in confronting adversaries before hostilities break out and in no war no peace situation, via intelligence gathering activities, psychological and information operations. A multi-domain unit would integrate diverse functions, using space-based communication and surveillance capabilities, absorb information from "non-organic" intelligence platforms, disrupt enemy sensors and communications with electromagnetic attacks, and conduct information operations creating or countering internet-based propaganda and deception. Such a unit would be able to operate more effectively and independently and bring to bear greater force on its task. Further, all this should be achieved by reorganising existing establishments, rather than by new accretions.
Modernisation of Infantry
Various endeavours are presently underway to enhance the Lethality, Mobility, Battle Field Transparency and Survivability of the Infantry, which need to be highlighted. Procurement of higher capability rifles, LMGs, sniper rifles and third and fourth generation ATGMs, are some of the steps in this direction. Light strike vehicles, specialist vehicles and all-terrain vehicles will considerably enhance mobility. Survivability of the individual soldier is being met through ballistic helmets and superior quality bullet proof jackets as well as improvement in the personal kit. The individual infantryman, properly equipped, would be an asset with unique and valuable abilities. Considerable improvement in situational awareness and battlefield transparency is being achieved through increased scaling and procurement of night sights and authorisation of mini UAVs and RPAs to Infantry Battalions. New generation of communication equipment and upgraded surveillance radars will go a long way in giving a boost to the combat capabilities of the Infantry.
MODERNISATION OF INDIAN INFANTRY IS UNDERWAY WITH INDUCTION OF LATEST ARMAMENTS LIKE UAVS
Modernisation is most often associated with equipment. There has to be a greater realisation of how to use existing resources in a modern way. None of the above is overly dependent on procurement of new technology. It is rather a reimagining of how resources can be deployed and existing units reorganised to make the infantry more lethal.
As the Indian army evolves and readies itself for the conflicts and challenges of the future, its main component the Corps of Infantry, has to move apace in reinventing itself. How far and how successfully can this be achieved will depend on the mental mobility and flexibility of its commanders.
The author is Ex Corps Commander, 33 Corps, and DG, Perspective Planning.