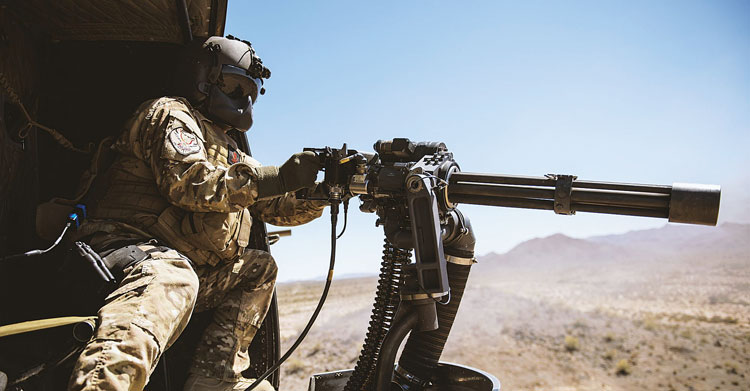 The M134D Gatling is a proven weapon system used in over 35 countries
The Company: Dillon Aero
Dillon Aero's M134D is the only fully tested, qualified, and combat-proven 7.62mm Gatling Gun system available in the market today. Supplied to U.S. Special Operations Forces from 1989 onwards, the M134D is designed, produced, and supported by an ISO 90001:2008 certified company. With the family name (and hard-won company reputation) affixed to every delivered weapon, personal pride and commitment to excellence is clearly evident in every product that is delivered.
The M134D weapon benefits from world-class product support, including design-engineering, system installation and operator training. Moreover, product warranty is also ensured for end-to-end reliability, maintainability and operational effectiveness. Additionally, Dillon Aero's extensive and dedicated vendor base has been delivering for the past 25 years.
Dillon Aero's many patented improvements to the Vietnam War era's 7.62mm Gatling Gun, include upgrades to the weapon's Feeder/ De-linker, Gun Bolts, Top Cover & Blade Safing Sectors, Gun Rotor, and Ammunition Magazines. These enhancements have effectively eliminated all previous shortcomings and have improved M134D's reliability, ease of use, maintainability & durability and operational effectiveness.
Replica of the Mini Gun
Recent "knock-off" copies of the M134D, do not come close to meeting customer's expectations viz workmanship, performance and end-to-end system support.
Sales of Mini Gatling Gun System to US Military
It is important to note that ONLY Dillon Aero's Mini-guns are mounted on US DoD Aircraft, since the Vietnam war. Conversely, the knock-off copy of the products, is yet to be combat proven. Moreover, since 2015, Dillon Aero is the SOLE and EXCLUSIVE manufacturer authorised by US Military to supply Mini Gatling gun system. Such contracts signify:
Dillon Aero's commitment, to timely delivery.
Confidence in Dillon Aero's brand, product, and company.
That Dillon Aero's pricing is fair and reasonable.
Demonstrate satisfactory on-time delivery, conformance to standards and after sales product support by Dillon Aero.
International Sales
Dillon Aero has built and delivered over 6500 M134D weapon systems, to over 35 countries worldwide.
In India, Dillon Aero has entered into a partnership with Max Aerospace to develop, sustain and provide after-market support for these products to the Indian military. Max Aerospace is an established and fully licensed company with expertise in Airborne weapons systems for over two decades. The plan is to produce the weapon system, in India under "AatmaNirbhar Bharat", to provide self-sufficiency to the Indian armed forces.
Conclusion
The question that the end user needs to ask, do we want to put our soldiers at risk with a system that has proven, time and again to be ineffective and a company that is unable to support such sales?
The most important decision a customer, therefore, needs to make is to choose between systems manufactured by Dillon Aero or buy replicas.
Off late, sales of Mini Gatling gun replicas to international customers by the other company, have not gone well. A few of such sales are:
Country
Problems or Issues
Result
Multiple
Demonstrations
The replica manufacturer has attempted demonstrations around the world, but they have continuously had performance problems with locally manufactured ammunition.
The replica manufacturer takes its own ammunition for such demonstrations. Once their guns are purchased, the recipient country perforce has to purchase the compatible ammunition from select vendor to ensure operational availability of the weapon system.
Indonesia
The replica guns have not been able to successfully fire using local ammunition. All attempts to rectify the defect have ended up with multiple jams and misfeeds.
The Indonesian MoD cancelled a large contract, with this replica manufacturing company. The Indonesian MoD has since then witnessed a successful demonstration of Dillon Aero system. This is followed by a new contract released to Dillon Aero, in December 2019.
Turkey
Turkey has been having trouble in firing with local ammunition. Effectively, the guns are not firing well and the support from the replica manufacturing company has been very minimal.
Many of the weapon systems are lying idle and not being put into operational use.
Poland
All units that were delivered by the replica manufacturer failed visual and firing inspection.
Polish MoD has now contracted Dillon Aero to "fix" the problems and bring the defective guns back into working condition. The Polish MoD has cut all ties, with the replica manufacturing company.