The FICV were earlier planned to be inducted into the Army in year 2025 but looking at the current state of affairs, induction may be prolonged easily by few more years. How are we ensuring a level playing field and encouraging the private sector who has invested heavily in the FICV project these past years without financial support from government, but is being kept in limbo?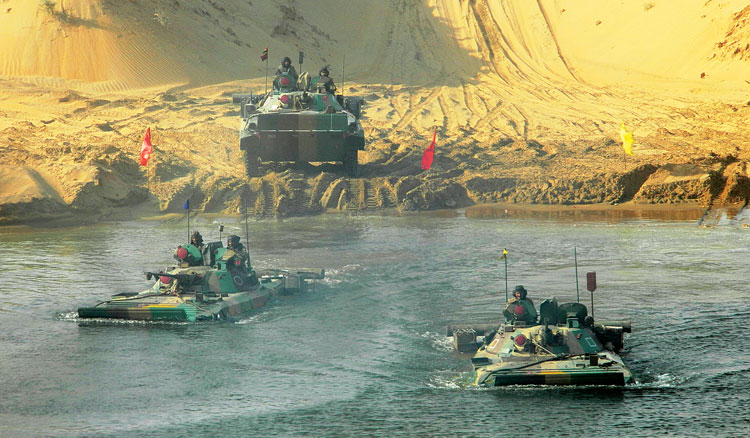 BMPs crossing water obstacle
The Infantry Combat Vehicle (ICV) is a potent and formidable weapon platform vital for Mechanised Infantry. Our vast frontiers and rogue neighbours like China and Pakistan heightens the need for ICVs providing the infantry with: collective troop cross-country mobility over land and water; firepower, and; protection from enemy fire. India's Futuristic Infantry Combat Vehicle (FICV) project is classic example of how to stonewall military modernisation by delaying projects through bureaucratic machinations, political considerations and unaccountability, which is apparent from below:
In late 1990s, DRDO began developing ICV 'Abhay' as pre-technology demonstrator to replace Russian BMP-II, rolling out the pre-production prototype in 2005.
Project FICV was to be on private-public partnership basis under Defence Procurement Procedure 2008 'Make' procedure for developing "high-tech, complex systems" through Indian industry.
Expression of Interest (EoI) was sent to Mahindra Defence Systems, Tata's, L&T and OFB in 2009 based on their commercial bids. FICV project was to be put on fast track looking at production of 3,000 FICVs to replace the upgraded BMPs at a cost of $10 billion.
However, follow up of the first EoI was stunted because of "perceived inconsistencies" in evaluation of EoI responses between the Integrated Project Management Team (IPMT) and MoD. MoD scrapped the process saying it would restart in nine months but took three years before the project was restarted in 2015.
With change of government in 2014, Bharat Forge, Punj Lloyd, Force Motors and Ashok Leyland were included in the FICV project through fresh acceptance of necessity (AoN) approved by MoD. Multiple foreign firms showed interest for joint ventures (JV). A second EoI was issued in July 2015 to 10 vendors. Two Development Agencies (DA s) were to be shortlisted to build prototypes but the project was logjammed in bureaucratic bottlenecks, corporate rivalry and controversies. OFB's offer to partner DRDO as design partner was not accepted on objections of private industry since DRDO will be finally responsible for technology evaluation and approval.
In mid-2017, US offered US-India-Israel trilateral production of FICV under the India-US Defence Technology and Trade Initiative (DTI). Simultaneously, media reported FICV project likely to be taken up by the Defence Procurement Board (DPB) but many issues hampered this.
In February 2018, independent expert monitors (IEMs) found evaluation process for selecting Development Agencies (DAs) to produce FICV prototypes correct but Development Agencies (DAs) were still not selected from respondents to the second EoI. Instead, MoD sent the proposal back to the Army to study possibility of shifting it under the 'Make II' category.
In DPP-2016, new sub-category, Make-II (industry funded) was introduced, as was the Strategic Partnership (SP) model. But Mahindra Defence Systems, Reliance Defence and Engineering and Titagarh Wagons had already submitted their plans for the FICV as required under Make II category – without asking for any government funding. But MoD obviously wanted to ensure OFB is one DA, negating both DA's going to private industry. Delayed projects are never of consequence to the bureaucracy.
The EoI issued in 2009 laid down the FICV to be: operable by three-man crew; carry seven additional soldiers with combat loads; provide protection against 14.5mm calibre weapons; amphibious; air-transportable; 18-20 tonne maximum weight; fire power to include grenade launcher, co-axial machine gun, capable of firing anti-tank missiles (fire and forget type), and; minimum 50 per cent indigenous content.
News reports of March 18, 2020 now reveal that the OFB and DRDO are to conjointly develop FICV, named 'Mark-I'. According to Hari Mohan Chairman OFB, 'Mark-I' will be ready in 3-5 years whereas its sequel Mark II can take up to a decade in its development.
After over 30 years since the perceived need and 12 years in the works, with on-and-off rumours of the FICV project being shelved-progressed-shelved, these vacillations have seriously undermined the capability of the Army
On June 2, 2020, MoD placed an order on the OFB to upgrade Russian-origin BMP-2/2k ICV 'Sarath' for the Army at the cost of 1,094 crore ($145 million). This upgrade is to be carried out at Ordnance Factory, Medak. BMP-II Sarath was observed during rehearsals for DefExpo 2020. Whether 'Sarath' is planned as substitute for FICV is not known. Hopefully this is not the case but if it is, then the MoD has circumvented earlier objections by private industry that OFB should not be allowed to team up with DRDO since DRDO is finally responsible for technology evaluation and approval.
Current Challenges
Meanwhile, fate of the FICV project remains unknown. But it would not be surprising if MoD restarts the process afresh with a third EoI, implying setback of few more years. The FICV were earlier planned to be inducted into the Army in year 2025 but looking at the state of affairs induction may be prolonged easily by few more decades.
BMP-II has no night fighting capability. It was hoped that the FICV will at least commence replacing the BMP-II by 2017, with phasing out of BMP-II commencing 2018. In 2017, MoD awarded 2,400 crore contract to upgrade 693 BMP-2s with night fighting capabilities but whether upgrading of all BMP-II has been completed is not known.
There is lot of talk about level playing field being ensured for the private sector, which is labeled pure rhetoric by the private players. How are we encouraging the private sector who has invested heavily in the FICV project past years without financial support from government but is being kept in limbo? This also indicates that the claim to corporatise the OFB is unlikely to go beyond cosmetics.
The Bumpy Road Ahead
Satellite images of July 2020 showing Chinese T-15 / ZTPQ light tanks in Eastern Ladakh was wakeup call for India having rushed T-72 / T-90 tanks to halt China's aggression in Eastern Ladakh; these being heavier and more suited for plains and deserts. India reportedly is now scouting for light tanks but how many years or decades before Army will get them? Last year Army invited proposals from domestic and foreign firms for designing a future ready combat vehicle (FRCV) ostensibly to replace the T-72 tanks. But looking at the FICV project, FRC V could take another 25-35 years?
Lack of strategic sense and jingoism has become the bane of India, which was reflected even in the Chief of Defence Staff (CDS) talking of marching into Pakistan Occupied Kashmir (POK) whenever government wants but also saying maintaining just 10 days ammunition reserves is sufficient. Finally, if the present Chinese aggression too does not wake us up into modernising our military speedily in holistic fashion, we probably will continue to remain in the same state.