July 06, 2013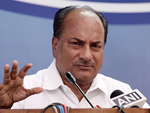 Technology Perspective & Capability Roadmap 2013
The Integrated Defence Staff has released an updated Technology Perspective & Capability Roadmap 2013, the second in two years, that covers the expansive wish-list of technologies and capabilities that the armed forces intend to acquire either indigenously or from abroad in the course of the next 15 years.
Read More

Indian Army's 15-year land warfare capability roadmap
The Indian Army will see a multi-dimensional modernisation effort going forward, with asset accretion giving it wings, rotors and unprecedented land presence in terms of fresh assets on wheels, tracks.
Read More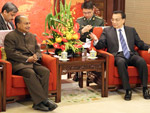 India, China discuss joint exercise for October 2013
India and China are in the process of finalising the modalities of their first military joint exercise since 2008 during the ongoing visit of Defence Minister A.K. Antony to Beijing. Both sides have decided to hold a joint exercise in China in October 2013. Both sides have also agreed that the navies and air forces...
Read More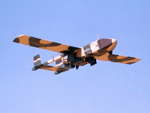 DRDO to expedite production of 16 Nishant UAVs for CRPF
With the Army clearing the indigenous Nishant UAV for an extended 4.5 hour surveillance sortie and things progressing well in the final stages of operationalisation for army operations at the battalion level...
Read More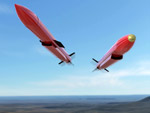 MBDA's futuristic artillery system, CVS302 HOPLITE unveiled
Drawing a great degree of attention and interest at the Paris Air Show 2013 was MBDA's in-development CVS302 HOPLITE, an indirect precision attack (IPA) capability for land and naval artillery for forces operating in 2035 and beyond.
Read More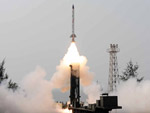 India's BMD to work against 5,000 km range missiles too
India's ballistic missile defence (BMD) system, a multi-layered missile system that is capable of intercepting enemy ballistic missiles up to to ranges of 2,000 km, is now steeped in two things: operationalising the existing PAD/AAD...
Read More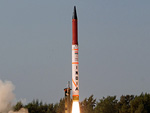 Agni IV and V to be inducted in two years
In a first for India's strategic deterrent programme, the DRDO will be working hard to test, operationalise and induct the Agni-IV and Agni-V in to service within the next 24 months. Never before have two missiles with a combined range in excess of 10,000 km been slated for entry into service together...
Read More
July 01, 2013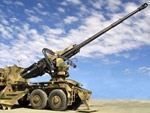 Indian Army announces mounted gun competition
Following a generic request for information (RFI) issued in August last year, the Indian Army has announced a fresh and more specific request for information to meet the Army's requirement of 814 mounted gun systems—a 155mm/52cal artillery gun mounted on a wheeled vehicle.
Read More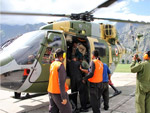 HAL's Dhruv proves mettle in flood operation
Proving its mettle as a supremely flexible and agile platform for humanitarian operations, the indigenous Dhruv helicopter was deployed with a remarkable degree of confidence by the Army Aviation Corps and Indian Air Force in Uttarakhand.
Read More
June 10, 2013
Indian Army for heavy recovery vehicle
The Indian Army is looking to procure an unspecified number of heavy recovery vehicles to recover stalled, overturned or broken down heavy or armoured vehicles of the forces. The Army is looking for a vehicle capable of providing recovery cover for vehicles over 15 tonnes in all terrain (desert, plains, marshy ground...
Read More
May 20, 2013
Turbomeca to power HAL's light copter
After a protracted effort to identify a suitable engine for the in-development light utility helicopter, HAL has finally chosen the Turbomeca 1U Ariden, a close variant of the 1H1 Shakti that powers the ALH Dhruv and light combat helicopter. The Shakti beats out the Honeywell-Rolls Royce LHTEC CTS-800...
Read More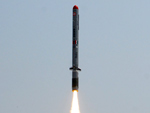 Second Nirbhay missile test likely by November
Following the partial success of the Nirbhay subsonic cruise missile on its March 12 debut test, the development team has managed to identify the glitch in the inertial naviation system (INS) that forced them to push the kill button 17 minutes into the flight, following a perfect launch sequence.
Read More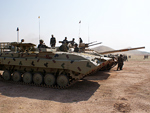 Rs 8,000 crore ICV upgrade plan on
The proposed ambitious upgrade of the Indian Army's entire fleet of infantry combat vehicles (ICVs) was fleshed out by Defence Minister A.K. Antony in Parliament recently. "Based on operational requirement, the entire ICV fleet of the Indian Army is being modernised to enhance their capability," Antony said.
Read More
May 18, 2013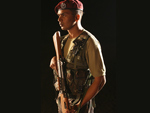 IAF for new assault rifle
The Indian Air Force is looking for a modern assault rifle for its special units (Garud), that should be compact, foldable, easy to carry, handle, operate, simple to maintain and with high range. The requirement joins a raft of tenders already active for other weapons including assault rifles for the Army...
Read More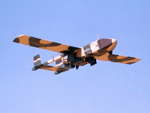 Indian Army for SR-UAV
In an effort to augment its fleet of tactical surveillance unmanned aerial vehicles (UAVs), the Indian Army is on the lookout for an unspecified number of short range UAV (SR-UAV). The Army currently operates a small fleet of IAI Searcher Mk.2 drones.
Read More
March 12, 2013

Breaking News:
Mixed success: Nirbhay maiden test stars well, ends with abort
The much anticipated maiden test of India's long-range cruise missile, Nirbhay, ended mostly in disappointment today, with the programme...
Read More
March 06, 2013

HAL to present UAV vision to Home Secretary
HAL will shortly be making a presentation to Home Secretary R.K. Singh on a proposed national plan on UAVs for internal security threats and cross-border terrorism. HAL recently carved out a separate UAV wing...
Read More

Missile export push by DRDO?
After Defence Minister A.K. Antony's push for the BrahMos to be inducted by the Russian armed services, India's DRDO has renewed efforts to draw up a robust export plan for some of its systems...
Read More

M777 deal to be signed soon
A long-delayed deal for 145 M777 ultra-light howitzers is to be signed shortly between New Delhi and Washington. India first expressed interest in the BAE Systems gun over 7 years ago in January 2006.
Read More
March 05, 2013

Breaking News:
Nirbhay cruise missile to be tested on March 10?
The secretive Nirbhay subsonic cruise missile could be tested for the first time on March 10 at the Integrated Test Range off Odisha's coast.
Read More

Army, CPMF, Police forces evince interest in NAL SlyBird MAV
While the ADE Imperial Eagle gets set for customer trials, a corresponding development, the SlyBird MAV by the National Aerospace Laboratory (NAL) has already garnered a reputation for itself as a field ready platform...
Read More
March 04, 2013

Defence Budget cuts could impact modernisation?
The nominal hike of just five per cent in the Indian defence budget to Rs. 2,03,672 crore brings the country's defence budget to its lowest percentage of GDP in the last three decades...
Read More

Imperial Eagle MAV ready for user trials
The Aeronautical Development Establishment (ADE) has unveiled the hand-launched fixed-wing mini UAV Imperial Eagle, and invited potential users to give the platform a test. The Imperal Eagle, with an all-up weight of 2.9 kg and a wingspan of 1.6 metres...
Read More

Beretta PX4 and ARX-160 on offer to Indian Army
The legendary Beretta of Italy is expanding its presence in the Indian market in a big way, and demonstrated this with a sizeable presence at the recent Aero India show in Bangalore. While the company has several different weapons on offer to the Indian...
Read More

Pinaka MBRL test-fired
An advanced version of the operational Pinaka multi-barrel rocket launcher system (MBRLS) has been tested a number of times over the last few weeks on the country's east coast ranges.
Read More

Finally, Indo-French SR-SAM programme takes off
After years in discussions, the Indo-French 'Maitri' short-range surface-to-air missile (SR-SAM) programme is ready to be concluded. During the recent visit of French President Francois Hollande...
Read More

In a first, Army orders 20 Cheetal copters
After years of diffidence, the Indian Army has ordered 20 Cheetal helicopters from HAL in a deal worth Rs. 418 crore. The choppers will be delivered over the next four years. "HAL will also provide training to the pilots and technical crew.
Read More

AgustaWestland fall-out over other deals?
The VVIP helicopter controversy could impact or delay other ongoing acquisition programmes of the Indian armed forces, already nervous by the potential repercussions.
Read More
January 28, 2013

Russian Helicopters banks on 197 copter deal
On the back of two significant losses in the Indian defence space—the IAF's heavylift and attack helicopter competitions—Russian Helicopters Co. will be focusing all its energies at Aero India 2013...
Read More

Indian Army for UAV missile simulator
The Indian Army is in the market for a mission simulator to train UAV crews in operating IAI Heron and Searcher Mk.2 surveillance UAVs. The Army has stipulated that the UAV mission simulator should be capable...
Read More

MBDA back with a bang at Aero India 2013
European missile house MBDA has always had a solid presence at Aero India, and this year it's back with full force once again. The company says, "At Aero India 2013, MBDA will again demonstrate its unique status...
Read More

Missile men honoured by GOI
In an affirmation for the country's missile programme, three top missile scientists were honoured this year by the Government with Padma awards. DRDO Chief Dr. Vijay Kumar Saraswat, Scientific Adviser to Raksha Mantri...
Read More

India's longest range missile debuts at Republic Day Parade
While the Indian media usually dissects the weapons platforms that China puts on display during its ceremonial days, the tables turned this Republic Day...
Read More
Certified and ready, Indian Army to receive 1st weaponised Dhruv
In a significant milestone for Hindustan Aeronautics Ltd, the first Dhruv (Weapon Systems Integrated)—Dhruv-WSI or Rudra as it has been christened—will be certified...
Read More
December 26, 2012
DRDO brainstorms with private sector for heavy gun
In the process of conceptualising a new 155mm/52cal towed artillery gun, the DRDO has officially kickstarted proceedings by roping in the private sector to brainstorm. A three-day discussion session in Pune from October 29-31 was organised...
Read More
Pages:
1
2
3
4
5
SP's Other Publications
| | |
| --- | --- |
| Rs. 600/US$180 per year | |
| | |
| --- | --- |
| Rs. 600/US$180 per year | |
| | |
| --- | --- |
| Rs. 1,320/US$325 per year | |