The highlight of the show was the confident Indian industry which is sure of its capability to deliver products as per the forces' requirement.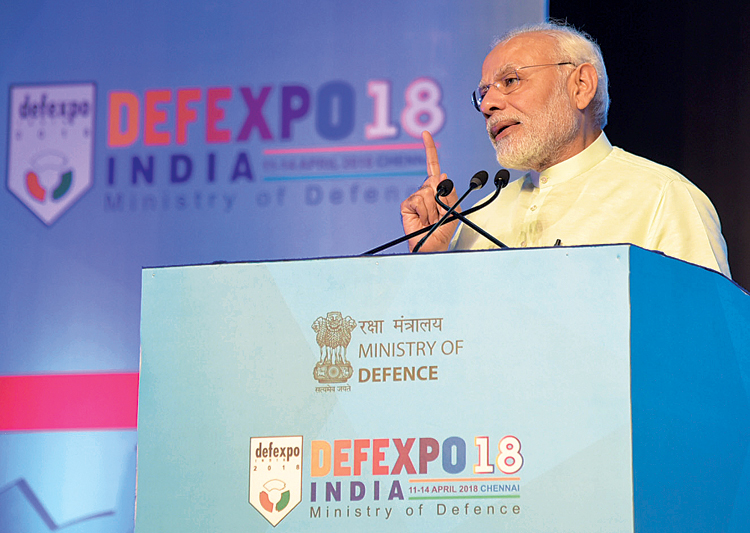 Big Day @ Defexpo 2018: Prime Minister Narendra Modi delivering his address at the inauguration ceremony of the Defexpo 2018 in Chennai
The recently concluded Defexpo 2018, India's premier land and naval force exposition, was aimed at projecting India as the weapon exporting nations. In the previous editions of the show the focus was on what world can offer to India. But, this year the theme was 'India: The Emerging Defence Manufacturing Hub'. The shift in focus towards manufacturing and export is a paradigm shift in Indian outlook. Is there enough ground for it? It seems yes.
Inauguration of the Defexpo 2018 by the Prime Minister Narendra Modi reinforced the Indian Government's commitment to make India self-reliant in defence manufacturing. Prime Minister Modi, on the second day, formally inaugurated the show. While delivering his inaugural speech, Modi convincingly articulated his government's plan to ease out woes of Indian and global defence industry. "Our commitment to peace is just as strong as our commitment to protecting our people and our territory. For this we are ready to take all necessary measures to equip our armed forces, including through the establishment of a strategically independent defence industrial complex."
Noting the uniqueness and distortion of the defence industry where government is the sole buyer, Modi said, "We are conscious that defence manufacturing is unique in terms of government involvement." During the inauguration Modi also launched the Innovations for Defence Excellence (IDEX) which will support young men and women to come up with innovative solutions for Indian defence requirements.
Speaking on the first day of expo, Defence Minister Nirmala Sitharaman, with an eye on the export, said that a larger objective will be served by focusing on defence industry. Calling India a strong, growing and futuristic economy which is sustaining itself, Sitharaman said that it is not only government's compulsion to support defence production but also to achieve larger objectives. "Making India a hub for defence industries and making sure that the defence production is not just for our consumption but also to aim on export. So, India today is able to talk bilaterally to many countries," she said.
She added that India understands that shifting defence production to India and transfer of technology is not one sided dream but it is an actual reality which is taking shape.
In what could be considered as the most talked about features of the show is the live demonstration by the Indian designed and developed products which are part of the inventory of the Indian forces. The demonstration was a sales pitch to the visiting foreign delegations that India has products that they can induct in their arsenals.
During the demonstration, the complete fleet of helicopters of government owned the Hindustan Aeronautics Limited's (HAL) Light Utility Helicopter, Light Combat Helicopter, Advanced Light Helicopter and weaponised ALH displayed their prowess. Similarly, the Indian designed and developed howitzers, Ordnance Factory Board's 155mm/45 calibre and Defence Research and Development Organisation's (DRDO) 155mm/52 calibre Advanced Towed Artillery Gun were showcased along with its Arjun Mk-II main battle tank.
The show was attended by 701 exhibitors which includes 154 international exhibitors. Nearly 15 per cent of the total exhibition space was booked by medium small and micro enterprises (MSME). In terms of area, this edition was spread over 2,90,000 square feet which is 65,000 square feet more than the Goa edition.
Although, the industry is eagerly looking forward to the Ministry of Defence (MoD) for clarity on the participation of the public sector in the strategic partnership model of the defence procurement procedure (DP), yet number of Memorandum of Understandings (MoU) were signed between leading private firms and defence public sector firms. It is a good omen for the development of local defence industry. The coming together of the ever conflicting private and public sector to develop products for Indian and global market is a win-win situation. This is a model which has tasted success.
Two of the best made in India systems, Pinaka multi-barrel rocket launching system and ATAG are the perfect example of public-private partnership model. This model allows virtuous utilization of the capabilities of both sectors. Moreover, this will also expedite the product development.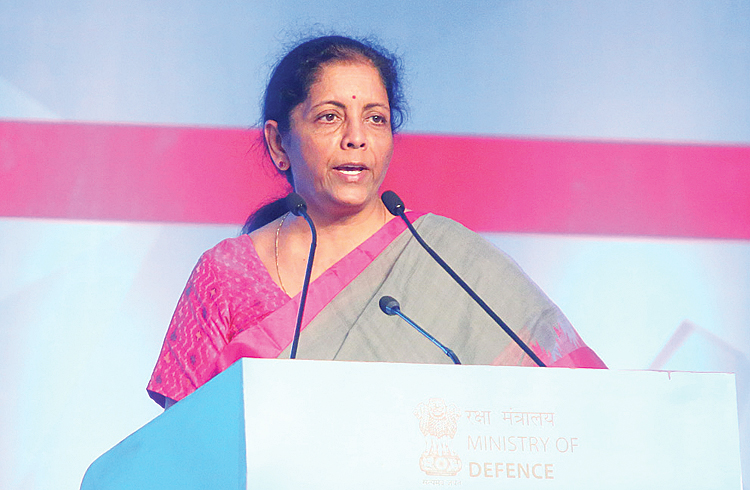 "Making India a hub for defence industries and making sure that the defence production is not just for our consumption but also to aim on exports. So, India today is able to talk bilaterally to many countries." —Nirmala Sitharaman, Defence Minister
The show witnessed many announcements and displays of new products from both private and public players. The decision of the Prime Minister to inaugurate the show gave a much required flip to its status. Although, the venue was new yet one can't recall such a fine management of space ever in its previous editions. Before the show, the industry was afraid that in short span of time, the organizers will not be able to put up a good show, but to everyone's surprise the show was not only well managed but with every kind of facility for the participants.
The show was high on business and also on glitz. There wasn't any big ticket announcement. But, below the radar, the business was intense. One can anticipate some serious development coming out of the expo.
BEML Unveils Bullet Proof Vehicle
BEML Limited, a Public Sector Company under the Ministry of Defence, launched Medium Bullet Proof 4x4 Vehicle (MBPV 4x4) for use in counter insurgency operations at the expo. The MBPV, is a 4x4 wheel heavy duty all weather off road mobility vehicle, specially designed for easy maneuverability, operability and maintainability. This advanced blast protected and bullet proof vehicle shields the security personnel from small arms fire, hand grenades and fragment simulated projectiles, etc. With survivability as the major objective, the MBPV 4x4 has a carrying capacity of 10+2 persons.
BEML & OFB Launches Force Multiplier 155 mm 52 CAL Mounted Gun System
OFB and BEML have unveiled its latest product: The 155 mm 52 Cal Mounted Gun system at a function held at the ongoing Defexpo 2018 at Chennai jointly by Deepak Kumar Hota, CMD, BEML Limited & S.K. Chourasia, DGOF & Chairman OFB.
The uniqueness of this project is that it has been completely and independently designed and manufactured by OFB in association with BEML and BEL and is therefore a shining example of 'Make in India' - The Theme of Defexpo'18. The Gun is equipped with the state-of-the-art laying system and sighting system such as GPS aided INS, muzzle velocity feeder data management, day and night firing, ballasting computer system capability.
The armament used in the 155 mm 52 Cal with target equipment capability of approximate 42Kms. The Gun System combines with the advantage of high mobility performance of a truck with accurate long range fire power of a 155 mm 52 Cal Gun and with its onboard ammunition storage capability of 18 rounds of HE shells as well as 18 BMCS and 2-6 chargers. It can be automatically deployed in any terrain and can perform a mission independently.
Kalyani Group and BAE Systems to Provide Air Defence Guns
Indian engineering major Kalyani Group and British defence major BAE Systems, on April 13, announced that they are working together to develop and provide Air Defence Guns for Indian Security Forces.
Rajinder Singh Bhatia, President and CEO (Defence and Aerospace) of Bharat Forge Ltd said, "The Kalyani Group has indigenously developed its skills and capability within Defence. We are now expanding our profile in the defence segment to include Air Defence Guns and ammunition in order to provide solutions to Indian security forces for terminal air defence. The Group and BAE Systems have agreed to partner for transfer of technology for air defence guns and ammunition. BAE Systems' advanced technology will be complemented with Bharat Forge Ltd's world-class design, development and manufacturing capabilities. This will be the perfect example of 'Make in India' solutions."
Ashok Leyland Exhibits Six Advanced Products and Technology
In a gesture appreciating the contribution of the humble soldiers, Ashok Leyland, flagship of the Hinduja Group and the largest suppliers of logistics vehicles to the Indian Army, got its products unveiled by Mahadevi Bilebal, widow of Late Lance Nayak Hanumanthappa Koppad, who was posthumously awarded the Sena medal, and Hony Capt Raghunath Singh, Veer Chakra.
Speaking on the occasion, Vinod K. Dasari, MD, Ashok Leyland, said, "We have been an integral part of our nation's Defence operations and we continue to evolve as a trusted partner in providing endto-end solutions in the area of mobility."
"We have developed capabilities which will help us to bid for 20-25 per cent of the tenders of the Indian Army as against less than one per cent earlier," he added.
The company unveiled LSV 4x4-Light Specialist Vehicle 4x4, Guru 715- General Service logistics vehicle, Medium Bullet Proof Vehicle 4x4, Super Stallion 8x8-A High Mobility Vehicle, power pack for artillery guns (technology solution for the Indian Army), tracked vehicles: Repower, Upgrade Solutions for tracked vehicles and Future Infantry Combat Vehicle Mobility.
BEL Signs MoU with L&T
Public sector defence electronics major Bharat Electronics Limited (BEL) and private sector engineering leader Larsen & Toubro, on April 11, signed an MoU during the Defexpo to share their expertise in design, development, engineering and manufacturing to develop and produce products and systems to meet the requirement of the defence services as well as for export markets.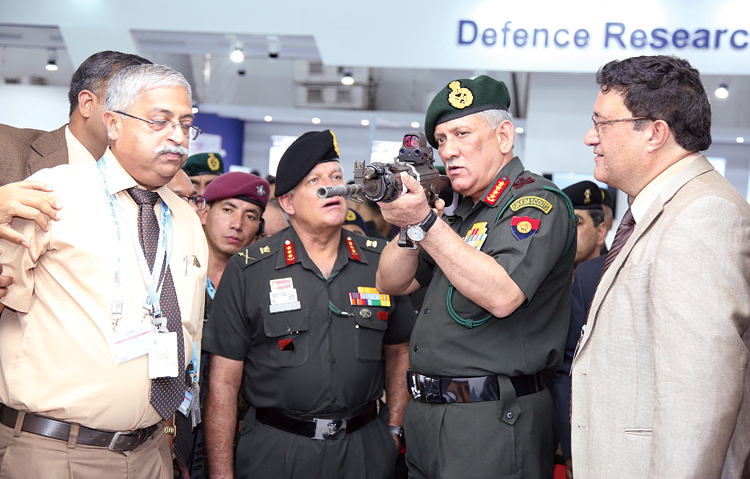 Chief of the Army Staff General Bipin Rawat at the BEL pavillion
M.V. Gowtama, CMD, BEL, and senior officials from both the organisations were present on the occasion. Anandi Ramalingam, Director (Marketing), BEL, and J.D. Patil, Whole Time Director and Senior Executive Vice President (L&T Defence), signed the MoU.
Both the companies will co-operate and work in partnership mode for select programmes of the Indian government and also for the global market.
BEL and Mahindra Comes Together
On April 12, BEL and Mahindra Defence Systems signed a MoU for a long-term partnership to exploit opportunities in the defence sector in both domestic and export markets.
Speaking on the occasion, S.P. Shukla, Group President, Aerospace & Defence, Mahindra Group said, "Both BEL and Mahindra Defence are world-class engineering companies. To give one example, together we have capabilities in mobility, survivability, lethality, electronics and communications, making us ideal partners for new development as well as for upgrade of in service combat vehicles. This partnership can be grown not only to meet the requirements of the Indian Armed Forces but also to target exports to other friendly countries."
"We are pleased to come together. We are keen to bring to the table our in-house expertise as well as technical know-how to the current and future design of new generation defence systems and products We are confident that the two of us will work together to contribute to indigenous defence production," M.V. Gowtama, CMD, BEL, said.
Kalyani Rafael Advanced Systems (KRAS) Announces Expansion
Kalyani Rafael Advanced Systems (KRAS), a joint venture between Kalyani Strategic Systems and Rafael Advanced Defence Systems of Israel, is all set to expand its product profile. The KRAS will now venture into the space of Missile systems with the New Generation Precision Guided Munitions (NGPGM), Air Defense systems and capabilities for Medium-Range Surface to Air Missile (MRSAM), Low-Level Quick Reaction Missiles (LLQR) and Quick Reaction (QR) SAM programs. The expansion will also include the Drone Dome system (Radar and laser beam system for detecting, jamming and destroying drones) and the Naval Remote control Weapon Station Systems Programme.
KRAS, established in 2015, for manufacturing and life cycle support of Spike Missiles systems, BMP II upgrade and Addon Armour Solutions. The joint venture has a state-of-the-art facility at Hyderabad for manufacturing of defence sub systems.
In its first phase of expansion in March 2017, KRAS included provision of indigenous solutions to New Generation Precision Guided Munitions (NGPGM) and Long Range Guided Bomb (LRGB).
As part of its second phase of expansion, KRAS will now also provide indigenous solutions for Missiles Systems like MRSAM, LLQRM, QRSAM as well as the Naval Gun Program and Drone Dome System. This expansion will bring-in niche technology in the country for such advanced defence systems and will further boost the JV's commitment to 'Make in India'.
Boeing, HAL and Mahindra Comes Together for F/A-18 Super Hornet
Global military aviation major Boeing announced joining hand with Hindustan Aeronautics Limited (HAL) and Mahindra Defence Systems (MDS) for manufacturing of the super-sonic jet fighter F/A-18 Super Hornet in India. The partnership will also pursue the joint development of future technologies.
India currently has two fighter programmes – 110 aircraft for Indian Air Force and 57 aircraft for Indian Navy, and Boeing is one of main contenders in both the programmes.
"This partnership brings the best of Indian public and private enterprises together in partnership with the world's largest aerospace company, Boeing, to accelerate a contemporary 21st century ecosystem for aerospace and defence manufacturing in India," said Pratyush Kumar, president, Boeing India. "Our partnership with HAL and Mahindra will enable us to optimize the full potential of India's public and private sector to deliver next-generation F/A-18 fighter capabilities. Together we can deliver an affordable, combatproven fighter platform for India, while adding growth momentum to the Indian aerospace ecosystem with manufacturing, skill development, innovation and engineering and job creation."
"Hindustan Aeronautics Limited has always been at the forefront of aerospace development in India's aerospace sector," said T. Suvarna Raju, Chairman and Managing Director, HAL. "This partnership with Boeing and Mahindra Defence Systems will create an opportunity to develop capabilities of the aerospace industry and strengthen indigenous platforms in India thereby contributing to the 'Make in India' activities."
The Super Hornet 'Make in India' proposal is to build an entirely new and state-of-the-art production facility that can be utilized for other programmes like India's Advanced Medium Combat Aircraft (AMCA) programme.
This partnership is intended to bring together Boeing, HAL and MDS' global supply chain and will expand India's aerospace ecosystem in accordance with the vision of 'Make in India'. According to Boeing, the Super Hornet does not only have a low acquisition cost, but it costs less per flight hour to operate than any other tactical aircraft in US forces inventory.
Ka-226T Configuration Finalized
India has moved one step closer towards the execution of 200 Ka-226T light utility helicopter deal. During the show, the Russian Helicopters announced that India has approved the technical configuration of the Ka-226T to be manufactured by the joint venture firm Indo-Russian Helicopters Limited in India.
"Approval of helicopter configuration to be delivered and assembled in India means that the technical aspects of the project have been finalised. We and our Indian partners shall commence the preparation of contractual documents in the near future", said Andrey Boginskiy, Director General of Russian Helicopters Holding Company.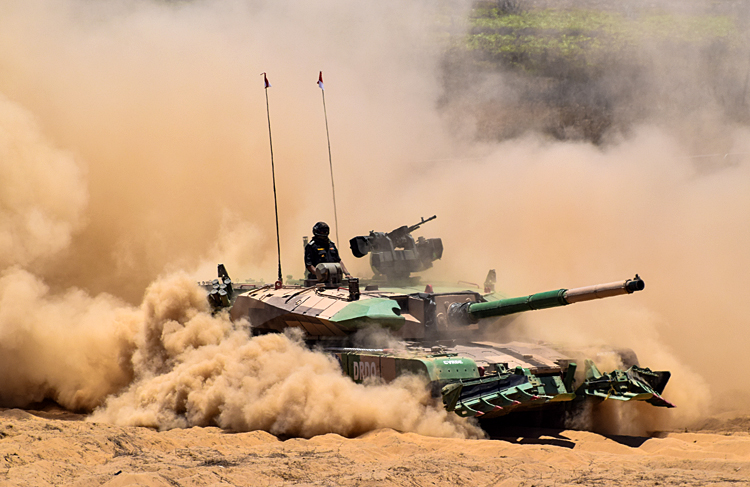 Arjun MBT Mk II in action on the opening day of Defexpo 2018 in Chennai
The Ka-226T will replace ageing Cheetah and Chetak helicopters. A government-to-government deal with Russia signed at the end of 2015 for 200 Ka-226T helicopters to be manufactured in India. The Shareholders Agreement for the establishment of a Joint Venture to manufacture Ka-226T helicopters in India was also signed in 2016. The project will be executed through a joint venture between HAL (50.5 per cent) and Russian Helicopters.
In May 2017, Prime Minister Narendra Modi laid the foundation stone for a new helicopter manufacturing facility for HAL in Tumakuru, located 70 km north-west of Bengaluru in Karnataka as a step in HAL's expansion of its helicopter production capability. Out of 200, 60 helicopters will come from Russia and rest will be manufactured in India.
Indian Team to visit Russia to Familiarize with Naval Ka-226T
To witness a demonstration flight of the naval version of the light utility Ka-226T helicopters, a delegation from MoD will visit Kamov Design Bureau of Russian Helicopters.
India is buying 200 of these helicopters to replace the army and air force fleet of Cheetah and Chetak helicopters. Recently, Indian Navy has come up with a tender for 111 naval utility helicopters. Kamov wants to offer the naval version of Ka-226T for this tender.
"We have offered the Indian side to visit Kamov Design Bureau that developed Ka-226T for the project of delivering 200 units of such helicopters and localizing their production in India. Our colleagues shall be able to take part in a demonstration flight and to learn more about Ka-226T capable of being deployed aboard a ship. Placing an order for helicopters for the Indian Navy with our joint venture in India is benefiting both sides, therefore, we have decided to invite our partners to gain a more detailed familiarization with this rotorcraft," noted Andrey Boginskiy, Director General of Russian Helicopters Holding Company.
A government-to-government deal with Russia signed at the end of 2015 for 200 Ka-226T helicopters to be manufactured in India. The Shareholders Agreement for the establishment of a Joint Venture to manufacture Ka-226T helicopters in India was also signed in 2016. The project will be executed through a joint venture between HAL (50.5 per cent) and Russian Helicopters.
Since 2017, Ka-226T helicopters with a ship basing capability are being serially produced and delivered to the Russian specialpurpose aviation.
As distinct from the 'land-based' version, light utility ship-based Ka-226T helicopter features a blade folding system of the main rotor. Owing to its small dimensions, the helicopter can be deployed on ships and low-displacement vessels. Shipbased Ka-226T helicopter is intended for performing search and rescue and transport missions round-the-clock in standard or adverse weather.