Lowy Institute's inaugural 'Asia Power Index' ranks India as the fourth most powerful country in the region and called it 'A Giant of the Future'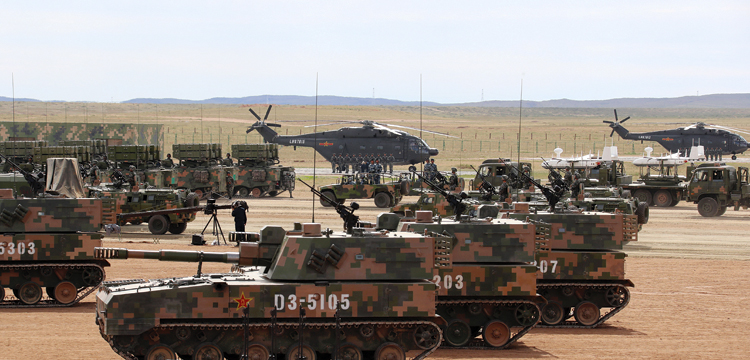 A military parade by PLA
World is witnessing shift of global power to Asia. The rise of China, in last two decades, has reconfigured the power equation in the Asia-Pacific region which was dominated by United States and its allies including Japan and South Korea. This has compelled nations of the region and outside to rehash their foreign policy to make it congruous to Chinese geo-strategy.
With four out of top five economies of the world being in Asia, except the US, the continent is expected to host two third of the world population by 2025. This will completely change the global power equation which is still dominated by the US and Europe. "Asia's economic transformation is reshaping the global distribution of power, changing the way the region—and indeed the world—works politically and strategically. Just as significantly, tensions between Asian powers will define war and peace in the twenty-first century," it said.
The index is an effort towards providing "an analytical tool that aims to sharpen the debate on power dynamics in Asia." It measures power across 25 countries and territories in the Asia-Pacific region, from Pakistan in the west to Russia in the north to US in the Pacific. Australia and New Zealand marks the southern boundary of the region.
Methodology
Index studies country's power across eight measures of power—Economic resources, Military capability, Resilience, Future trends, Diplomatic influence, Economic relationships, Defence networks and Cultural influence. These eight measures were further divided in two dimensions of resources measures and influence measures. "The first four measures of the Index—economic resources, military capability, resilience and future trends—provide assessments of a country's material capabilities and robustness, which are underlying factors in the exercise of power."
"The other four measures of the Index—diplomatic influence, economic relationships, defence networks and cultural influence—assess a country's active levels of influence, principally in other Index countries, lending the Index its Asian focus," it said.
Outcome
On the scale of hundred, considering the overall score based on all the eight measures, US, sole global super power, scored 85 followed by 'the emerging superpower' China (75.5), Japan (42.1), India (41.5) and Russia (33.3). The index marks India and Japan as major powers. The index calls nations scoring below 40 points as middle powers. Russia tops the middle power list with 33.3 points and the latest nuclear power North Korea, last on the list, scores mere 11.4.
One of the very interesting featuring of the report is the assessment of countries on basis of "the difference between a country's overall power and what its power might be expected to be given its available resources." Japan tops the list of the overachievers with 11 points whereas North Korea is at the bottom with -6.9 points; Russia with -6.4 points is slightly better than worst performer. Surprising two of the fastest emerging power, India is underperforming with -2.3 and China with -3.0. US with -0.2 is at par with its resources.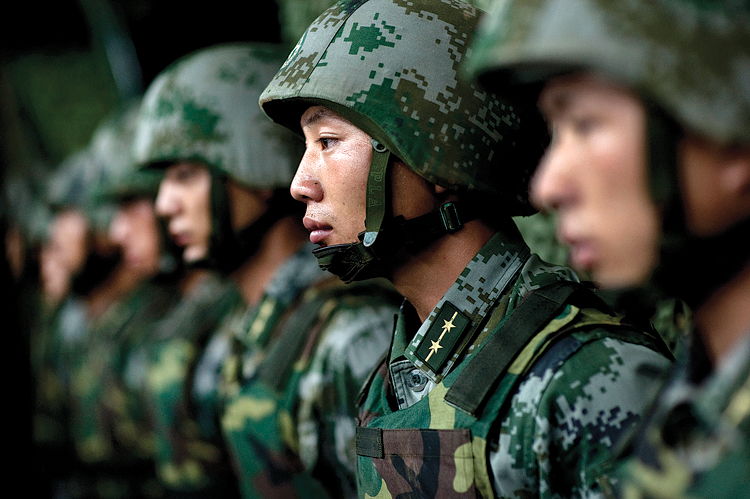 PLA soldiers during a military parade
On the US, which claims top place in five of the eight index measures, the report emphasized that it "retains the most powerful military force in Asia and is at the centre of a network of regional alliances that Beijing cannot match, reflected by a 65-point lead over China in defence networks." Talking about waning US influence in the region, the report said, "US diplomatic influence in the region has also been damaged by nervousness about the Trump administration and its foreign policy decisions, including its withdrawal in 2017 from the Trans-Pacific Partnership. US political leadership in Asia is in doubt."
Raising serious question on the US' ability to retain its position, it said, "even if the United States continues to outspend China in military expenditure, future trends point to a relative decline in US power, with a second place finish only marginally ahead of India." No wonder, China is showing little regard for US power in the western Pacific region.
Giving China benefit of keeping its resources focused on its strategic overreach in Asia, it said that "the Belt and Road Initiative play to Beijing's strengths as the primary trade partner and source of foreign assistance in the region." China is expected to achieve economic parity with US in next one decade. In spite of its strength, report finds China "vulnerable to a military and strategic counterweight led by other regional powers."
On the US, which claims top place in five of the eight index measures, the report emphasized that it "retains the most powerful military force in Asia and is at the centre of a network of regional alliances that Beijing cannot match
The report has been successful in quantifying the relative superiority of China viza-viz its two neighbours – India and Japan. There is 33 points difference between China and Japan. "This gap is as large as that between Japan and Bangladesh, ranked 18th in the Index as a minor power." It is worth pondering that this gap is despite of Japan being an over achiever. Talking qualitatively about the two strategic partner of Asia-India and Japan, the report says: "Japan is a smart power, while India is a giant of the future."
Talking further on Japan, it said that although Japan is using its limited resources smartly to "wield broad-based influence in the region" but in foreseeable future it's declining population and slow rate of economic growth will decline its influence as major power of the region.
On the other hand India is expected to improve economically and demographically in the time period of 2030. "However, the economic giant suffers from a poor track record of converting its sizeable resources base into strategic gain in Asia—despite New Delhi's 'Act East Policy'." If India is serious about containing China this gives an important cue to Indian policy makers for evaluation of India's resource utilisation.
In economic relations (7th), defence networks (10th) and resilience (5th) India is ranked below its overall ranking whereas in cultural influence (3rd) and future trends (3rd) India fairs better. Unexpectedly, China fairs better than India in cultural influence too!
India has been making efforts to increase its influence in the Indo-China region through 'Act East policy'. Although, Indian leaders have made numerous visits to the friendly nations in the region and India has also hosted the ten heads of state of ASEAN nations at this year's republic day function but India is still to achieve something that will alter the power dynamics of the region. India's reluctance in forming quad against China is an evidence of the country's strategic indecisiveness. This is not going to help India in long term.
As China is reaching throughout Eurasia through its belt and road initiative and which will allow it to check Indian influence over its traditional friends like Russia and Europe, it is becoming imperative that India must take some tough decision in coming future to make itself resistant to Chinese grand strategy.