Interestingly, Iran's nuclear programme actually began with help from the US; under its "Atoms for Peace" programme, America supplied a test reactor that came online in Tehran in 1967 during rule of Shah Mohammad Reza Pahlavi. But post the 1979 Islamic Revolution in Iran, US assistance ceased.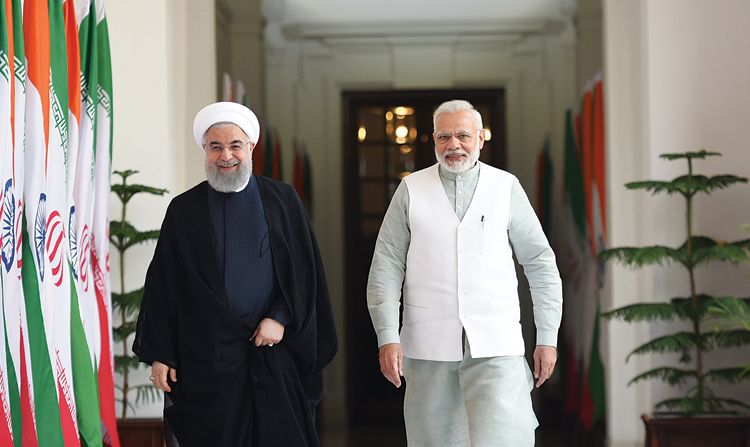 Prime Minister Narendra Modi with the President of the Islamic Republic of Iran, Dr Hassan Rouhani in Hyderabad House, New Delhi
Though indications of what President Donald Trump had in mind with respect to the nuclear deal with Iran were growing in the past weeks, including statements of leaders in Europe, his actual announcement of did produce shock waves, signaling apprehensions at multiple levels; possible economic fallout, instability, nuclearisation and conflict in the region, given US response to nuclear North Korea that bullied through to build its nuclear capability and threatened striking US with nuclear capable ICBMs just recently. Trump announced US withdrawal from the Iran nuclear deal, promising to impose "the highest level of economic sanctions" on the country for pursuing nuclear weapons. He said the "defective" 2015 deal has failed to stop that Iran from moving ahead with development of nuclear weapons. The deal was signed between Iran and what's called the P5+1- the US, Britain, France, Russia, China, and Germany. However, contrary to what Trump said, UK, France and Germany have issued a statement expressing their "regret and concern" and emphasizing their "continuing commitment" to the deal with Iran – all amounting to these countries signaling Iran was actually complying with the deal. Opinion within the US on Trump's action is also divided. There is need to examine the US pullout and what impact it has on India.
Iran's Nuclear Programme and the Nuclear Deal
Interestingly, Iran's nuclear programme actually began with help from the US; under its "Atoms for Peace" programme, America supplied a test reactor that came online in Tehran in 1967 during rule of Shah Mohammad Reza Pahlavi. But post the 1979 Islamic Revolution in Iran, US assistance ceased. But in 1990's Iran expanded its nuclear programme, bought equipment from Pakistan's A.Q. Khan and IAEA suspected Iran to have received design information for a bomb and researched explosive detonators. By August 2002, Western intelligence and an Iranian opposition group reportedly revealed a covert nuclear site at the central city of Natanz. Iran has been in denial of all this, reiterating its nuclear programme has no military dimensions.
US, under President Obama commenced secret talks with Iran after Iranian President Hassan Rouhani took office. Iran and world powers ultimately reached the Joint Comprehensive Plan of Action (JCPOA), or the nuclear deal, in 2015, making it impossible for Iran to produce a bomb, in return for the lifting of most of the US and international sanctions against it. Under its terms, Iran can only: maintain a stockpile of 300 kg low-enriched uranium compared to the 1,00,000 kg of this category it earlier had, and; only enrich uranium to 3.67 per cent, which can fuel a reactor but is far below 90 per cent needed to produce a weapon. The deal also limited the number of centrifuges Iran can run and restricted it to an older, slower model. Iran also reconfigured a heavy-water reactor so it couldn't produce plutonium and agreed to convert its underground Fordo enrichment site to a research center. It granted more access to IAEA inspectors, allowing them to inspect other sites also. The nuclear deal, however, does 'not' directly stop Iran from testing or firing ballistic missiles. It also has a series of expiration dates: one, in eight and a half years Iran can start testing up to 30 more advanced centrifuges; two, it can greatly expand number of advanced centrifuges two years after the first stipulation of eight and a half years, and three, 15 years after the deal, restrictions on Iran's uranium enrichment and stockpile size end.
US Pullout
The Iran nuclear deal which was being hailed as Obama's biggest foreign accomplishment, has been trashed by Trump; calling the deal "a disaster" and the "worst deal ever". Justifying his decision to pull out, Trump said, "We cannot prevent an Iranian bomb under the decaying and rotten structure of the current agreement. Therefore, I am announcing today that the United States will withdraw from the Iran nuclear deal." Apparently, his main criticism revolves around the deal not including Iran's ballistic missile programme, Iran's support of groups like Hezbollah in Lebanon, and its support and aid to Syrian President Bashar Assad. He also has criticized the deal's expiration terms that "threw Iran's dictatorship a political and economic lifeline". Israeli Prime Minister Benjamin Netanyahu also criticized the deal and held a news conference alleging "Iran lied" about its nuclear weapon ambitions in the 2000s. He showed the results of the daring Mossad operation in Iran; 55,000 pages of physical documents and 183 CDs holding another 55,000 digital files, which Netanyahu said contained years' worth of "incriminating" information on Iran's alleged nuclear weapons programme. He also displayed schematics for the nuclear warhead that Iran allegedly planned to attach to a Shahab-3 missile. However, the 2011 IAEA report also identified the Shahab-3 as Iran's chosen delivery system for a nuclear bomb. Much that Israel is directly affected by Iran's support and arming of Hezbollah, the fact remains that the Mossad raid in Iran was before the 2015 nuclear deal, and there is no credible evidence the Iran's nuclear programme is militarising.
The Iran nuclear deal had simple reciprocal equation – Iran agreed to nuclear restrictions in exchange to easing of financial sanctions. But by pulling out from the nuclear deal, Trump has re-imposed major portion of the predeal sanctions regime; "secondary sanctions" with the aim of targeting Iran's oil sector, which could be the main aim of the US pullout.
The Iran nuclear deal had simple reciprocal equation – Iran agreed to nuclear restrictions in exchange to easing of financial sanctions. But by pulling out from the nuclear deal, Trump has re-imposed major portion of the pre-deal sanctions regime; "secondary sanctions" with the aim of targeting Iran's oil sector, which could be the main aim of the US pullout. However, the exercise shows the US in bad light on reneging on the accord signed by it just three years after it was signed, without credible evidence that Iran is militarising its nuclear programme, and five and half years before expiration of the first eight and a half year regime. But then US created the bogey of nuclear weapons to attack Iraq and pictures of recent 100 missile attack on Syria by US and allies claiming to target chemical facilities did not match up with what a post-strike picture of chemical facility should look like.
Fallout of US Pullout
There is little doubt that Trump's declaration of US pullout amounts to clear violation of America's obligations under the deal it signed in 2015. Though 'Secondary Sanctions' don't punish Iran directly, these target international banks that do business with Iran's oil sector; they cut off access to US markets for third parties that want to work with Iran, forcing foreign countries into a choice between importing large amounts of Iranian oil or doing business with the US. Therefore, it ends up punishing close US allies that want to do business with Iran, as also strategic partners like India. Some cross-sections also feel that Trump timed the pullout just before his meeting with North Korean President Kim Jong-un; that reneging on de-nuclearization would invite similar severe sanctions. But, despite wide ranging sanctions by the US and UN, North Korea remained up and about with continued Chinese support.
The converse view is that the US destroying countries like Iraq and Libya who did not have pr gave up their nuclear programmes, and inability to act against North Korea's blatant nuclearisation, actually is incentive for Iran to go nuclear. Of course looking back, US turned blind eye to China's nuclear proliferation to Pakistan and Pakistan's AQ Khan proliferating such technology further to other countries. As fer de-nuclearisation of North Korea, when China conducted Pakistan's first nuclear test on its own soil, there is no reason why China will not help North Korea pursue clandestine nuclear programme or keep North Korean nukes in China for safe custody. The two meetings in quick succession between President Xi Jinpig and Kim Jongun and two-day stay by Chinese Defence Minister Chang Wanquan (also dubbed 'missile man' of China) in North Korea may be significant in this context.
US pullout from the nuclear deal as a participant does significantly reduce Iran's incentive to stay in, but the deal certainly is not dead at this point of time. Technically, the nuclear deal is an agreement between Iran and the P5+1 (US, Britain, France, Russia, China, and Germany), which means the US leaving the agreement doesn't end it. If the rest of the P5+1 keep their sanctions off, Iran may decide to continue to adhere to the deal's restrictions even after the US pullout. That's what Iranian President Hassan Rouhani has already said. The sanctions also could precipitate a major crisis with America's European allies, as some of the sanctions could affect European companies that do business in Iran.
While the Middle East prepares for another flashpoint, China would be the happiest, Trump having pushed Iran more close to China. China has already made Iran centerpiece of its 'Belt and Road Initiative' in the region. In February 2016, the first cargo train from China to Iran arrived in Tehran, having passed through Kazakhstan-Turkmenistan (10,399 km). China is also third largest importer of Iranian oil, apart from providing large credit lines through Chinese banks like CITIC. Bilateral annual trade is estimated to reach $10 billion, up from as little as $1.68 billion during the sanctions period. The largest companies in Iran today are Chinese, not US. This could be another reason for Trump's pull out.
Given the geopolitical situation, one view is that with Trump's action, it would be suicidal for Iran 'not' to purse nuclear bomb if it is being economically squeezed without valid evidence.
If Britain, France, and Germany don't re-impose their own pre-deal sanctions (Russia and China would definitely not), Iran may very well end up still having more access to international markets than it had before the deal was inked. It could thus still decide to stay in the deal, rather than kicking out IAEA inspectors or restarting large-scale uranium enrichment, in order to avoid angering these other parties, all of which opposed Trump's decision. But the situation may aggravate due to many more reasons, like Israel-Iran conflict that is already beginning. Given the geopolitical situation, one view is that with Trump's action, it would be suicidal for Iran 'not' to purse nuclear bomb if it is being economically squeezed without valid evidence.
French President Emmanuel Macron tried in vain to persuade Trump to try and open negotiations on issues of latter's concern while staying in the deal, keeping Iran's nuclear programme in check for now. But Trump is adamant he is only open to negotiating a newer, tougher deal. Whether the other rest of the P5+1 will support Trump in this is questionable. But as far as Iran is concerned, there is no reason it would agree to a new deal, when the US has reneged on nuclear deal signed just three years back. India hopes better sense prevails, the MEA stating, "All parties should engage constructively to address and resolve issues that have arisen with respect to the JCPOA (Joint Comprehensive Plan of Action)." The main danger in case the deal fails is that Iran may go ahead pursuing the bomb, with Trump left with the option of either sitting out, like with North Korea, or go for war that would have horrendous consequences for the region.
Trump's plan appears placing crippling sanctions on Iran, and secondary sanctions on anyone who deals with them. When Germany, France and the UK issued a joint statement they would remain committed to the deal, US responded by assuring their companies would be allowed a grace period before sanctions come, and that US policy would evolve in consultation with Europe. The aim possibly is to coax these countries into dialogue with Iran for latter to agree to include its missile programme in the deal and even support to terror groups. But the issue is that these countries are perfectly happy with the 2015 JCOPA. So it is Catch 22 situation. The crunch will come when the secondary sanctions are imposed. But then the first direct Israel-Iran exchange of fire over Syria has already happened on May 10, which could escalate.
Impact on India of US Pullout
During Iranian President Hassan Rouhani's visit to India, India had reaffirmed its support for full and effective implementation of the JCPOA, which has been endorsed by the UN Security Council and is a crucial contribution to the non-proliferation framework and international peace, stability and security. For safeguarding Indian projects in Iran, India also took has taken some actions to shield itself from potential costs such as allowing Indian companies to invest in Iran in rupees, but with sanctions, the costs can potentially be much higher than anticipated. India will need all the deft diplomacy with the US, Iran and other P5+1 nation to possibly keep the JCPOA intact and minimize the impact should secondary sanctions be imposed. In case of latter, obtaining waivers would be vital, optimising on the Indo-US Strategic Partnership. India would need to open bilateral dialogues on the issue with US, Iran and others, which must already be happening. The impact on India of US imposing more sanctions on Iran and secondary sanctions on nations dealing with Iran are discussed in succeeding paragraphs.
Chabahar Port Project. With Pakistan perpetually denying India land access to Afghanistan, Chahbahar is crucial to us for trade with Afghanistan, Central Asia and Eurasia. Arrival of the first shipment of wheat from India to Chahbahar in November 2017, signaled the importance of this route. Inauguration of Phase 1 of India's Chahbahar project has already been done, albeit it took 14 years because of US sanctions. Fresh US sanctions could risk Phase 2 of port development, with contract for it already signed between Iran's Port and Maritime Organisation and India IPGL (India Ports Global Limited), and latter already putting out tenders for the task. India has already committed $85 million for Chabahar (total $500 million investment planned), besides railway line to Zahedan on Afghanistan border could cost $1.6 billion. Hopefully, the US will not impose sanctions that would hurt India's Chahbahar development, otherwise the costs could go up by many times.
INSTC. India is a founder member of the International North South Transportation Corridor (INSTC ) since it was ratified in 2002 for a multi-mode network linking Iran, cutting across Central Asia to Russia over 7,200 km, cutting down travel-time by 30 per cent. INST will cut the transit time between India and Russia from 40 days to less than 25. Russia, India and Iran are separately partners in the INSTC which has more than 11 member nations. Russia is a major player, both as a defence partner and with investments in the oil and gas industry. Plans for INSTC received a boost after JCPOA was signed in 2015. US sanctions would adversely affect the INSTC, especially if countries along the INSTC route, as also banking and insurance companies dealing with INSTC decide to comply with US sanctions, including for trade with Iran. The new factor here is the aggravating economic war between US-China and US imposing more and more sanctions against Russia. After the Modi-Xi informal meet at Wuhan and upcoming SCO meet, India could leverage China-Russia also for keeping INSTC going.
Oil Imports. Iran is India's third largest supplier of oil (after Iraq and Saudi Arabia) and India pays for the oil in Euros. As long as Europe stays in the deal, India can continue with energy imports. In February this year, Dhramendra Pradhan, Minister for Petroleum and Natural Gas had indicated India plans to double its imports from Iran, which indicates imports from Iran will continue. However, with the hike in crude oil prices already visible with Trump's announcement, increase in prices will hit both inflation levels as well as the Indian Rupee.
SCO. India and Pakistan are to be formally admitted to SCO in June 2018. Chinese officials have also hinted the China-Russia led SCO is likely to admit Iran also to SCO. Some scholars feel the US may consider SCO as anti-American but this is where Indian diplomacy will need to balance India's SCO membership with groupings like the 'Quad', Macron proposed Paris-Delhi-Canberra axis, and the like.
Indo-US Strategic Partnership. Under Donald Trump, the US first pulled out from the UN Climate Change Treaty (Paris Accord), and now has pulled out from the JCPOA that was signed by the US just three years back and ratified by the UNSC. This puts a question mark also on the Indo-US Strategic Partnership and the various agreements signed like LEMOA, etc, whether these can be abrogated on the whims and fancies of the Trump Administration. This needs serious discussion with the US, and requisite levels of assurances.
Conclusion
The US pullout from JCPOA is erratic considering that no concrete evidence has been found of Iran militarising its nuclear programme in contravention of the nuclear deal. The mere fact that other members of the P5+1 have no reason to disbelieve Iran proves it. Iran has every right to pursue its peaceful nuclear programme. The US was close friend of the Shah of Iran, but then Iran was suddenly dumped. The US is acting similarly now. Though geopolitics is much about economics, control of oil and energy, this time miscalculation can lead to conflict. Hopefully, better sense would prevail.