In order to achieve the goal of self-reliance through 'Make in India', it is necessary to invest in long term indigenous capabilities through special partnership model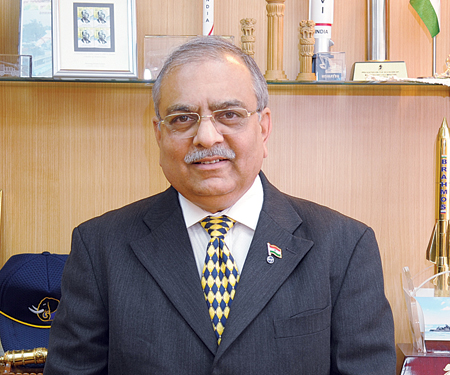 Jayant Patil
As a recommendation of post Kargil review committee, the then Government opened up Defence manufacturing to Indian private industry, subject to licensing, in May 2001. Accordingly, issuance of Industrial Licenses to Private Sector began in mid-2002, and this opened the door for Indian Private manufacturing sector to prove their mettle against the well-entrenched monolith public sector.
This opening up of the sector gave a positive signal to the Indian Private sector companies and few large and long term players with proven capabilities, painstakingly built through partnership with Defence Research Laboratories during the decades of "reserved for the state" era, invested to expand capacities to harness these capabilities. However, due to continuing nomination of Government owned companies, over this decade India reached the dubious distinction of becoming the World's largest importer of Arms and mounting balance of trade and weakening of Indian Currency made addition of new capabilities unaffordable.
The Indian Industry continued to suffer from Gross non-level playing field with respect to the Foreign OEMs competing for Indian acquisition programmes in India while the worst affected were the Private sector with even larger non-level playing field with the Govt Owned sector who not only benefitted from nominated programmes without competition but also received grants for capex, and compensation against inflation as well as forex risks.
Prime Minister Narendra Modi gave a clarion call of 'Make in India' (MII) launched on September 25, 2014 and release of ministry wise one year and three year work plan, evolved through intense stakeholder consultation on December 30-31, 2014. Defence Production was targeted to be among the core prime driver of 'Make in India' to indigenise the sector, create a much needed Defence Industrial Base (DIB) in India, and target strategic independence.
It was articulated that in order to achieve the goal of self-reliance through 'Make in India', it is necessary to invest in long term indigenous capabilities through special partnership model.
There is a need to build trust and create a "Strategic collaborative model for Longterm partnering with select Centers of Excellence" in the Private Sector in addition to Govt owned sector. Such a model needs to be implemented for major "Platform Programmes" that define security capability of India, such as; Submarines, Large Warships, Fighter Aircrafts, Large Electronic Warfare and Cyber Security Programmes, Long Range Theatre Air Defence Programmes (Missiles, Sensors, C4I network) to differentiate and name a few.
Such model adopted from the Dhirendra Singh Committee report of July 2015 would address the issues of Monopsony, limited market size, uncertainties of business continuity with fluctuating order books, alongside the long term need to invest in building technological capabilities, Skills, Capacities and Product Excellence to ensure operational efficiencies. As evolved by the Expert Group chaired by Dr Aatre, the Strategic Partnership model would have to follow a transparent process of selection of partner, with clearly laid down criteria for prequalification and final down selection and clear weightages for financial health, practices of financial prudence and transparency, technology capabilities, infrastructure, domain capabilities and track record.
The Suggested Model evolved through series of stakeholder interactions and task groups within the ministry. The "Strategic Partnership Model" as approved and incorporated in at Chapter VII of DPP 2016 in May 2017 was seen to have undergone certain conceptual dilutions over the initial proposal. Notwithstanding, SP model is arguably the most forward looking policy measure promulgated by the MoD in recent times after introduction of the IDDM category in DPP 2016. The Indian industry selected as the SP, was expected to establish complete production lines for the selected platform in addition to the existing production lines created by the GoI in the DPSUs for manufacturing defence platforms within the country.
The key dilutions in the formally released SP model were that the original concept envisaged selection of the best suited partner based on domain, technical competence and financial stability, while the operationalised policy stipulates that this is instead done on L1 basis. The concept was that such a partner selected through open process upfront would then be part of all subsequent MoD's deliberations with potential Foreign OEMs and leverage domain competence and track record to maximise indigenisation by value as well as capabilities.
Other key dilutions being that the relationship may be contained to the current programme (removal of long term covenants) rather than on long term trust based relationship and allowing existing Govt owned Companies to be brought in as potential SP, on case to case basis, subject to order book, capacity and cost competitiveness. This grossly exposes the Private Sector with Non Level playing field in totality. It is fundamental to understand that the Government owned companies have been beneficiaries of massive financial grants to create assets, capabilities, skill development as well as multiple ToTs in the past. These would enable the Government owned companies to deploy the same assets and capabilities without servicing costs, leverage learning curve benefits from past programmes (in a way cross subsidising them) for competitive bidding against the private enterprises who will have to make investments in infrastructure, capacity creation as well as more comprehensive ToT and service these over the programme tenure and exposing them the risk of becoming non-competitive and lose out.
Notwithstanding the dilutions in SP model from concept to operationalisation, the SP model stipulated as chapter 7 of DPP 2016 involves a three phased process of selection of the Strategic Partner based upon the broad parameters of financial strength, technical capability and capacity/infrastructure. It's a watershed policy that MoD has shown willingness to primarily consider experience and competence of potential SP in integration of multi-disciplinary functional system of systems, engineering and manufacturing besides experience in defence manufacturing, to identify the SP given that the fledgling Indian private sector may only have limited experience in defence manufacturing and even lesser in respect of final integration of complex defence systems/platforms.
Through the Strategic Partnership model MoD recognises that the routine defence procurement categories like Buy, Buy & Make (Indian, Global) focus on short/medium term contracts and such emphasis on "purchase of equipment" alone does not promote creation of a defence industrial eco system. Achieving self-reliance and selfsufficiency calls for assimilation of technology, extensive indigenisation, developing an ecosystem of Tier I, II & III partners and undertaking long term upgrades of the platforms through R&D. The overall aim is to progressively build indigenous capabilities in the private sector to design, develop and manufacture complex weapon systems for the future needs of the Armed Forces. This will be an important step towards meeting broader national objectives, encouraging self-reliance and aligning the defence sector with the 'Make in India' initiative of the Government.
The SP selection thus focusses on Potential Partner's ability to play the role of a System Integrator by building extensive eco-system of development partners, specialised vendors and suppliers, in particular, those from the MSME sector. For this, the SP must possess appropriate financial strength, technical capability and capacity/infrastructure. The process also recognises the differential indigenous capabilities of Indian Private Sector Companies to become SP for the four platform programmes under the SP model. Such a customised policy does not find place in erstwhile procurement focussed models of acquisition.
Ministry of Defence ought to ensure level playing field to the Private Sector especially when they are to compete with the Govt Owned companies
The SP policy recognises need for setting up appropriate institutional and administrative mechanism, with expertise in procurement, contract law and TOT arrangements, within the MoD for effective implementation of the Strategic Partnerships.
Unlike the routine technical and financial (two bid system) followed in Buy/Buy & Make programmes, selection of SP involves a three stage selection process i.e., evaluation of potential Partners based on Minimum Possible Criteria in the form of Go / No-Go (Financial, Governance & Prudence), followed by Segment Specific minimum Criteria (Domain / Technical) and then the Potential partners meeting minimum qualification criteria are issued the RFP. They team up with Foreign OEM from the shortlisted Foreign OEMs by MoD and submit techno-commercial bid on competitive basis.
Few unique features of the SP policy as it is evolving include
Appointment of Programme specific empowered Expert committee chaired by User
Appointment of Process Consultant (SBI Caps)
Defining three levels of ToT
Incentivisation in Price up to 10 per cent based on over and above stipulated ToT, Indigenous Content, Making India exclusive Global Hub, and building of indigenous ecosystem
Inclusion of Price Variation Formulae for inflation compensation Long Duration of the Platform Programmes
Appointment of Specific Contractual/Administrative Mechanisms for long term commitment of SP & FOEM
Inclusion of specific mechanisms for-rationalisation of Advance Bank Guarantees for uniqueness of Platform Programmes. While Helicopters, Fighters and Tanks are amenable to multiple deliveries, the advance BGs can be adjusted against deliveries, for Submarines there is a need recognised to address the requirement of BGs for all stage payments through the construction phases/milestones
While methodologies of quantifying incentivisation, assessing ToT/absorption, ownership/licensing of IPRs, Price Variation Formulae, Contractual/Administrative mechanisms/Rationalisation of Risk Cover in the form of Bank Guarantees, etc., are still under evolution and being progressed, the fact remains that MoD is looking at SP model as a new beginning towards marching on its roadmap to indigenise the Defence Sector by following the additionality principle to create a Defence Industrial Base (DIB) in the private sector.
While doing so MoD ought to ensure level playing field to the Private Sector especially when they are to compete with the Govt Owned companies. It is not out of place to consider costs incurred on past programme awarded to Govt Sector Companies as benchmark costs, appropriately corrected for addition of new requirements and updating of technologies. Also MoD may resort to "reasonableness of cost" as enshrined in G-G deals to firm up upper bound benchmark costs.
It is pertinent to mention the global practice that even in most advanced nations, there are only one or two entities entrusted with construction of major military platforms and that Governments have devised methods to benchmark prices for these mission critical programmes.

The writer is Whole-Time Director (Defence, L&T-NxT) & Member of the Board, L&T